William Barr's Trump Rebuke Was Staged 'With a Heads-up to the White House,' Former Nixon Counsel Claims
Former Nixon White House counsel John Dean speculated on Thursday that Attorney General William Barr had "staged" an interview in which he said President Donald Trump's tweeting made it "impossible" for him to do his job.
The Watergate scandal witness who gave testimony against former President Richard Nixon said he "bet" that Barr had given a "heads-up to the White House" about his comments in a social media post.
Dean tweeted his claim shortly after ABC shared a clip from an exclusive interview with Barr in which he said he would "not be bullied or influenced by anybody," including the president.
When asked by ABC's Pierre Thomas whether he was prepared for the "ramifications" of Trump not liking what he was saying, the attorney general said: "I'm not gonna be bullied or influenced by anybody—whether it's Congress, newspaper editorial boards or the president. I'm gonna do what I think is right.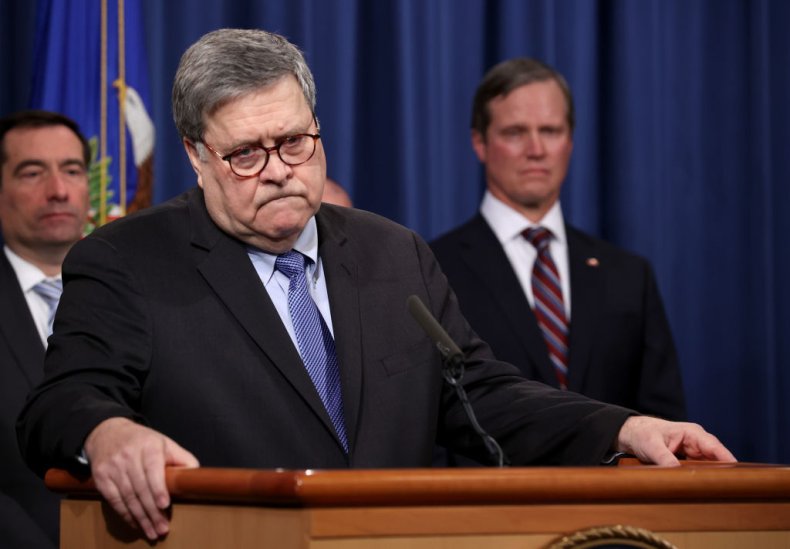 "I cannot do my job here at the department with a constant background commentary that undercuts me."
Barr's comments amid the controversy over changes to the sentencing recommendation of the president's associate Roger Stone sparked headlines—and led some to make speculations about the interview.
In a tweet hitting out at Barr's interview with ABC last night, former Nixon counsel Dean said: "Barr staged it and I'd bet with a heads up to the White House!"
He was responding to another post by ex-U.S. Attorney Preet Bharara that read: "I think Bill Barr is shrewd, deliberate, smart, calculating, careful, and full of it."
The Democratic Rep. David Cicilline also told CNN it was "important to question the sincerity" of the attorney general, calling him "the president's defender" and noting Trump's "muted" response to the ABC interview.
Newsweek has contacted the Attorney General's office for comment and will update this article with any response. The White House has also been contacted for comment.
Responding to the clip of Barr's interview published by ABC on Thursday, White House Press Secretary Stephanie Grisham said the president "wasn't bothered" by his attorney general's comments.
"The President wasn't bothered by the comments at all and he has the right, just like any American citizen, to publicly offer his opinions," Grisham said.
"President Trump uses social media very effectively to fight for the American people against injustices in our country, including the fake news. The president has full faith and confidence in Attorney General Barr to do his job and uphold the law."
The Department of Justice was hit with federal prosecutor resignations this week after it sought to reduce the sentencing recommendation of Stone, who was convicted of obstructing Congress' investigation into Russian election interference.
After prosecutors recommended a sentence of seven to nine years behind bars, President Trump said the situation was "horrible and very unfair" in a tweet.
A court filing submitted hours later by U.S. Attorney for Washington Timothy Shea then argued that the proposed sentence had been "excessive and unwarranted."
A petition calling for a probe into the DOJ's reversal has picked up 127,000 signatures of a 200,000 target at the time of writing.