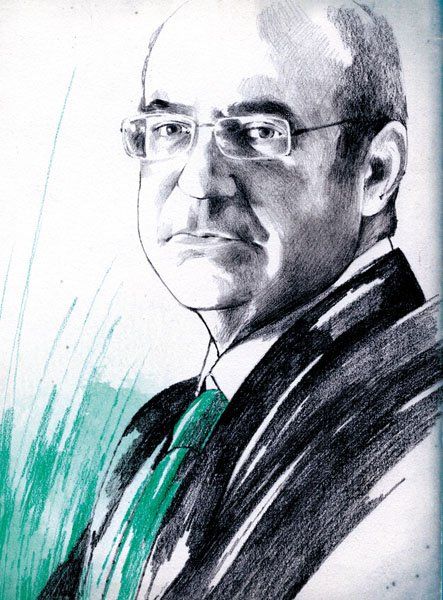 Last month, when Vladimir Putin signed a law banning American citizens from adopting Russian children, it was widely seen as the latest indication that U.S.-Russian relations were spiraling downward. So who caused this turn of events? The obvious political figures certainly played their roles. But perhaps no one was more central to the unfolding drama than a businessman turned unlikely human-rights crusader named Bill Browder.
Browder's grandfather, Earl Browder, had been general secretary of the American Communist Party, but his grandson spent most of his career in a very different pursuit: making money. Bill graduated from Stanford Business School the same year the Berlin Wall fell. "My grandfather was the biggest communist in America," Browder recalls thinking at the time. "Now that the Berlin Wall has come down, I am going to be the biggest capitalist in Eastern Europe."
In 1996 Browder moved to Moscow and founded the Hermitage Fund, investing fortunes from America in newly privatized Russian companies like Gazprom. (Two years later he renounced his American citizenship and became a citizen of Britain.) At its peak, Hermitage was worth $4.5 billion. But Browder earned a reputation in this period as a "shareholder activist," launching his own investigations into the shady dealings of Gazprom and other Russian companies—and angering the Kremlin in the process. He was expelled from Russia in 2005 and declared a threat to national security.
Browder continued to tangle with the Russian government from afar. The Interior Ministry seized Hermitage's companies in 2007, but one of Browder's Moscow-based lawyers, Sergei Magnitsky, subsequently made an intriguing discovery: he uncovered what appeared to be a scheme by Interior Ministry officials to pocket $230 million in taxes paid by Hermitage.
Magnitsky testified against the officials in 2008 and was arrested by the Interior Ministry soon thereafter. The next year of his life was hell. At times he was thrown into jail cells with no heat, or placed in cells with more inmates than beds. At one point he was in a cell with no toilet and only a hole in the ground, where the sewage would often bubble to the floor. All the while, he was refused medical treatment for pancreatitis and gallstones. He lost 40 pounds in a year.
While Magnitsky's condition worsened in 2009, the newly elected Obama administration was seeking to improve relations with Moscow. So when Browder began to lobby Washington officials to save Magnitsky, it was a tough sell. Still, he found some supporters. "I was extremely impressed by the manner in which Mr. Browder was pursuing the case," says Democratic Sen. Ben Cardin, a co-chairman of the U.S. Helsinki Commission, a U.S. government organization that monitors human rights in Russia. "I was impressed by his persistence and how much homework he had done, the facts of the case, how he very much laid out indisputable information."
On Nov. 16, 2009, Magnitsky died in a pool of his own urine after being beaten by guards with rubber batons. "When I got the news, it was like a knife going through my heart," Browder told me in a recent interview. "Never in my worst scenario could I imagine him being killed."
For Browder, Magnitsky's death was personal, and he redoubled his efforts to seek some kind of justice for his colleague. One advantage for Browder was that Magnitsky was a very good lawyer: during his 358 days in detention, he had filed 450 official complaints about his treatment. Browder told me that Magnitsky's written record provided a kind of proof that was difficult for American politicians to ignore. Eventually Browder began to push for legislation that would freeze the assets of Russian officials implicated in severe human-rights abuses and block them from traveling to the United States.
The Obama administration remained dead set against the bill—until recently. What changed? One factor may have been the bipartisan backing—from senators like Cardin and John McCain—that the proposal amassed. Another was Congress's willingness to finally let go of another human-rights law targeting Russia—a Cold War–era measure that had levied penalties on the old U.S.S.R. for barring emigration of Soviet Jews.
Last month Obama signed the bill, known as the Magnitsky Act. Putin quickly retaliated with the ban on American adoptions.
When we spoke, Browder made clear that he was unconcerned about whether his activism had angered Obama's diplomats or policymakers. "If I have upset or ruffled feathers, so be it," he said. "I am not trying to socialize in Washington. I am trying to make sure Sergei's death will save lives." As for Putin, he didn't mince words: the Russian president, he said, is "such a coward that he was willing to use defenseless children as human shields."