Republican Senator Bill Cassidy of Louisiana blamed the border crisis on President Joe Biden Sunday, while House Speaker Nancy Pelosi (D-CA) said the administration inherited a "broken system."
During an appearance on Fox News Sunday, host Chris Wallace asked Cassidy how much responsibility Biden bears in regards to the crisis at the southern border. Wallace noted that there was a recent surge of migrants, as February saw the largest number of unaccompanied minors at the border since May 2019.
In response, Cassidy said "empirically, it is entirely."
"You can't help but notice that the administration changes, and there's a surge," Cassidy continued, recalling a time he heard one of Biden's advisors say in Spanish that the border was not closed, to then say in English that she misspoke. "I can tell you the Spanish version is being heard, not the English."
"This policy is leading to this surge. That is unmistakable," Cassidy added.
Pelosi, however, offered a countering point of view, during an appearance on ABC News' This Week where she said the Biden administration inherited a "broken system" at the border.
"This is a humanitarian challenge to all of us," the Democratic congresswoman said. "What the administration has inherited is a broken system at the border and they are working to correct that in the children's interest."
Pelosi noted that there are more children coming over the border compared to January, saying that "about six to seven hundred more" unaccompanied children are coming over the border.
The House Speaker, however, said she was "so pleased that the President, as a temporary measure, has sent FEMA to the border in order to help facilitate the children going from the 72-hour issue into where they are cared for as they are transferred into family homes that are safe for them to be."
"This, again, is a transition from what was wrong before to what is right," Pelosi continued.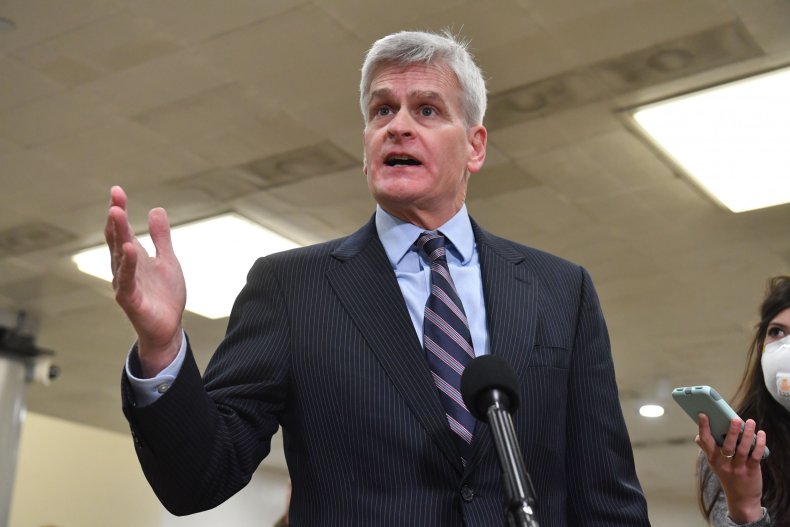 The Biden administration called on the Federal Emergency Management Agency (FEMA) on Saturday to support efforts to process the rising numbers of unaccompanied children entering U.S. border custody.
Cassidy, however, believes that the Biden administration expects the number of migrants at the southern border to grow amid the decision to send FEMA.
"They're sending FEMA as reinforcements not for today, not for tomorrow, but for three weeks from now," Cassidy said.
Newsweek reached out to Cassidy and Pelosi's offices, but didn't hear back in time for publication.