Bill Cassidy Blames White House 'Partisan Statements' for Vaccine Mistrust in His State
Senator Bill Cassidy (R-LA) says the White House and President Joe Biden's "partisan statements" are to blame for low vaccination rates in Louisiana.
Cassidy joined Chris Wallace on Fox News Sunday to discuss Biden's $3 trillion infrastructure bill and vaccination rates in the Bayou State.
Near the end of the conversation, Wallace turned the subject to COVID-19 vaccines, asking the senator why Louisana has such an unwillingness to get the shot. The state's vaccination rate is currently at 36 percent, the fifth-lowest in the nation, according to data from the Centers for Disease Control and Prevention (CDC).
Cassidy pointed to the White House and Democrats in Congress for Louisiana's mistrust of the vaccine. He explained that going back and forth on partisanship is not working.
"People are surprised when citizens don't trust government, when you have partisan comments coming out of the White House regarding next Jim Crow laws, [and] people like Senator [Chuck] Schumer and the White House not cooperating on a bipartisan bill," Cassidy said. "'Oh, here we're going to be partisan, but over here you better trust us.' That just doesn't work."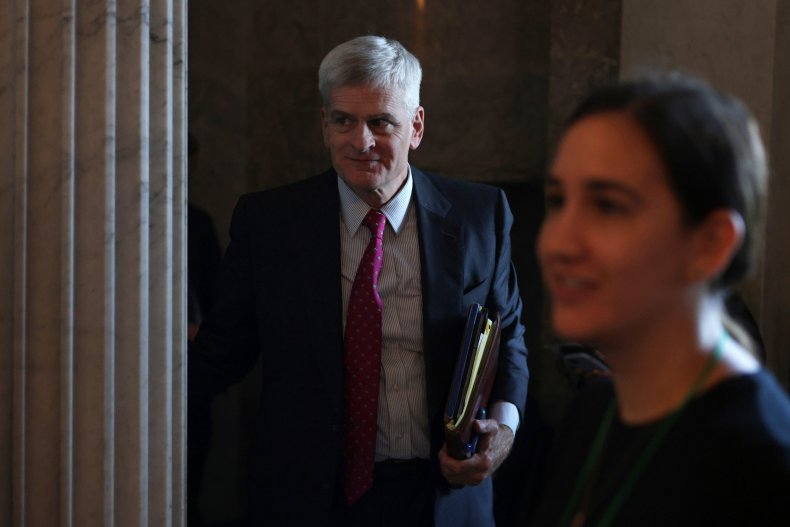 The senator said "it shouldn't be the president advocating" for the vaccine, but rather the healthcare workers in the state. As a medical doctor himself, Cassidy believes the healthcare workers have the power to increase vaccination rates if partisanship is cut from the discussion.
"You need to have your doctor, your nurse, your physician's assistants, who's speaking to the patients they normally care for, they see at the PTA meeting, they otherwise communicate 'this is good, it saves lives.'"
"What I'm doing, I'm trying to educate," Cassidy told Wallace.
In the interview, Cassiday said he will be pushing his state to make the choice "between vaccination or accepting higher rates of death."
On Twitter, he said he would like to see Louisiana's vaccination rate increase to "beat the pandemic."
"Vaccines are like seatbelts—you want to have it before the accident happens," he captioned a tweet linking an article about Dr. Catherine O'Neal, chief medical officer at Our Lady of the Lake Regional Medical Center in Baton Rouge. O'Neal emphasized the "vaccine or death" choice.
"That's the way to communicate through your physician, your nurse, your PA, etc., not through some uber-partisan person who's asked us to trust them except when they're making incredibly partisan statements," Cassidy said.
Former President Donald Trump shared Cassidy's sentiment in a statement released from his Save America PAC on Sunday. Trump blasted Biden for boasting about his progress in managing the pandemic, noting that the vaccine was created under the Trump Administration.
"[Biden] is not doing well at all. He's way behind schedule, and people are refusing to take the vaccine because they don't trust his administration, they don't trust the election results and they certainly don't trust the Fake News, which is refusing to tell the truth," Trump wrote.
Newsweek reached out to the White House for comment, but did not hear back by publication time.