Make Mexican Drug Cartels Pay for Trump's Border Wall, GOP Senator Bill Cassidy Says
U.S. Senator Bill Cassidy, a Republican from Louisiana, detailed his plan Sunday to "confiscate" billions of dollars from Mexican drug cartels to fund President Donald Trump's proposed border wall.
Cassidy, who is also a physician, talked Sunday with far-right outlet Breitbart News about his push to reform prescription drug prices and tactics to defeat health care "middle men" taking money from both patients and taxpayers. Cassidy gave a wide-ranging interview that praised Trump's agenda and ridiculed Democrats for "hating" the president. The Senate Finance Committee member touted his February proposal to "enhance border security" and fund Trump's border wall by seizing billions of dollars changing hands between cartels over the Mexican border.
"The cartels move about $110 billion a year from the United States to Mexico," Cassidy told Breitbart News. "We're trying to figure out how to stop that. Frankly, my idea, is if we can stop that, confiscate that money, we can use cartel money to build that wall.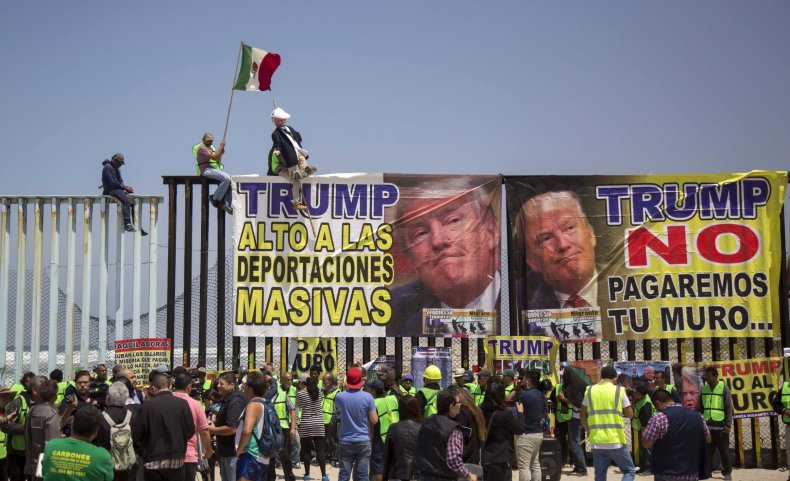 "It won't be the Mexican government [paying for the wall]; it will be the Mexican cartels, and that's probably the better party to bill there," he added. Cassidy introduced an amendment to the Internal Revenue Service in February that would allow "the use of illicit drug trafficking proceeds to pay for physical barriers, tactical infrastructure, and technology in the vicinity of the United States border."
Trump has previously proposed a wall to stretch the 1,900-mile Mexican border that would cost between $10 and $12 billion. GOP Senate Majority Leader Mitch McConnell told a Republican conference in Philadelphia recently it's likely to cost between $12 and $15 billion. The 650 miles of existing fences on the U.S. and Mexico border cost about $7 billion.
Cassidy's proposal looks to fund a crackdown on cartel money laundering by issuing bonds to be overseen by the U.S. Attorney General, the secretaries of Homeland Security and the Treasury. These bonds to enhance security would be repaid "with money seized from and forfeited by drug traffickers moving illicit profits across the southern border." Cassidy added that local government officials, such as Oakland Mayor Libby Schaaf, should "pay consequences" for "subverting the law" in order to create sanctuary cities from federal immigration laws.
Cassidy concurred with Trump's demand from Saturday that the Senate should not take an August recess if they can't pass funding for his wall proposal and added border security. "The Senate should get funding done before the August break, or NOT GO HOME. Wall and Border Security should be included. Also waiting for approval of almost 300 nominations, worst in history. Democrats are doing everything possible to obstruct, all they know how to do. STAY!" Trump tweeted.
Cassidy blamed the stifling atmosphere in Congress on Democrats. "Democrats hate Trump so much that if Trump said 'turn the air condition on' on a hot summer's day, they would say 'no.' They've done everything they could to slow things down."
The Louisiana Republican has continually spearheaded efforts to reform the federal 340B Prescription Drug Discount Program in addition to looking for bipartisan routes to curb the country's opioid epidemic. Cassidy said he supports a push for more "market forces" in health care and said the current system only benefits "middle men" ripping off both sides.
"Everybody but the patient has a law protecting their interest," said Cassidy. "And folks abuse the market, legally, at the expense of the patient and the taxpayer."
Newsweek's requests for comment from Cassidy's Washington office were not immediately returned.