Bill Clinton Calls Madeline Albright's Death an 'Immense Loss For the Whole World'
Bill and Hillary Clinton say "few leaders have been so perfectly suited for the times in which they served," in a joint statement remembering Secretary of State Madeline Albright.
Albright, 89, died on Wednesday from cancer, her family reported. She was the first woman ever to be Secretary of State and served under the Clinton administration. She was the highest-ranking woman diplomat in the history of the U.S. government at the time.
The Clintons released a statement saying they are "profoundly saddened" by the death of Albright, whom they were both very close with.
"Madeleine's passing is an immense loss to the world in a time when we need the lessons of her life the most, but we know her legacy will live on through all the students she taught so well at Georgetown," Clinton said in a statement.
When President Clinton was elected in 1992, he asked Albright to help with his administration's transition before offering her the role as his ambassador to the United Nations.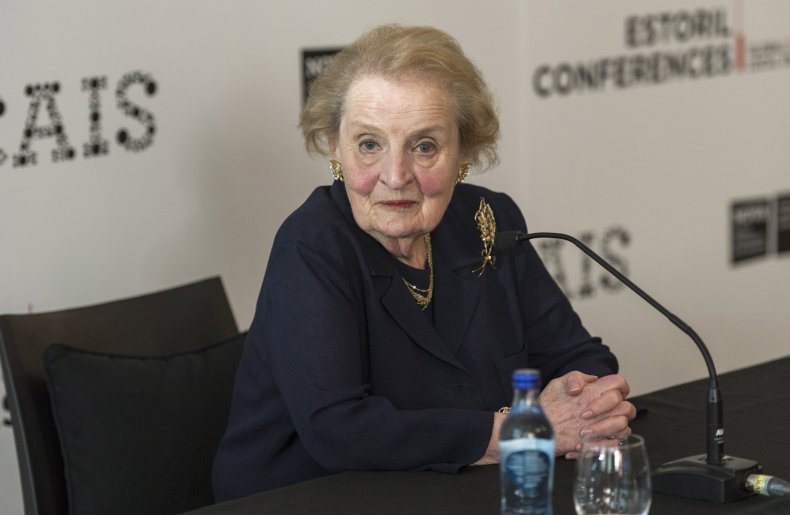 After winning a second term in office, President Clinton nominated Albright as his Secretary of State.
"When the end of the Cold War ushered in a new era of global interdependence, she became America's voice at the UN, then took the helm at the State Department, where she was a passionate force for freedom, democracy, and human rights," the Clintons said.
Albright endorsed Hillary Clinton on the campaign trail as the woman presidential candidate of a major political party. While introducing Clinton at an event in 2016, she reignited the well-known phrase, "There's a special place in hell for women who don't help each other!"
Albright was a native of Prague, Czechoslovakia, who fled to the U.S. as a refugee in 1948 after the communist takeover during World War II.
As an immigrant woman, Albright continued to shatter glass ceilings in American history as a diplomat, paving the way for future women leaders.
"She was an immigrant fleeing persecution. A refugee in need of safe haven. And like so many before her—and after—she was proudly American," President Joe Biden said in a statement. "To make this country that she loved even better—she defied convention and broke barriers again and again."
Former President George W. Bush said Albright "lived out the American dream and helped others realize it."
"She served with distinction as a foreign-born foreign minister who understood firsthand the importance of free societies for peace in our world," Bush said in a statement. "I respect her love of country and public service, and Laura and I are grateful to have called Madeline Albright our friend."
Others also took to social media remembering Albright's legacy. Both Democrats and Republicans took time to remember her career highlights and others questioned her character by resurfacing footage of a 1996 incident where she said the deaths of Iraqi children were "worth it."