Virginia Guiffre, a woman who publicly accused convicted sex offender Jeffrey Epstein of sex trafficking, said former President Bill Clinton visited his private island. Clinton says he was never there.
In a statement on Friday, Angel Ureña, a spokesperson for Clinton, told Newsweek that the former president has "never been to Little St. James Island."
"He'd not spoken to Epstein in well over a decade," he said. "Well before his terrible crimes came to light."
Ureña referred Newsweek to a statement Clinton released in July 2019, where he issued the same denial. "He's not spoken to Epstein in well over a decade, and has never been to Little St. James Island, Epstein's ranch in New Mexico, or his residence in Florida," the statement read.
The recent unsealing of court documents put attention back on Clinton's connection to Epstein on Friday. During a conversation with lawyer Jack Scarola, Guiffre said she was on the island with Epstein and Clinton.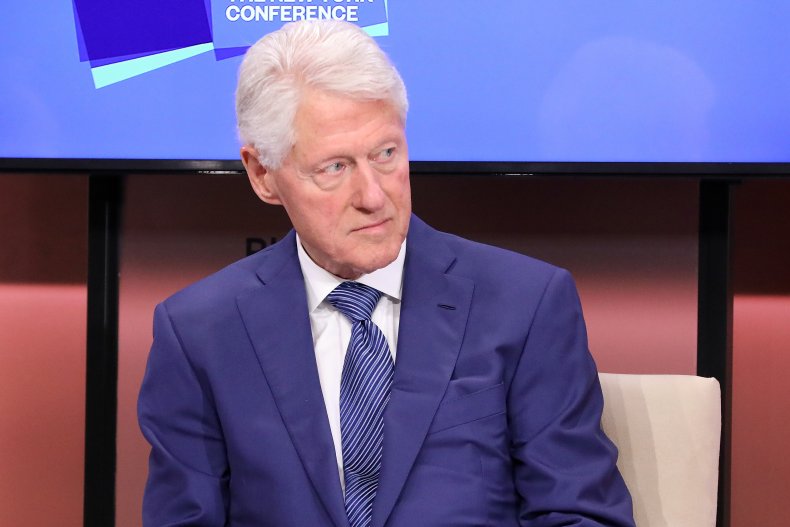 "Ghislane, Emmy [another girl who was allegedly a regular at Epstein's house], and there was 2 young girls that I could identify. I never really knew them well anyways. It was just 2 girls from New York," Guiffre said.
She told Scarola that Clinton stayed in Epstein's home with the other women and that she had a recollection of Epstein telling her that Clinton "owes me favors." However, she wasn't told what the favors were and she said she wasn't sure if Epstein was being serious about it or if it was a joke.
"It was a laugh though. He would laugh it off. You know, I remember asking Jeffrey what's Bill Clinton doing here [on Epstein's island] kind of thing, and he laughed it off and said well he owes me favors," Guiffre said.
Clinton took four trips on Epstein's airplane to Europe, Asia and Africa, but he claims he knew "nothing about the terrible crimes" Epstein pleaded guilty to in 2008 or the charges brought against him in New York in 2019. Clinton has not been accused of any wrongdoing.
Flight logs from the now-defunct website, Gawker, listed Clinton as having taken at least 11 flights on the Lolita Express, a nickname given to Epstein's plane. Ghislaine Maxwell and Epstein's former assistant Sarah Kellen, who has been accused of recruiting young girls on Epstein's behalf, were also allegedly on all the flights Clinton took.
Maxwell's attorneys attempted to stop the release of the new documents, writing in court documents that it would kill any chance their client had at a fair trial. Maxwell faces six counts of sex trafficking involving minors, charges that her attorneys say hold no water.