Bill Clinton Dodges Questions About Trump From Reporters in New Hampshire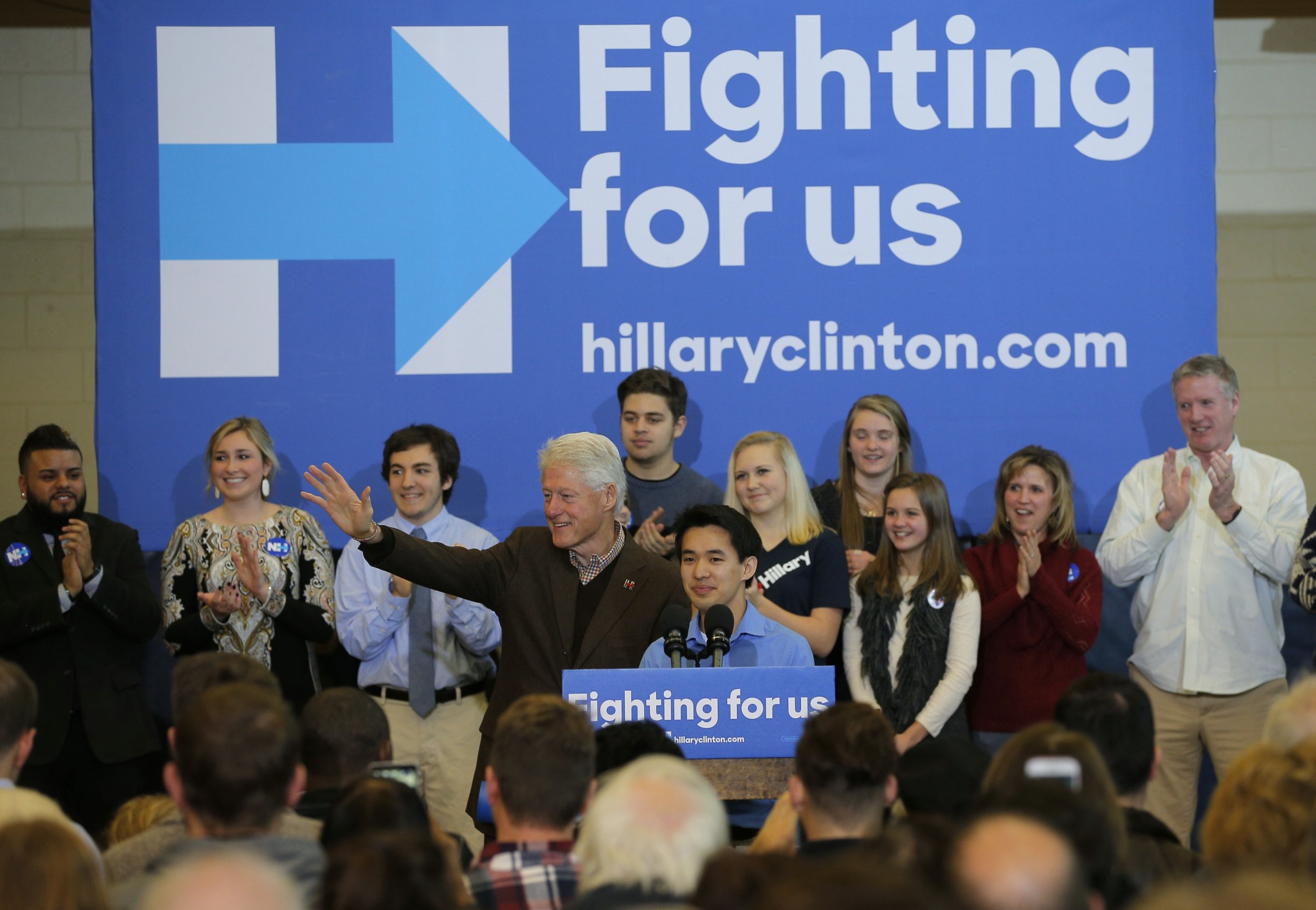 Former President Bill Clinton on Monday made his first solo appearance this year on the campaign trail with two stops in the early primary state of New Hampshire to support Hillary Clinton.
Bill Clinton is considered by most to be an asset to his wife's presidential bid. His past sexual history had remained outside the parameters of the campaign trail until last week, when Republican presidential front-runner Donald Trump called Bill Clinton's affairs "fair game" in the contest. On Sunday, Hillary Clinton, who is the Democratic front-runner, was confronted at a town hall meeting in the Granite State with questions about her husband's sexual history.
On Monday in Nashua, just more than a month until the New Hampshire primary, Bill Clinton didn't mention Trump during his speech and later declined to elaborate on any of the real estate mogul's comments when reporters asked about him. Unlike during the 2008 presidential campaign, when Bill Clinton at times attacked Barack Obama in defense of his wife's campaign, he kept his temper in check.
Instead, Bill Clinton said, "The Republicans will have to decide about who's going to be nominated."
"We're trying to win a primary. We've got to do that first," he added.
He said he thinks his wife can win the Democratic nomination in New Hampshire because "they've been good to us, and we've worked hard."
During his low-key, 30-minute speech in front of several hundred supporters at Nashua Community College, Bill Clinton spoke about his wife's career past in the State Department.
"She understands what it takes to keep our country as safe as possible, to stop big, bad things from happening and make as many good things happen as possible," he said. Votes from New Hampshire helped boost his presidential campaign in 1992.
He also spoke about ways to combat heroin addiction, the political achievements of President Obama and his personal relationship with his wife, recalling the first time they met almost 45 years ago at Yale Law School.
"We fell in love, and I thought she was the most amazing person," Bill Clinton said. "She could have written her ticket to go anywhere she wanted. All she was really interested in was providing legal services to poor people."
"Everything she touched, she made better," he added.
He also spoke generally about the campaign, saying the election is about "restoring broadly shared prosperity, rebuilding the middle class, giving kids the American dream back."
"Every presidential election, people run and, believe it or not—this is kind of scary this year—but believe it or not, most everybody actually tries to do what they say they're going to do when they're running. They're telling you what they believe, so you gotta take them seriously," he said.
He later echoed some of his remarks at a rally in Exeter, his second and final event of the day. He again spoke calmly and quietly as he described the issues he views as significant to voters.
His appearances on Monday were expected to mark a monthlong plan to stump for his wife ahead of the Iowa caucuses and New Hampshire primary in February.
Heading into 2016, Hillary Clinton is challenged most by Vermont Senator Bernie Sanders.