Bill Clinton 'Glad to Be Home,' Urges Americans to 'Listen to Your Bodies'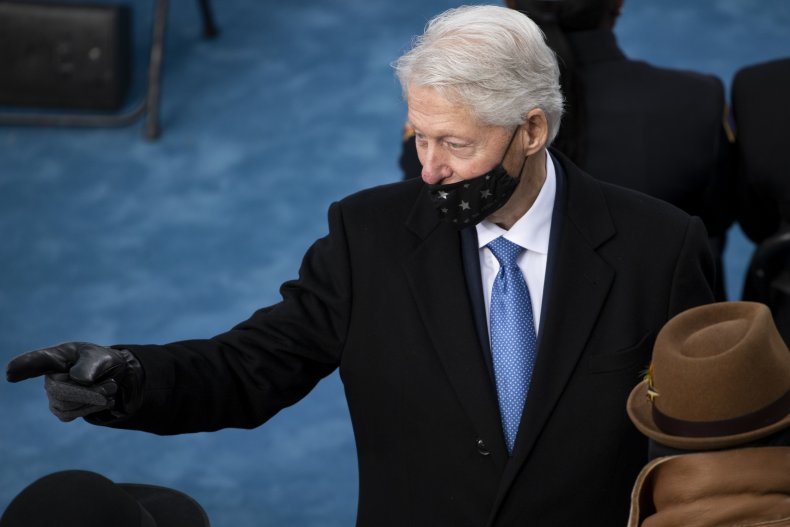 Former President Bill Clinton has urged all Americans to listen to their bodies after returning home following his hospitalization for a non-COVID-related infection.
Clinton took to Twitter on Wednesday to thank supporters for their encouragement and concern while he was hospitalized at UC Irvine Medical Center in Irvine, California. The 75-year-old former president was discharged from the hospital on Sunday after a five- day stay.
"I was so touched by the outpouring of support I received during my stay in the hospital. Thanks so much," Clinton said. "I'm really glad to be back home. I'm doing great, enjoying this fall weather."
Clinton also credited the doctors and family members who cared for him during his hospitalization.
"I'm on the road to recovery," Clinton said. "But I want to remind everyone out there: take the time to listen to your bodies and care for yourselves. We all have work to do. And each of us has an important role to play in life and in the immediate future."
"I, for one, am gonna do my best to be around to keep doing the most good I can for a lot longer," he added.
News of Clinton's hospital stay broke on Thursday, two days after he was admitted. There were few specific details about the infection but the doctors treating him said that he was given IV antibiotics and fluids and that they were in "constant communication" with his medical team.
After Clinton was discharged, doctors said that he would continue taking a course of antibiotics while recovering at home.
"President Clinton was discharged form UC Irvine Medical Center today," Dr. Alpesh N. Amin, who oversaw the former president's treatment, said in a statement on Sunday. "His fever and white blood cell count are normalized and he will return home to New York to finish his course of antibiotics."
"On behalf of everyone at UC Irvine Medical Center, we were honored to have treated him and will continue to monitor his progress," added Amin.
Clinton underwent quadruple bypass heart surgery in 2004 and was hospitalized in 2010 for a routine stent surgery. There was no indication that Clinton's recent hospitalization involved his heart, although UC Irvine doctors said they were in touch with his cardiologist.
While Clinton was hospitalized, Fox News host Sean Hannity sent the former president a somewhat unusual get-well message that seemed to be primarily focused on denouncing liberals for allegedly not "caring about human life."
"We do wish the former president well," Hannity said on air Thursday night. "Unlike liberals that just hate all conservatives, they get sick, they don't care."
"We wish the president well, we obviously have political differences," he added later. "But unlike liberals, I actually care about human life."
Newsweek reached out to the Clinton Foundation for comment.