A Westchester, New York man was pleasantly surprised on Halloween when he ran into former President Bill Clinton at a local bookstore while wearing an extremely timely costume.
LoHud reports that Jason Lichtenthal sported a navy blue jacket with six different colored whistles around his neck to masquerade as a CIA whistleblower for Halloween, when he met the former president at Scattered Books in Chappaqua, New York.
"I'm not a big dress up kind of person," said Lichtenthal, a resident of Millwood, New York, "but wearing a jacket with a few colorful whistles around my neck — that I can do."
Browsing local Chappaqua shops on Thursday evening, he said spotting Clinton at the bookshop Scattered Books was "a surreal moment."
Lichtenthal said that the former president was amused by his silly costume. "A smile came across his face," he recalled, "and he said, 'You're a CIA whistleblower! That's funny.'" Still, despite the funny nature of his costume, Clinton also informed Lichtenthal of the importance of protecting the ability to come forward and the people who do.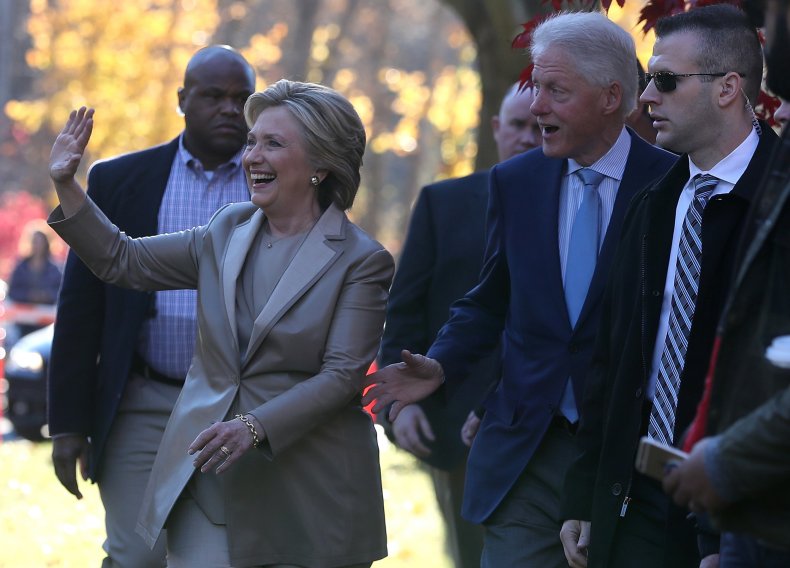 The costumed whistleblower also mentioned that he'd seen Clinton out and about frequently in Chappaqua, where he and his wife Hillary own a home and live. Scattered Books owner Laura Schaefer also told LoHud that Clinton is a regular patron of her store.
LoHud has previously reported that it's not uncommon for Chappaqua residents to see the Clintons out and about.
The comical Halloween moment came in the midst of the impeachment Inquiry into President Donald Trump. An impeachment inquiry came after the referenced CIA whistleblower came forward and raised concerns about the phone call between Trump and Ukrainian President Volodymyr Zelensky, in which Trump asked Zelensky to investigate Democratic candidate Joe Biden and his son Hunter.
As the impeachment inquiry was underway, Trump has been refusing to cooperate with subpoenas and document requests. He told The Washington Examiner on Thursday, that by cooperating, "you are setting a terrible precedent for other presidents."
Lichtenthal was not the only presidential encounter with a pun-inspired costume. Donald Trump Jr. and his girlfriend Kimberly Guilfoyle donned a camouflaged hunter's outfit and witch costume, respectively and were a "witch hunt," referencing Trump's line. Representative Eric Swalwell, a Democrat from California, called Trump Jr. and his girlfriend's costume the "closest to fatigues any Trump has ever worn," on Twitter. He also asked: "Did the hereditary bone spurs slow down the hunt, @DonaldJTrumpJr?"