Bill Clinton Quote on Stephen Breyer's 'Sheer Excellence' Resurfaces in Wake of Retirement
Comments former President Bill Clinton made in 1994 while nominating Stephen Breyer to become a new U.S. Supreme Court associate justice resurfaced Wednesday as word spread that Breyer is planning to retire.
The Clinton Center shared a photo on social media Wednesday afternoon of the former president standing alongside Breyer. Accompanying the photo were quotes the center attributed to Clinton at the time of Breyer's nomination.
Breyer "will bring to the Court a well-recognized and impressive ability to build bridges in pursuit of fairness and justice," Clinton said at the time.
"The case for [his] confirmation is clear and compelling: his sheer excellence, his broad understanding of the law, his deep respect for the role of the courts in our life and in protecting our individual rights, and his gift as a consensus builder," the former president said.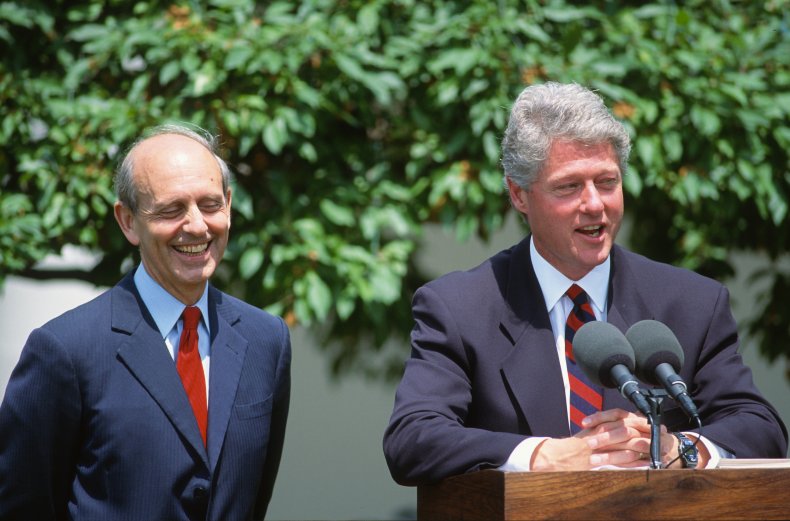 Hillary Clinton, who served as first lady at the time of Breyer's appointment, also recognized the associate justice's retirement in a statement released earlier Wednesday.
"Thank you to Justice Breyer for 30 years of distinguished service on the bench, and for his admirable decision to retire now," her tweeted statement said. "We are grateful for your career dedicated to fairness and justice for all."
Breyer, 83, has served as an associate justice on the High Court since August 1994. He is widely considered one of the court's three remaining left-leaning justices after the balance of the court shifted following former Republican President Donald Trump's appointment of three new justices to the bench.
Breyer has faced calls from progressive politicians to retire since President Joe Biden took office last year. Some members of Congress have encouraged him to step away before the 2022 midterm elections, when Democrats will be fighting to retain their narrow majorities in the House and Senate.
Breyer's retirement paves the way for Biden to put forth his first Supreme Court nominee. Senate Majority Leader Chuck Schumer, a Democrat, said Wednesday that Biden's nominee will be "considered and confirmed by the full United States Senate with all deliberate speed."
While running for president, Biden said he intended to appoint the first Black woman to the bench, a vow reporters referenced while asking White House press secretary Jen Psaki for comment about Breyer's retirement during a Wednesday press conference.
"The president has stated and reiterated his commitment to nominating a Black woman to the Supreme Court and certainly stands by that today," Psaki told reporters. She declined to comment on who the president may be considering for the role.
Biden said earlier Wednesday that he will have "more to say later" about Breyer's retirement once the associate justice has made an official statement.
"There has been no announcement from Justice Breyer—let him make whatever statement he wants to make, and I'm happy to talk about it later," Biden told reporters.
Newsweek reached out to the White House for further comment on Breyer's retirement and will update this article with any response.
This story has been updated with additional information and background.