Bill Clinton Says Trump and Senate GOP's Position Is to Do Whatever Keeps Them in Power: 'Ruth Ginsburg Was the Reverse'
Former President Bill Clinton joined the national debate about Ruth Bader Ginsburg's Supreme Court replacement on Sunday morning. Similar to the opinions voiced by other Democratic leaders in the days following Ginsburg's death, Clinton urged Senate Republicans and the Trump administration to wait until after the election to nominate a successor.
During an interview with George Stephanopoulos on ABC's This Week, he described Senate Majority Leader Mitch McConnell's plans for a prompt floor vote "inconsistent" and suggested the Trump administration and the Senate GOP's political approach rests on self-serving principles.
"Their position is, 'Do whatever maximizes your power. If it's totally inconsistent with what you said before, don't worry about it,'" Clinton said.
His comments came amid a wider conversation about the speed with which President Donald Trump and Republican leaders, like McConnell, aim to appoint a new jurist to fill Ginsburg's spot. Ginsburg passed away on Friday from complications of pancreatic cancer at the age of 87. She was one of two Supreme Court justices nominated to the bench during Clinton's presidency.
Trump shared intentions to quickly nominate a Supreme Court replacement several times on Saturday. The president told reporters he plans to select a nominee as early as next week, even with the general election just over a month away. McConnell has said the Senate would hold a floor vote to confirm the appointee. Exactly when the vote would occur was not clear.
Still, McConnell's suggestion is receiving significant pushback from Democratic lawmakers, given that the Senate refused to vote on Barack Obama's nomination for a Supreme Court jurist to replace Antonin Scalia in 2016.
Clinton emphasized the ways in which Republicans' conflicting approaches to Supreme Court replacements in 2016 and 2020 depart from Ginsburg's views about legislative processes on Sunday.
"Ruth Ginsburg was just the reverse," he said, adding that she believed the "same set of rules" should apply to everyone. "She'd be saying today, 'Just wait 'til we see what happens in the election, and see if people think that we should move the court even further to the right. Or, as somebody who represents all views... everybody fairly should be given the chance to serve.'"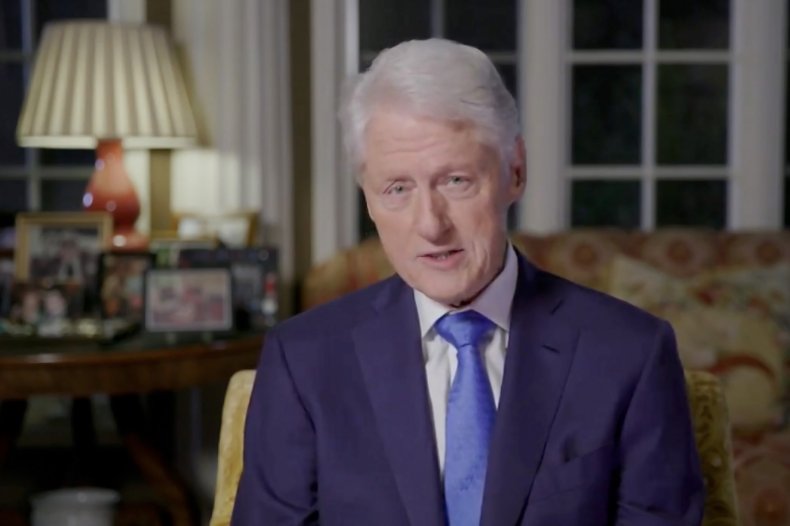 Hillary Clinton also backed Democrats' calls for a delayed nomination. During an appearance on NBC's Meet the Press Sunday morning, the 2016 Democratic presidential nominee said Senate Republicans should honor the precedent they set by stalling Garland's confirmation.
"They made this decision back in 2016 and they should be held accountable for it," she told Chuck Todd, the series' moderator.
Newsweek reached out to McConnell's office and the White House for comments, but did not receive replies in time for publication.