Even Bill Clinton's Friends Don't Seem to Want His Support in the #MeToo Era
It's rare that a candidate for office would turn down the endorsement of a former president, especially one who has maintained high approval ratings long after leaving the White House. But that's just what Philip Levine, a Democratic Florida gubernatorial candidate, has done, apparently casting aside his longtime friendship with Bill Clinton amid a national reckoning with sexual misconduct that almost demands it of him.
"I have lots of friends, from all walks of life, and I'm very, very proud of my friends," Levine, a former mayor of Miami Beach, told the Tampa Bay Times on Sunday. On his relationship with Clinton, Levine added: "I've always been honored in the past for his support, but I think right now in this election I'm running solo."
Levine told the outlet that Floridians shouldn't expect to see Clinton on the campaign trail with him, demurring that he wanted "the people of Florida to campaign for me."
"I don't really need anybody campaigning for me," Levine said. "I'm campaigning for myself."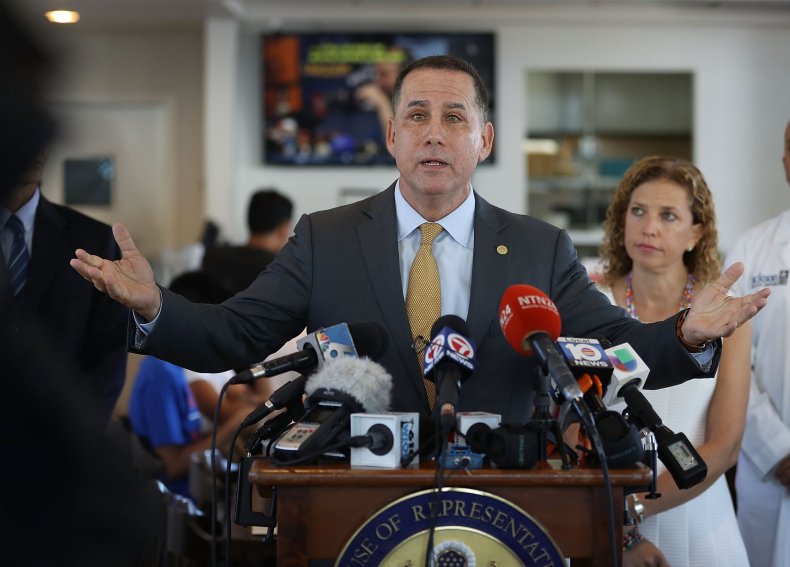 Clinton endorsed Levine during his mayoral run in 2013, telling a crowd at a Florida rally just weeks before the election that he would have thrown his support behind Levine even "if we weren't friends." The former president even starred in a television ad for Levine's campaign.
"America is being damaged by conflict, and we need people who will show up for work every day," Clinton said at the time. "Philip will show up to work and get things done."
Levine said he was "honored" to receive Clinton's endorsement, adding that he wanted to be a mayor that made the former president proud.
Clinton's support helped push Levine over the finish line that November. But as he ended his tenure as mayor, Levine found himself in a climate that could judge him harshly for maintaining a friendship with a man who had been accused of sexual assault and harassment.
President Donald Trump brought renewed attention to the misconduct allegations leveled against Clinton when Juanita Broaddrick, Kathleen Willey and Paula Jones appeared at a 2016 presidential debate, apparently to divert attention away from Trump's own alleged misdeeds. The #MeToo movement, however, has prompted both sides of the aisle to re-evaluate Clinton's legacy, and Levine isn't the only prominent Democrat to distance themselves from the 42nd president.
In November, New York Senator and rumored 2020 Democratic presidential candidate Kirsten Gillibrand, who's long enjoyed the support of both Clintons, said she believes Clinton should have resigned from the presidency after his relationship with Monica Lewinsky was revealed.
"Things have changed today, and I think under those circumstances there should be a very different reaction," Gillibrand told The New York Times. "And I think in light of this conversation, we should have a very different conversation about President Trump, and a very different conversation about allegations against him."
A spokesperson for the New York senator later clarified that Gillibrand had meant to imply that, had the revelations into Clinton's relationship come out amid the #MeToo era, the course of events would have likely been different.
If Levine feels the same, he won't say so explicitly. When The Tampa Bay Times asked him specifically about the rape allegations against Clinton, the outlet reported that the gubernatorial candidate "politely excused himself."
Newsweek has reached out to Levine's campaign for comment.