Bill Clinton's Elegant Love Letter to Hillary Was Sly and Effective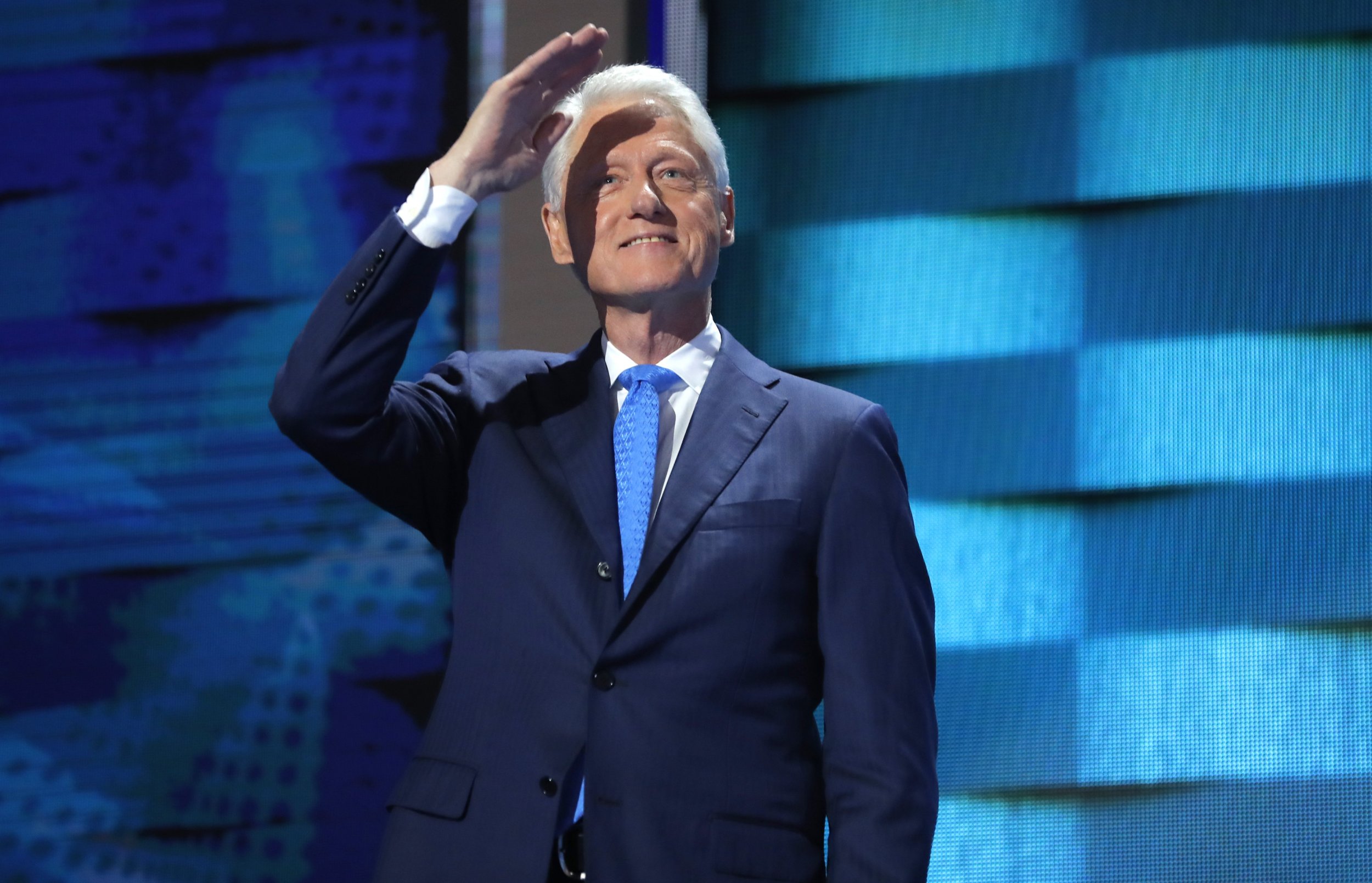 Decades later, it's hard to remember how battered Bill Clinton was after the 1992 primaries. He had secured the nomination, but his candidacy was marred by his efforts to avoid serving in Vietnam and allegations, later confirmed, of extramarital affairs. It looked like he was heading for a joyless convention in New York.
But events conspired to make it work. Ross Perot ended his presidential bid, for a short time, saying a "re-energized" Democratic Party meant he could leave the race. And Clinton's selection of Al Gore as his vice president—a triumph of amplification over diversification (two 40-something Southerners from adjacent states)—had propelled his poll ratings. The convention featured impressive keynotes from the regal Representative Barbara Jordan, a then liberal Democratic governor from Georgia named Zell Miller and a basketball star turned senator, Bill Bradley.
Now, two decades later, we have another convention, another battered Clinton candidacy. Only this time it's Hillary Clinton, the controversial senator and secretary of state, who is stuck in a close race with Donald Trump. This convention is unlikely to be equally transformative, but it could help her inch ahead of a reality star she ought to be beating more handily.
The former president began by tossing out the aw-shucks anecdotes about meeting Hillary Rodham at Yale Law School. They're well known to Clinton watchers but still new to millennials, especially young progressives who think the first couple are nothing more than an eye-rolling tangle of pathologies, humiliating affairs and Wall Street honoraria. Every marriage is a mystery, even to those in the middle of it. But by recalling the first time they locked eyes at Yale and his visit to her Bears- and Cubs-crazed family in the suburbs of Chicago, he made it a bit less opaque. He chronicled their nearly 50-year conversation, as Sidney Blumenthal dubbed it, about how to achieve liberal goals in a conservative country. "She took a huge chance," he said of Hillary Clinton accepting a job teaching law in Arkansas. "It was more rural, more culturally conservative than any place she had ever been."
By telling her story, he bolstered her character and liberal bona fides to a skeptical Democratic audience in the Wells Fargo Center and at home. Among other things, he chronicled her work on criminal justice reform, her efforts to register Mexican-American voters, the year she spent after law school at the Yale Child Study Center and her interest in the legal rights of disabled children.
Throughout the night, Bill Clinton accomplished three main things: He reminded the audience that Hillary Clinton was a young idealist. He made some sense of their marriage, perhaps the most analyzed in the world. And he rehabilitated himself, explaining his progressive history to a crowd that only knows him from the Defense of Marriage Act and the deregulation of derivatives. "I was defeated in the Reagan landslide," he recalled of his 1980 bid for a second term as Arkansas's governor. At 34, he'd gone from being the nation's youngest governor to the nation's youngest ex-governor.
Above all, Bill Clinton's speech was a love letter to his wife, though at times a corny one. "I married my best friend," he said, which seemed like a strange line to fill the arena. And let's not forget, this is a man who received oral sex from an intern in the Oval Office, then lied to his wife about it, as well as the country. And yet there is a reason they wound up together, and that resonated on Tuesday.
It would have been easier for them to go another route. An aspiring Arkansas politician would have been better off with a Little Rock beauty queen, not a smart, young lawyer from Illinois. She'd have been better off somewhere else too. Someplace more liberal, more hip. But they found each other, stayed together, and as weird as their marriage is, it does make some sense. Each thinks the other is the smartest person in the world. The respect is real, even if it's marred by contempt worthy of Who's Afraid of Virginia Woolf. "She's the best darn change-maker I've met in my entire life," Bill Clinton said.
As he spoke about her service as first lady, along with her time in the Senate and at the State Department, "change-maker" signs popped up in the audience. "She always wants to move the ball forward. That's just who she is," he said. When he cited her importing an Israeli preschool program to Arkansas or working with Republican Tom DeLay to make adoption easier, he was perhaps overstating his case, but only up to a point. When Hillary Clinton took up the cause of adoption with DeLay, it was a major moment. As House majority leader, the Texan had been a leader of the effort to impeach Bill Clinton and was reviled by Democrats. By putting that aside, the former president said, Hillary Clinton "honored him as an adoptive parent" and came up with a law that made it easier for not only unwanted newborns to find a home but also older foster kids, who are much harder to place.
Bill Clinton punctuated the account of their lives with sly, political moves. He likened President Barack Obama's courtship of Hillary Clinton to become secretary of state to his multiple attempts to get her to marry him. It was a savvy way of mentioning a president the crowd mostly adores. It also seemed to underscore her rare talents are recognized by other discerning eyes.
If Bill Clinton's remarks sound like a standard bio speech, gussied up by a great orator, recall that most conventions that nominate a senator or former senator spend little time on their congressional career. John Kerry, for instance, lingered on his experience in Vietnam in his 2004 acceptance speech, skipping over his decades in Congress. But Bill Clinton's speech called considerable attention to Hillary Clinton's years in Congress and the time she spent crafting policy and serving on the Armed Services Committee. It sounds wonky, but it was effective—it made her wonkiness appealing. "Nobody who has dealt seriously with our men and women in the military thinks they're a disaster," he said, dinging Trump. "They are a national treasure."
Reinventing government was one of Gore's top projects during his time as vice president in the 1990s. But Bill Clinton's speech idolized Hillary Clinton as a leader who wants to make government work and knows how to do it. Republicans attack her, he told the audience, because she knows how to deliver public services, and that scares them. They've reduced her to "a cartoon," conjuring up a fabricated and demonized version of her, which bears little resemblance to reality. "One is real. The other is made up," he said. "You just have to decide which is which. [But] today, you nominated the real one."
In an elegiac tone, recalling the decades of their lives together, he skipped the sordid parts of their history, brushing it a side with a simple line: "She'll never quit on you." The decision to omit an explicit discussion of their marital woes echoes a debate among staffers in Hillary Clinton's 2000 Senate campaign. Should she do a big speech explaining her marriage, explaining why she stayed with him? The decision back then and tonight, arguably a good one, was to accentuate the positive.
It takes a brilliant orator to write a love letter to a woman he's managed to dishonor in the most humiliating way. There's only one person who could pull it off: Bill Clinton. And he did.