Bill Clinton Admonishes Trump Over Impeachment Behavior: 'You Got Hired To Do a Job'
Former President Bill Clinton spoke publicly on President Donald Trump's impeachment for the first time in a CNN interview on Thursday. Relating experiences from his own impeachment proceedings in 1998, Clinton told anchor Jake Tapper that Trump and his administration needed to work with Democrats, despite their efforts to censure him.
Clinton called in during CNN's coverage of the Saugus High School shooting in Santa Clarita, California. Tapper began by asking Clinton about Attorney General William Barr's position that gun control legislation cannot be moved while the impeachment process is underway. "My answer is look at how much we got done in 1998 and 1999. Even in '97, we had very productive actions in all three years," Clinton responded. He also said that 1995 and 1996 were more difficult, because Republicans called for two government shutdowns. Clinton called Barr's claims "an excuse," noting, "Once the public rendered judgement on what they thought should be done, I just kept working with them."
Tapper asked Clinton what message he would give Trump who has claimed, "I can't work with these people. They're impeaching me." Clinton gave Trump simple advice. "My message would be, look, you got hired to do a job," the 42nd president said. He warned that dawdling during the impeachment would be detrimental to Trump's legacy, saying, "You don't get the days back."
"Every day's an opportunity to make something good happen," Clinton reiterated. "I would say, 'I've got lawyers and staff people handling this impeachment inquiry, and they should just have at it. Meanwhile, I'm going to work for the American people.' That's what I would do."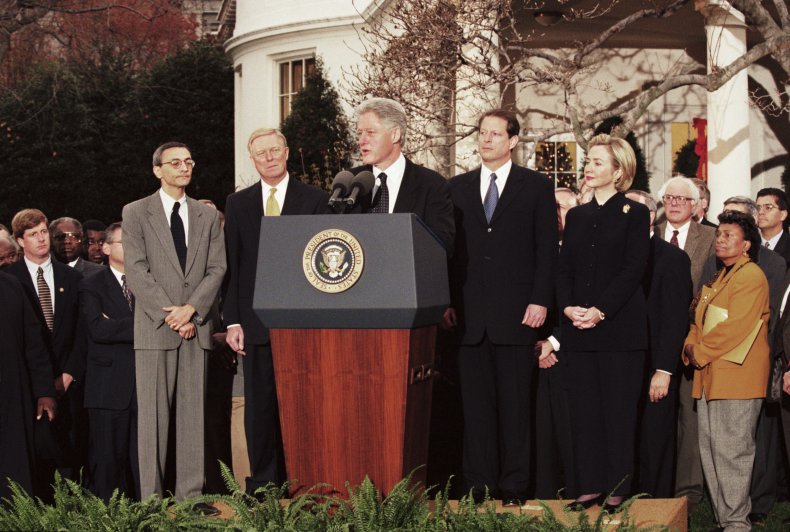 The former president later returned to the topic of gun control legislation. "[Trump] did indicate a couple times he would go along with this, and then, obviously, the gun lobby got a hold of him and pulled him back, but at some point denial is no longer an option," he said. He also called out Congress for doing nothing to try to pass legislation that would enforce stricter gun laws. "Congress is basically in denial of the consequences of doing nothing, or at least the people who were opposed to it," Clinton told Tapper.
The former president called for a "clean background check law, one that works in the modern world, takes advantage of our information technologies, and basically, doesn't bend over backwards to make it easy for people who have no business getting these guns to get them."