On the third day of Bill Cosby's retrial for accusations of rape and sexual assault, accuser Chelan Lasha took the stand for an emotional testimony Wednesday.
Lasha began crying while she was being sworn in, according to reports from The Daily Beast and The Washington Post. Through heavy sobs, Lasha told the jury of the courtroom in Norristown, Pennsylvania, that when she was a 17-year-old girl in Las Vegas, aspiring to be a model and actress, Cosby drugged and sexually assaulted her. At one point, when Judge Steven O'Neill stopped her testimony to go on lunch break, Lasha reportedly turned to look straight at Cosby and said, "You remember, don't you, Mr. Cosby?"
Cosby "smiled slightly" at Lasha's words, The Philly Inquirer's Jeremy Roebuck reported Wednesday.
The defense called for a mistrial, but the judge denied the request. However, O'Neill did chastise Lasha for her outburst and said he would remind other witnesses that they cannot speak to anyone in the courtroom during their testimonies from now on.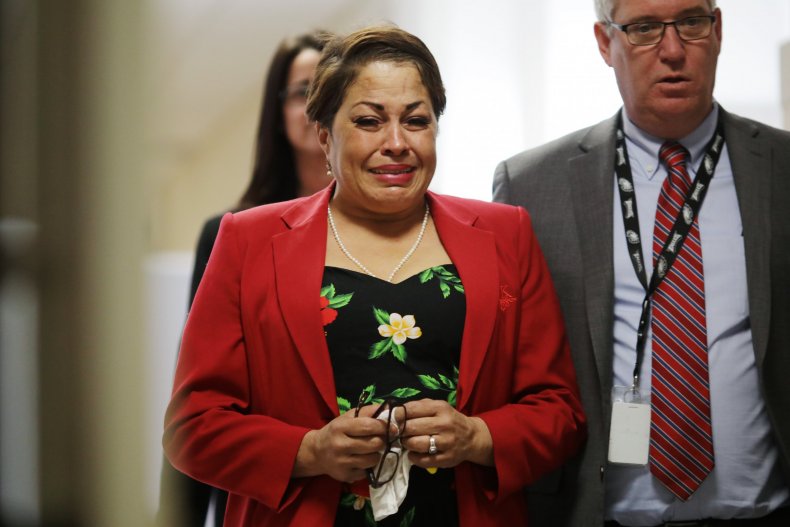 In her tearful testimony, Lasha said the Cosby Show star called her to his room at Las Vegas Hilton in 1986, claiming he wanted to talk about a potential role for on his show. When she arrived, he insisted she go to the bathroom and wet her hair, so he could see what it looked like. When she mentioned she had a cold, he gave her a blue pill and alcohol to help the cold. He said it was an antihistamine. Lasha said the drug made her feel woozy, she couldn't move, and then Cosby pushed her toward the bed. He allegedly sexually assaulted her.
"I couldn't say nothing," she told the court, sobbing. "'What are you doing…and why are you doing this to me?' You're supposed to help me be successful.'"
Lasha said she later got a threatening phone call from the comedian, where he said: "People that talk too much can be quieted."
Today, Lasha lives in California and works as a dietitian. In October 2015, she told the story of her Cosby encounter on NBC's Dateline special. She was also featured on the cover of New York Magazinealong with 34 other Cosby accusers in July 2015. She first came forward in December 2014, during a news conference in Los Angeles.
Four other women, in addition to Lasha, are testifying that Cosby drugged and sexually assaulted them in this trial. Former actress and Cosby accuser Heidi Thomas declared to the courtroom Tuesday, "I want to see a serial rapist convicted," according to The Washington Post.
In June 2017, a jury failed to reach a verdict on Cosby's alleged crime: drugging and sexually assaulting Andrea Constand, a Temple University basketball manager, in January 2004. For the retrial, Cosby has hired a new attorney, Tom Mesereau, to head his legal team. Cosby denied the accusation from Constand. Over 50 women have accused Cosby of similar crimes.