Bill Cosby Tattoos and the Secret Shame of People Who Have Them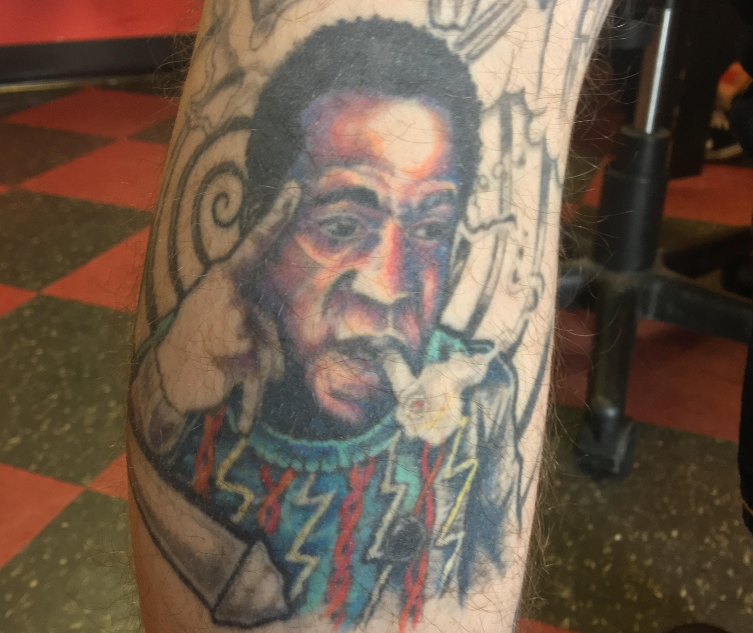 We all have them: mistakes, misjudgments, regrets—some more grave than others. Maybe you got drunk at your sister's wedding and said something offensive. Maybe you married the wrong person or wrecked your dad's car.
But at least you don't have a Bill Cosby tattoo. At least you never made that critical misjudgment—unless you're Arthur Zitzka.
A tattoo artist in Eagan, Minnesota, Zitzka has a tattoo of Cosby's face on his leg. These days, he usually wears jeans. The 33 year old had the tattoo for eight years. When he was in his 20s, Zitzka became fascinated by a book called No Regrets: The Best, Worst, & Most #$%*ing Ridiculous Tattoos Ever. It was 2009, and pop culture icon tattoos were becoming common. "Out of nowhere, color realism portraits became really popular and people were literally getting famous actors or characters from movies tattooed," Zitzka says. "One of the guys at the tattoo shop I was at at the time said, 'Man, I really want to do a Bill Cosby tattoo.' I was like, 'Fuck, I love The Cosby Show!' So we did it, and that was that." There wasn't any deep consideration. "I just grew up watching The Cosby Show. So we did it."
The image shows Cosby "dreaming up the formula for the pudding pop." Zitzka got the tattoo on his leg. He tweeted about it excitedly that week.
At the time, Cosby's legacy was sound. The comedian had been accused of sexual assault by several women in 2004 and 2005, but the claims received limited public attention. One accuser, Andrea Constand, filed a civil claim in 2005 and wound up settling out of court. Cosby's career carried on without much interruption.
In 2009, when Zitzka got Cosby's face inked on his leg, the comedian still seemed like a lovable childhood icon. Five years later, Cosby's career was engulfed by claims that he had drugged and assaulted dozens of women. More than 50 women came forward with stories. The allegations were chilling, and dated back as far as the 1960s. A criminal trial brought by Constand ended in mistrial on June 17.
Zitzka doesn't follow the allegations closely. He says he doesn't want to presume Cosby's guilt. He has hundreds of tattoos on his body—more than he can count. But he started feeling pretty weird about this one in 2014. "It probably is the only tattoo I possibly regret at this point," he says. "When I got it, I thought: 'It's Bill Cosby; who doesn't love Bill Cosby?" Flash forward to today, when I have to be cautious about where I wear shorts."
The tattoo has sparked some awkward encounters. Zitzka's friends and fellow tattoo artists tease him. Back when he lived in Chicago, he and his wife took a night boat cruise around Lake Michigan. "We were standing outside smoking and a little old lady came up to me super appalled and was like, 'Oh my God, is that Bill Cosby on your leg?' I was like, 'Oh my God, it is, ma'am. But I don't find date rape or anything like that humorous at all.' You know what I mean? The tattoo is far older than any of the stuff going on. She gave me the old-person-disapproval-of-tattoos-in-general look and then walked away."
Related: Tattooists help breast cancer survivors transform scars into art
Zitzka is not the only one who feels weird about their Cosby tattoo. Others exist. They're out there. They walk among us undetected, like the pod people in Invasion of the Body Snatchers, silently hoping you won't ask about the ink on their forearm or perhaps ankle. Their tattoos are emblems of the permanence of ink bumping up against the changeability of celebrity reputations. Your heroes might disgust you. Your affection might be corrupted. Your tattoo might fade. But it won't go away.
When you search social media for "Bill Cosby tattoo," you'll find a lot of attempts at humor.
But then, when you tweak the search so it's limited to pre-2014 results, you'll find the social media residue of people who really did get Cosby tattoos—or at least talked about it. (You can find a picture of another Cosby tattoo in the comments section of a BuzzFeed post titled "Show Us Your Regrettable Tattoo." )
Rob McElhenney, the actor from It's Always Sunny in Philadelphia, flashed a Cosby tattoo of his own during a 2015 appearance on Conan. The ink was temporary for a gag, but McElhenney revealed a clever solution: Draw a mustache with a sharpie and change "COSBY" to "CROSBY."
Zitzka has thought about permanent solutions as well. "I would love to have some laser removal done on it and then I could get a nice, really cool tattoo in that spot," he answers. "[But] laser is real expensive, and it hurts. Until I get some extra funds, it's just gonna stay there."