Bill Cosby Case Ends in Mistrial: What Happens Next to the Comedian Accused of Sexual Assault?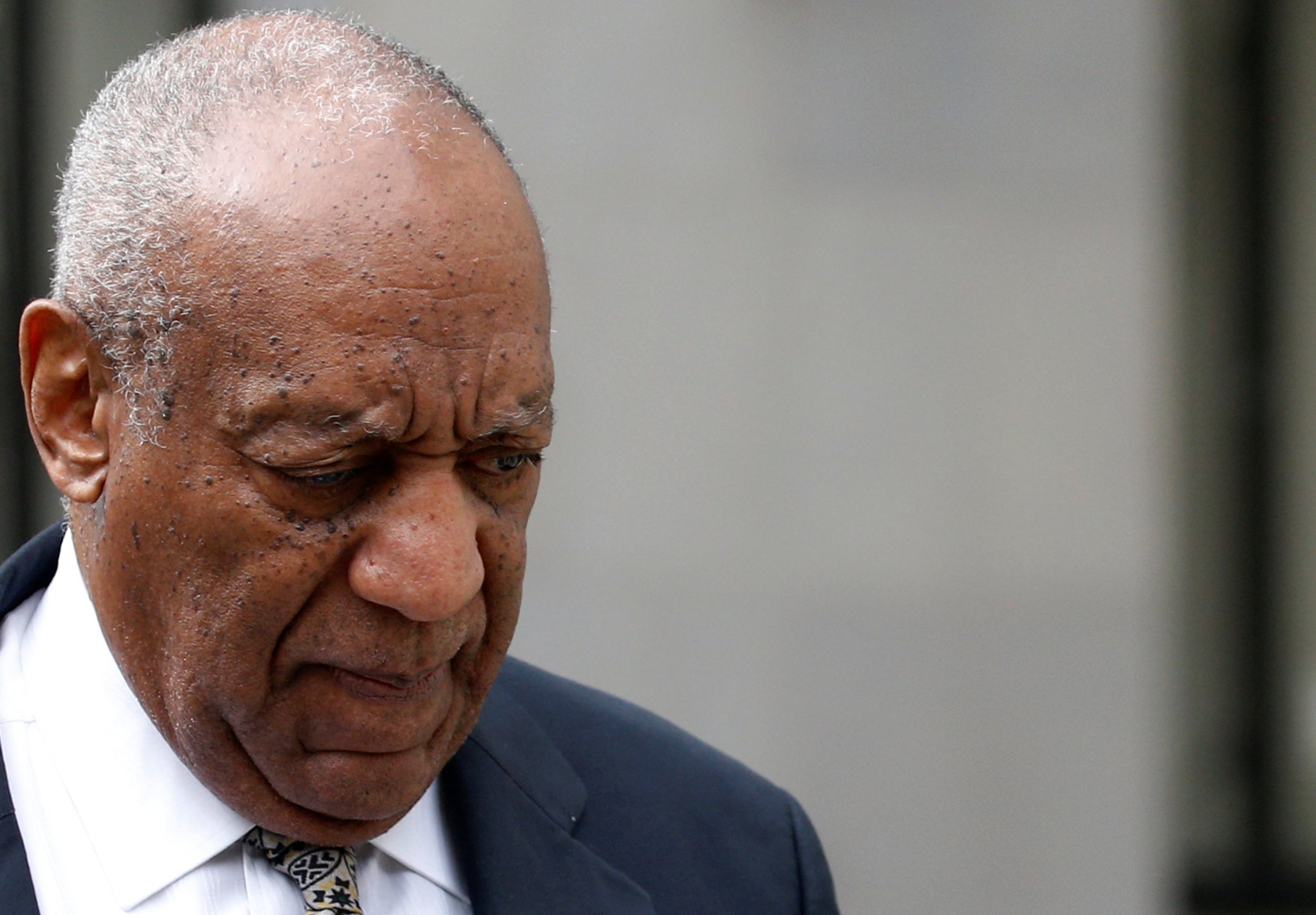 After more than 50 hours of deliberations, Bill Cosby's trial on three charges of aggravated sexual assault against Andrea Constand was declared a mistrial Saturday after the jury declared it was "hopelessly deadlocked" on all counts.Judge Steven O'Neill had previously encouraged the jury to continue deliberations as efforts to reach a verdict entered its sixth day.
Related: What To Look For in the Cosby Sex Assault Trial
The District Attorney for Montogomery County, Kevin R. Steele immediately announced that the prosecution would retry the case. Steele added that O'Neil, who he expects will again be the judge in a retrial, said in court that a retrial would occur within 120 days.
After announcing his decision, the judge said the jury's actions constituted "probably one of the more courageous acts, selfless acts that I've ever seen in the justice system."
In a statement, Cosby's longtime wife, Camille Cosby, called the district attorney "heinously and exploitively ambitious" and the judge of "arrogantly collaborating with the district attorney​."​​
Cosby, 79, faced a maximum of 10 years in prison for each of the three charges, if convicted. The mistrial declaration means that Cosby is neither guilty or acquitted. leaving it down to prosecutors to decide whether to retry the case.
The actor and comedian was accused of drugging and assaulting Constand, then a basketball official at Cosby's alma mater, Temple University, at his suburban home outside of Philadelphia. The trial featured six days of testimony in Norristown, Pennsylvania
As the hours ticked by without a verdict, tension rose in the courtroom with Cosby's defense team pushing the judge to call a mistrial. O'Neil, however, repeatedly praised the jury for the care they were taking to reaching a decision. During their deliberations, the seven men and five women jury asked a series of questions, including a request to hear back testimony from Constand describing the night of her alleged attack, as well as excerpts from Cosby's decade-old deposition from a civil suit. In his deposition, Cosby said he gave Constand Benadryl pills and admitted to having two sexual encounters with her.
"I wanted her to be comfortable and relaxed and be able to go to sleep after our necking session," he said.
Testifying in court last week, however, Constand, 44, said she was unable to fight Cosby off.
"In my head, I was trying to get my hands to move or my legs to move, but I was frozen," she said. "I wasn't able to fight in any way. I wanted it to stop."
During their lengthy deliberations, the jury also asked to hear again the part of Cosby's testimony in his deposition when he called the pills his "friends" and said the sexual activity with Constand was consensual.
In 2005, the Montgomery District Attorney decided not to pursue criminal charges against Cosby. But in the years since, numerous women came forward to describe similar encounters of being drugged by Cosby before being sexually assaulted by him. A total of 58 women have now come forward. Cosby also faces lawsuits from 10 women across the country.
In the depositions, which were unsealed in 2015, Cosby admitted to obtaining Quaaludes to give to young women to engage in sexual intercourse.
Cosby found fame as a comedian in the 1960s before going on to star in one of the country's most popular ever sitcoms, The Cosby Show, where he played the head of an upper-middle-class black family in New York City. Outside of the show, he similarly portrayed the image of a moral arbiter for the black community, something which comedian Hannibal Buress cited in 2014 when he called out Cosby as a "rapist," reigniting a wave of accusations.
This story has been updated to include the prosecution's decision to retry the case.