Bill Cosby Says He Is Blind While Daughter Insists He 'is Not Abusive, Violent or a Rapist'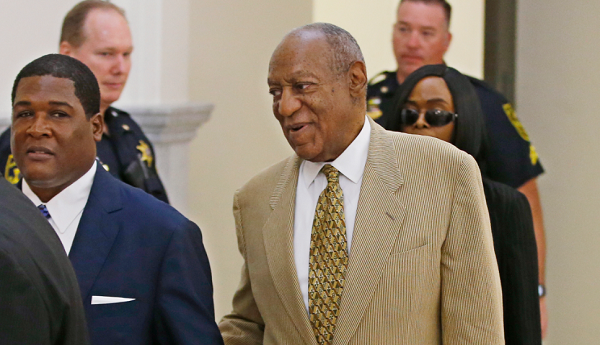 After staying quiet for nearly two years, Bill Cosby opened up this week to the press about the latest challenges in his long entertainment career. But he isn't addressing the sexual assault charges he'll start trial for in June. Instead, Cosby spoke out about being legally blind.
During trial in October 2016, Cosby's attorneys told the court that he was "legally blind" and argued that his vision impairment prevented him from being able to fully defend himself. The family TV legend essentially argued he was too blind to see and point out the women who had accused him of drugging and then sexually assaulting them.
Cosby hadn't otherwise addressed his loss of sight, until now. In a rare interview with NNPA released Wednesday, Cosby confirmed he was indeed a blind man and recalled one day about two years ago when he realized he was unable to see. Cobsy said he woke up one morning and called out to his wife, Camille Cosby, and simply told her, "I can't see."
The realization occurred right around the time Cosby was set to perform a series of comedy shows. But doctors were unable to do anything to restore "The Cosby Show" actor's eyesight, which made performing during his 2015 comedy tour difficult.
At the same time, a string of the 79-year-old's performances were canceled before the tour ended in May 2015. While no specific venue said his acts were called off because of the numerous sexual abuse allegations Cosby was facing—58 women have since accused him of sexual assault—some of his shows were protested by locals enraged by the claims against the comedian.
Cosby said he hasn't given up on his career just yet.
"I miss [performing] and I hope that day will come [again]. I have some routines and storytelling that I am working on," he said.
Cosby, who has pleaded not guilty in the trial, declined to directly address the allegations against him. But he did compare his current legal storm to America's dark history of racism.
"The history about African-Americans is a history of the United States; but the true histories, not the propaganda that is standard in our nation's history books," Cosby said. "The great writer, James Baldwin, said, 'If you lie about me, then you lie about yourself.' The revolution is in the home. There is something about someone saying, 'I didn't know that,' that could cause a change in that person's thinking."
Cosby's interview came as his youngest daughter, Evin Cosby, released a statement Wednesday defending her father. She claimed women had made devastating allegations against her father for years and described the public persecution he's faced throughout the course of his career.
"We live in a scandalous country where the more sexualized and provocative the story, the more attention it gets. We get all sorts of mixed up messages in our society," she wrote. "He is not abusive, violent or a rapist. Sure, like many celebrities tempted by opportunity, he had his affairs, but that was between him and my mother. They have worked through it and moved on, and I am glad they did for them and for our family. The harsh and hurtful accusations of things that supposedly happened 40 or 50 years ago, before I was born, in another lifetime, and that have been carelessly repeated as truth without allowing my dad to defend himself and without requiring proof, has punished not just my dad but every one of us."