Bill Cosby Paid 'Millions of Dollars' to Silence Rape Accuser, Says Ex-DA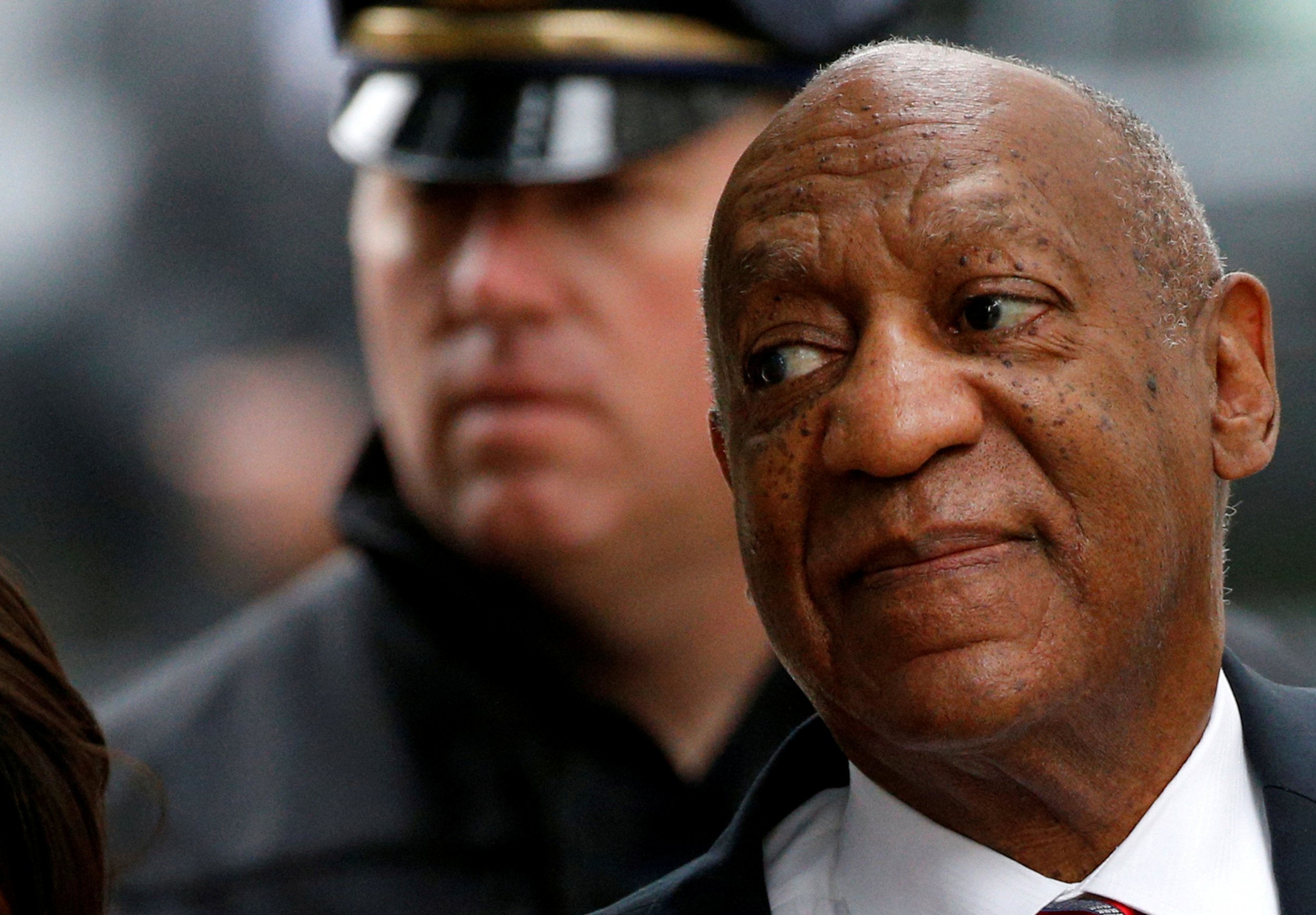 Eleven years ago, Bill Cosby paid Andrea Constand, the woman who accused him of drugging and sexually assaulting her, a civil settlement "well into the millions of dollars," according to a lawsuit filed yesterday in Philadelphia Common Pleas Court.
Constand, who was expected to go away and keep quiet, testified against Cosby in a criminal trial last June that ended in a mistrial. Although more than 50 women have publicly accused Cosby of assaulting them, Constand's case was the only one that had made it to trial.
The disclosure of the multimillion-dollar payment by Cosby to Constand was revealed in a lawsuit filed yesterday by Bruce L. Castor Jr. against Constand and her lawyers. It was Castor who decided not to file a criminal complaint against Cosby back in 2005, when he was the Montgomery County, Pennsylvania, district attorney. He claims that decision caused him to lose a reelection campaign 10 years later.
Constand, a 44-year-old former director of operations for Temple University's women's basketball team, claimed that in 2004 Cosby drugged her with three blue pills, then sexually abused her at his suburban home in Elkins Park, Pennsylvania.
In a lawsuit filed in Philadelphia Common Pleas Court, Castor claimed that Constand and her lawyers improperly used the courts to file a "patently frivolous and knowingly false" defamation lawsuit against Castor in 2015. It also says it was Castor's actions as Montgomery County's DA that enabled Constand to collect the multimillion-dollar settlement from Cosby.
Castor's contention is that Cosby only agreed to be deposed for a civil suit filed by Constand after the DA advised Cosby that he would not file a criminal complaint against him. At the civil deposition, Cosby admitted to drugging Constand and having sexual contact with her. Those admissions were used against him at his criminal trial this past summer.
A judge in 2015 decided to unseal Cosby's civil deposition after the comedian was indicted criminally by another Montgomery County district attorney who succeeded Castor.
The jury deadlocked in Cosby's trial last June, and the judge declared a mistrial. Prosecutors said they will retry Cosby next spring on three counts of aggravated indecent assault, a charge that carries a prison sentence of up to 10 years in jail.
In legal briefs in Constand's defamation case filed against Castor, Constand's lawyers argued that their client is a private person who has "lived a very quiet and private life in Canada for 10 years." But Castor's lawyers argued that Constand "knowingly gave up her privacy rights when she sued" Castor for defamation.
The judge in the defamation case is weighing a request by Constand on whether to keep "sensitive personal information," such as her medical and financial records, under seal. Those financial records may include how many millions Cosby paid Constand to go away.
Cosby is also suing Constand for breach of contract. Last year, his lawyers argued in court that Constand had defaulted on their civil settlement, because she was required to notify Cosby before she talked to police, which she didn't do. Cosby's lawyers want Constand to refund the money he paid her.
Constand sued Castor for defamation after he claimed that if he had prosecuted Cosby, both the comedian and his accuser would be portrayed "in a less than flattering light." Castor also said that Constand's account of Cosby's alleged abuse in the civil case was different from what she told authorities in the criminal case.
In Castor's lawsuit, the former DA claimed it was Constand who prevented a successful prosecution of Cosby by making "multiple irreconcilably inconsistent and far-reaching statements" to authorities about her relationship with Cosby and the alleged drugging incident.
The inconsistencies concerned when the alleged assault occurred and whether Constand had "ever had sexual contact with Cosby prior to the night of the alleged assault," Castor's lawyers wrote. Other inconsistencies included "whether Constand and Cosby "exchanged flirtatious behavior and multiple gifts prior to the alleged assault," according to the lawsuit.
While Constand had claimed to police that she and Cosby "rarely spoke" after the alleged assault, the Castor lawsuit says phone records show that she and Cosby "exchanged over 70 phone calls, with 53 of them being made by Ms. Constand to Cosby, after the alleged assault."
The inconsistent statements cited by the Castor lawsuit also include "whether Constand and her mother had "illegally wiretapped Cosby and other witnesses, compromising the DA's investigation… As a result of Ms. Constand's marked inconsistencies, Castor declined to prosecute Cosby, and encouraged the parties to resolve the matter via a civil lawsuit, because a civil lawsuit carries a much lower burden of proof than that of a criminal prosecution," says the lawsuit filed by James E. Beasley, Heidi G. Villari and Lane R. Rubb Jr. of Philadelphia, on behalf of Castor.
The lawsuit names as defendants Constand and her lawyers, Bebe H. Kivitz of Philadelphia and Dolores M. Troiani of Berwyn, Pennsylvania, as well as their respective law firms. "Castor acted in Ms. Constand's best interest by making decisions that removed Cosby's ability to assert the Fifth Amendment in the impending civil lawsuit," Castor's lawyers wrote, adding that the result for Constand was a settlement "well into the millions of dollars… Not satisfied with this multimillion dollar resolution, these defendants continued their smear campaign against Castor, all with the intent of getting Cosby convicted and Castor's political career destroyed."
The lawsuit contends that Constand and her lawyers assisted Kevin Steele, Castor's opponent for DA who won the election, by "leading the public to believe that Castor had carelessly overlooked the Cosby prosecution in 2005."
The Castor lawsuit contends that the defamation lawsuit was filed "approximately one week prior to the election for District Attorney, in order to ensure the greatest harm to Castor's chances at winning the election and his reputation," Castor's lawyers wrote.
Castor, who "was up by as many as 10 polling points prior to the sham lawsuit," his lawyers wrote, lost the election, after winning four previous elections as DA.
Constand's lawyers could not immediately be reached to comment.