Bill de Blasio, Bootsy Collins Mourn Passing of 'Just a Friend' Rapper Biz Markie at 57
Funk musician Bootsy Collins, New York Mayor Bill de Blasio and other notable figures paid tribute to rapper Biz Markie shortly after Markie's death on Friday evening. Markie died at the age of 57 due to health issues related to Type 2 diabetes.
Markie (birth name Marcel Theo Hall) was widely known for his 1989 hit "Just A Friend", a catchy song about constant rejection. However, he distinguished himself as an innovative beatboxer whose comedic onstage performances earned him the title "The Clown Prince of Hip-Hop."
Though his final album came out in 2003, he remained in the public eye afterwards. He appeared in the sci-fi movie Men in Black II and on the musical kids' TV show, Yo Gabba Gabba! He also performed at hip-hop events as the opening act for comedian Chris Rock during his 2008 "No Apologies" tour.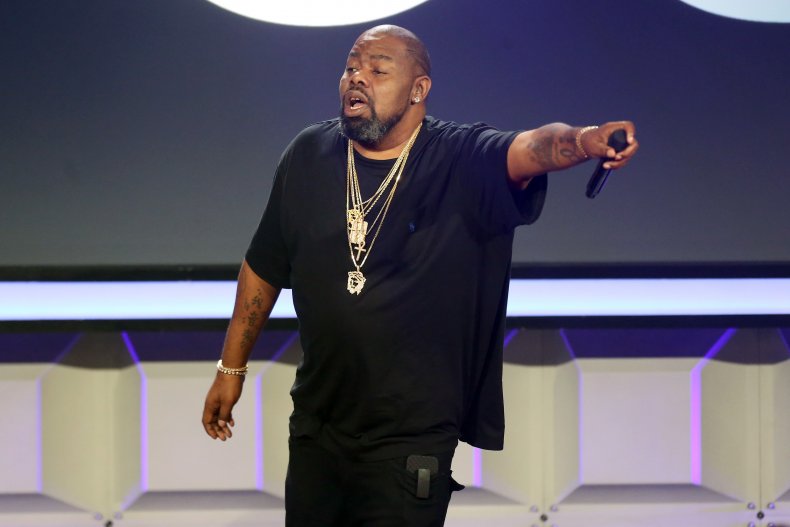 More recently, he appeared in a 2016 episode of the Fox News hip-hop drama Empire and in the 2017 season finale of the ABC series Black-ish. He became hospitalized in late July 2020.
"Biz created a legacy of artistry that will forever be celebrated by his industry peers and his beloved fans whose lives he was able to touch through music, spanning over 35 years," his representative Jenni Izumi told Newsweek in a statement. "He leaves behind a wife, many family members and close friends who will miss his vibrant personality, constant jokes and frequent banter."
After Markie's passing, Bootsy Collins, a funk musician best known for his work with James Brown and Parliament-Funkadelic, wrote, "We lost another Rap legend Mr. Biz Markie, an American rapper, singer, DJ, record producer, actor, comedian, and writer. He's best known for his 1989 single 'Just a Friend'! To a lot of us he was more than Just a Friend. R.I.P. Prayers going out to the family & friends. "
Q-Tip, a performer known for his work in the hip-hop group A Tribe Called Quest, wrote, "This one hurts baad ... RIP to my Aries bro... ahhh man
@BizMarkie damn im gonna miss u so so many memories.. hurts bad. My FRIEND".
Flea, a founding member of the rock band Red Hot Chili Peppers, wrote, "All of my love to the one of a kind bringer of love and joy, the great Biz Markie. I will bang his records til the day I die and my heart will rejoice. I love you Biz."
Broadcast journalist Tamron Hall wrote, "Rest In Peace. This man made my laugh, cry, and feel such joy. You will be missed !! The incomparable #bizmarkie Not just a friend, an inspirational soul."
Political news commentator Joy Reid wrote, "Another huge loss to hip hop, the culture and the world. Rest in peace, Biz Markie. Gone too young..."
New York Mayor Bill de Blasio wrote, "Biz Markie turned hip hop on its head and brought that New York sense of humor to audiences across the world. We're mourning a true son of Harlem tonight."
Rapper R.A. the Rugged Man wrote, "Biz Markie is my idol, I looked up to him Since I was a little kid, I wanted to be the Biz. I wanted to be the shining star class clown ultimate party rocker of the JUICE CREW. One of the greatest live entertainers that ever lived. A HipHop machine, a beat boxer, an MC, a DJ, a dancer, a hit maker, beat maker, classic albums, The ultimate HipHop showman. One of my mentors from my neighborhood. I love you. I look up to you, I cherish knowing you, I will miss you in this life. I'm so sad. Rest In Peace icon / Legand. My condolences to your beautiful family."
The musician INFAMOUS wrote, "RIP BIZ MARKIE... ur attitude and contributions to hip hop and the world were needed and appreciated. ❤️"
The record label Ghostly wrote, "The actual essence of hip-hop. Character, style, and skill. A Human Beatbox and a DJ's DJ. The human as an endless well of emotion and finesse. RIP Biz Markie."