Bill De Blasio Calls on New York City Employers in City to Require COVID Vaccines
New York City Mayor Bill de Blasio called on private employers in the city Friday to issue COVID-19 vaccine mandates.
De Blasio called into The Brian Lehrer Show podcast, for his weekly Friday appearance on WYNC, to discuss the mayor's efforts to get New York City vaccinated. He first addressed the city's latest mandate directed at public healthcare workers, which was initiated on Wednesday.
"We're going to really respect our workforce, but we're also saying very clearly, you have to get—if you're a public health care worker, you have to get vaccinated or get tested once a week," de Blasio said. "If you don't agree to one of those things, we'll give you every chance, but if you don't agree to one of those things, then you're suspended without pay."
Nearly 4.5 million people living in New York City are fully vaccinated, according to data from NYC Health. Dr. Mitchell Katz, President and CEO of NYC Health + Hospitals, said the vaccination rate for public healthcare workers is at about 60 percent.
Host Brian Lehrer brought up San Francisco's mandate requiring all city workers to get vaccinated, which Mayor London Breed announced in June. City workers in the Bay Area have until July 29 to report their vaccination status, according to the mandate. Those employees then have up to 10 weeks following FDA approval of a vaccine to get the shot.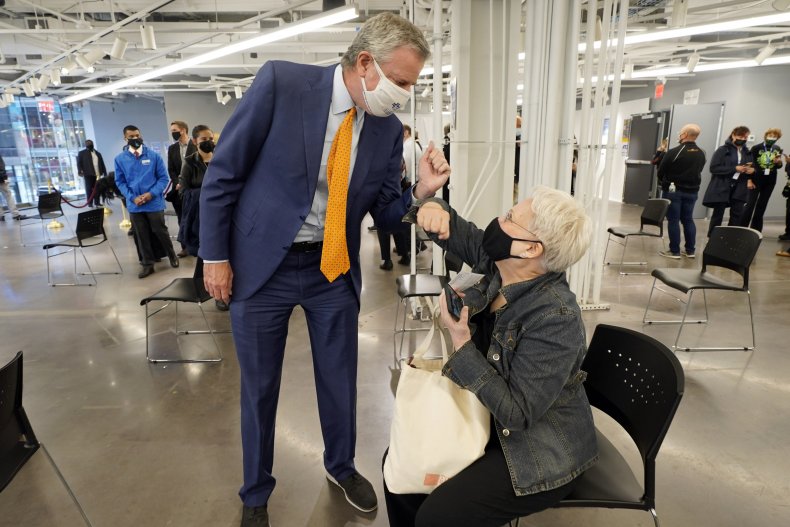 De Blasio commended Mayor Breed for her efforts to get her city vaccinated, but he would not elaborate as to if New York City would see similar mandates in the future. De Blasio said he believes mandates like that will cause a domino effect resulting in the private sector issuing their own vaccination mandates.
"We tried purely voluntary for, you know, over half a year. We tried every form of incentive," de Blasio said. "But now we got to go farther. So, we have reached the limits of a purely voluntary system. It's time for more mandates, different kinds, different places, different approaches."
The mayor said he wants to respect individual businesses, but he believes at least larger companies should begin issuing vaccination mandates now. He cited employment, freedom and the ability to "live again" as major motivators to get vaccinated at this point in the pandemic.
"I'm calling upon all New York City employers, including our private hospitals: move immediately to some form of mandate whatever the maximum you feel you can do," de Blasio said.
"And if we do that, we could actually live again fully," he added.