Does Bill de Blasio Think Rudy Giuliani Should Go to Jail for Ukraine Dealings? 'It Sure Looks That Way'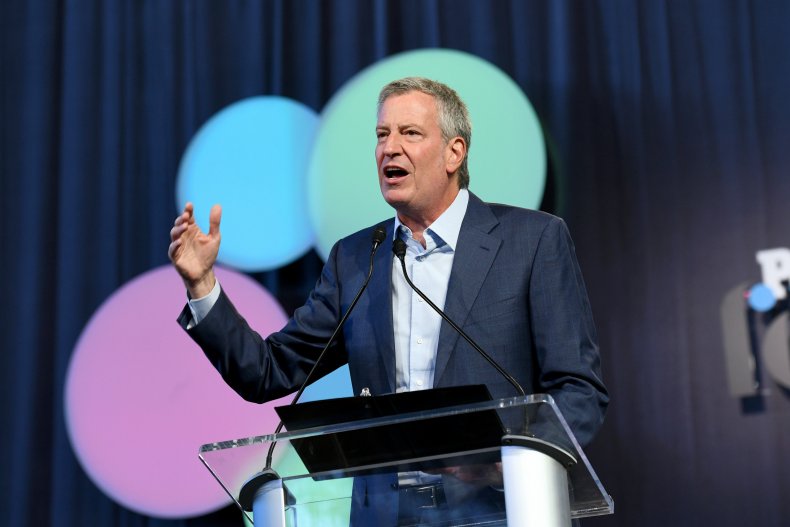 New York City Mayor Bill de Blasio, a one-time presidential candidate in the 2020 race, said Friday that he believes his mayoral predecessor Rudy Giuliani may need to go to jail for his activities related to Ukraine on behalf of President Donald Trump.
Giuliani, who served as New York City's mayor from 1994 to 2001 and now acts as Trump's personal attorney, has had a freelancing role in a major political scandal involving the administration's attempts to pressure Ukraine to investigate former Vice President Joe Biden, Trump's chief rival in the 2020 race.
"I feel like if Donald Trump and Rudy Giuliani were trying to speed up the impeachment process, they could not do any better," de Blasio said on Hot 97's Ebro in the Morning radio show. "They're really outdoing themselves every day."
When asked if Giuliani should go to jail for his actions, which include collaborating with Ukrainian officials to undermine the U.S. ambassador, de Blasio said, "It sure looks that way."
"I have felt for decades that Rudy Giuliani was a divisive human being who caused a lot of pain and a lot of harm, but you're asking now about this as a matter of law," he said. "It sure looks that way. I mean, he deserves a trial like anyone else, but some people are like, 'Oh wow, Rudy suddenly went crazy.' I'm like, 'No wait a minute, Rudy has been doing overtly divisive, racist things for decades.' I don't think this is sudden behavior, it just may be the most overtly criminal behavior."
The New York Times reported that Giuliani was under investigation from federal prosecutors in Manhattan over the potential violation of laws regulating lobbying on behalf of foreign governments. Two of Giuliani's longtime associates and two other businessmen have been indicted so far for efforts to launder foreign campaign contributions to U.S. politicians. The two associates led a pressure campaign to induce then-Congressman Pete Sessions to get Marie Yovanovitch, the U.S. ambassador to Ukraine, fired.
Giuliani's involvement was exposed when the contours of a whistleblower's complaint were made public in September, alleging a host of improprieties related to Trump's political interests. The complaint accused Trump of leveraging his office to instigate interference in the upcoming election to his benefit.
"The President's personal lawyer, Mr. Rudolph Giuliani, is a central figure in this effort," the whistleblower wrote in a letter to the heads of the intelligence committees in Congress.
A central defense of the efforts of Trump and his associates has been that Ukraine was never explicitly told military aid would be withheld if the country failed to comply with Trump's wishes. However, this defense was severely undermined on Thursday when Trump's chief of staff, Mick Mulvaney, said outright that military aid was conditioned on investigating another conspiracy pushed by Trump.
"Did [Trump] also mention to me in the past the corruption related to the DNC server?" Mulvaney posited to reporters in the White House briefing room. "Absolutely, no question about that. But that's it, and that's why we held up the money."
Mulvaney subsequently tried to walk back his comments, claiming in a statement later released that "there was absolutely no quid pro quo between Ukrainian military aid and any investigation into the 2016 election."