Bill de Blasio Gets Con Don Nickname for Donald Trump Trending, President Responds Calling Mayor a 'Joke'
President Donald Trump is known for his skill with devastating nicknames. Now it appears the tables have turned, with New York City Mayor Bill De Blasio's sobriquet for the president—Con Don—briefly trending on Twitter.
The nickname for the president started doing the rounds just hours after de Blasio announced he would be running for the Democratic presidential nomination. He is the 24th candidate to enter the crowded and diverse race to top the 2020 Democratic ticket.
As de Blasio appeared on ABC's Good Morning America early Thursday, he fired the broadside at Trump. "I call him Con Don. Every New Yorker knows he's a con artist," the mayor said.
The president hit back at de Blasio as the two New Yorkers traded insults. "The Dems are getting another beauty to join their group. Bill de Blasio of NYC, considered the worst mayor in the U.S., will supposedly be making an announcement for president today. He is a JOKE, but if you like high taxes & crime, he's your man. NYC HATES HIM!" the president tweeted shortly afterward.
De Blasio has set up his 2020 campaign in direct opposition to Donald Trump. "I'm a New Yorker, I've known Trump's a bully for a long time, this is not news to me or anyone else here, and I know how to take him on," de Blasio said in a slick YouTube video that launched his 2020 candidacy.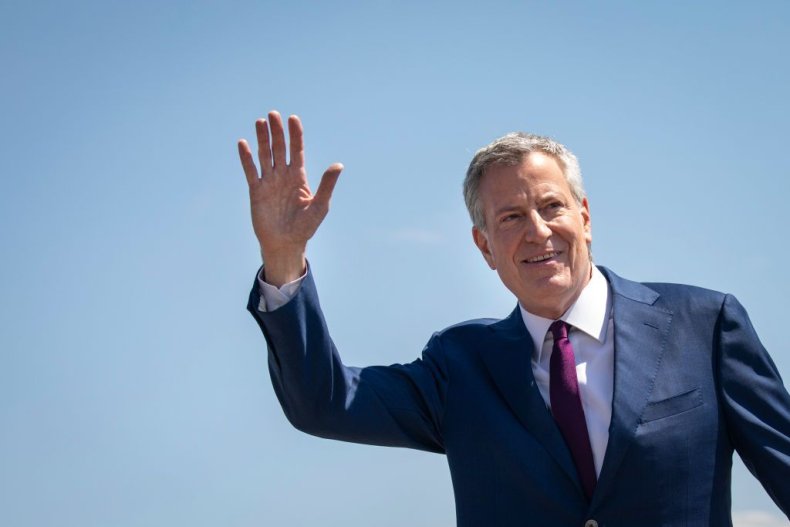 "Don't back down in the face of a bully. Confront him. Take him on.... Donald Trump must be stopped. I've beaten him before, and I will do it again," the New York Mayor added.
De Blasio has leaned heavily on the work he has done in New York to oppose the president's policies while making this first introduction to the 2020 presidential race. The video mentions the mayor's efforts to fight family separation at the southern border and unilaterally signing New York up to the Paris climate change accord after Trump withdrew from the agreement.
The New York Democrat has served as mayor since 2014 and is now in his second term. NBC News reported that de Blasio was signed in to his first term by former President Bill Clinton after he managed Hillary Clinton's successful 2000 Senate race.
De Blasio has now officially embarked on the campaign trail and is due to arrive in Iowa this evening. He's heading to South Carolina to campaign over the weekend.