Bill Gates Blasted for Complaining About Elizabeth Warren's Proposed Wealth Tax: 'This Billionaire Pity Party is Pathetic'
Microsoft founder Bill Gates has come under fire after expressing reservations over Senator Elizabeth Warren's billionaire tax plans and for refusing to rule out voting for President Donald Trump over the Democratic frontrunner in the 2020 presidential election.
Speaking at The New York Times' DealBook conference on Wednesday, Gates repeated his position that he favored higher taxes on the ultra-rich, but said he would have to pause and "do a little math" over Warren's proposal given how much extra he would have to pay.
The Massachusetts senator has proposed a 6 percent tax on wealth above 10 figures, meaning Gates could be liable for roughly $6.4 billion in taxes every year if approved.
"[Over my life] I've paid over $10 billion in taxes," Gates said. "I've paid more than anyone in taxes. If I had to pay $20 billion, it's fine."
"But when you say I should pay $100 billion [over a lifetime], then I'm starting to do a little math over what I have left over," he added.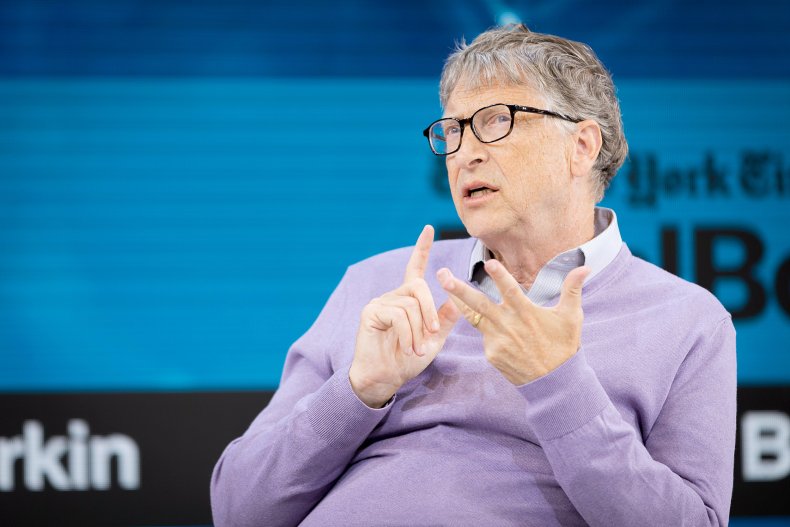 The comments drew criticism from a number of people on social media, who argued that Gates should not be complaining given that he would still be a billionaire.
Gates, who is worth $106.8 billion in wealth, recently dropped to being the third richest person in the world behind Amazon's Jeff Bezos and luxury goods business magnate Bernard Arnault, according to Forbes' real-time billionaires rankings.
"Even if someone was asking Bill Gates to pay $100 billion in taxes, and nobody is, he would still have more money left over than Oprah and Richard Branson have combined," Adam Best, the founder of The Left podcast, said. "This billionaire pity party is pathetic," he added.
Lee Fang, an investigative journalist at the Intercept, said: "If Elizabeth Warren passed her extra 6 percent wealth tax on fortunes over $1 billion and Bill Gates never gained a single dollar again from any of his investments, he'd still be a billionaire 60 years from now."
Gates was further criticized when he did not state outright whether he would back Democrat Warren against Trump in next year's presidential election, although he did not suggest his voting intentions either way.
"I'm not going to make political declarations," Gates said.
"But I do think no matter what policy somebody has in mind ... whoever I decide will have the more professional approach in the current situation, probably is the thing I will weigh the most.
"And I hope that the more professional candidate is an electable candidate."
Among those to condemn Gates for his stance was Time magazine's editor-at-large Anand Giridharadas, who described them as "astonishing" in a lengthy Twitter thread.
A number of people defended Gates, however, arguing that his positions and contributions to reducing inequality were more favorable than most.
In clarifying his comments during the New York event, Gates said he is in favor of a higher estate tax and other ways of generating tax revenue, but said that a middle ground needed to be reached.
"You really want the incentive system to be there, and you can go a long ways without threatening that," he said.
Discussing whether he would ever sit down with Warren to discuss her tax plans, Gates added: "I'm not sure how open minded she is—or that she'd even be willing to sit down with somebody who has large amounts of money."
Following the event, Warren tweeted to say she would be interested in sitting down with the billionaire, although they may have different views.
"If we get the chance, I'd love to explain exactly how much you'd pay under my wealth tax. (I promise it's not $100 billion)," she said.