Bill Gates Gets Ready to Take on Big Energy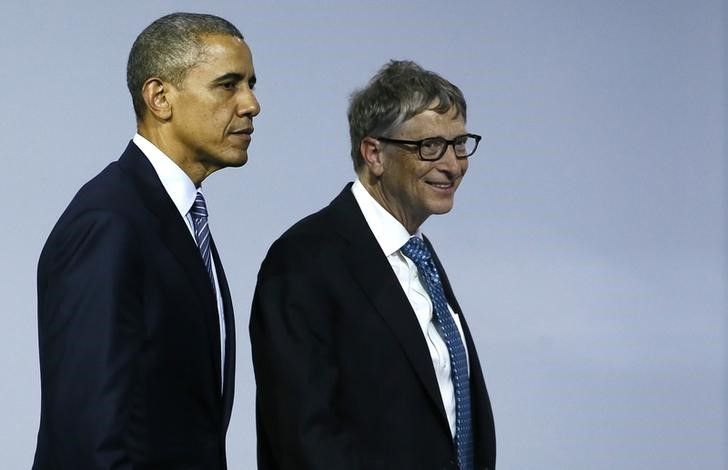 PARIS (Reuters) - Bill Gates grows most animated when the talk turns to the "cool" new energy technologies that have yet to leave the lab.
Gates was a rare civilian sharing the limelight alongside presidents and prime ministers at the opening session of Paris climate talks on Monday.
Offstage, in a barren conference room, he excitedly described the possibility of generating energy through the long-speculated process of artificial photosynthesis, using the energy of sunshine to produce liquid hydrocarbons that could challenge the supremacy of fossil fuels.
"If it works it would be magical," says Gates, hugging his elbows to his side and rocking lightly in his seat.
"Because with liquids you don't have the intermittency problem [that] batteries [do]. You can put the liquid into a big tank and burn it whenever you want.
"There are dozens of things like that that are high risk but huge impact if they are successful."
Gates was in Paris to push his latest bit of entrepreneurial philanthropy: the Breakthrough Energy Coalition, an informal club of 28 private investors from around the world, including several hedge fund billionaires who have agreed to follow his lead and pump seed money into energy research and development.
Gates believes the energy sector suffers from a dearth of such funding, the reason much of the world is still burning coal for its power.
A readiness to put another billion dollars of his own money into what is already a roughly billion-dollar portfolio of energy investments was also enough for Gates to convince 20 governments to commit to doubling their own R&D investments within five years.
"If we are to avoid the levels of warming that are dangerous we need to move at full speed," the co-founder of Microsoft told a trio of journalists including from Reuters.
Gates says the energy sector's complacency about developing new technologies makes it ripe for disruption. "We need to surprise them that these alternative ways of doing energy can come along and come along in an economic way," he says.
Gates has become a devotee of Vaclav Smil, a little-known Czech-Canadian professor of the environment at the University of Manitoba in Winnipeg whom he calls "the best energy author there is".
Smil has written extensively about the long periods of time required for new energy technologies to take off. Oil, gas, nuclear: for all, the period from invention to widespread deployment was half a century.
It's a warning to those who think new technologies will be a quick fix for the warming planet, though Gates thinks new energy sources can be moved to market faster these days.
"I'm more of an optimist than Vaclav," he says, noting that "the world, scientifically, is far more sophisticated than at anytime in the past - our understanding of material science, our ability to simulate things, just the number of scientists and engineers in the world alone."
Gates figures it will take a decade to develop two or three breakthrough technologies, then another 20 years before the technologies can become a core of the energy system.
Thirty years. But don't venture capitalists like to be around to see and enjoy the returns on their investments?
"Well I hope to be alive then," he said with a slight grimace. "I just went to my Dad's 90th birthday. And it will be my 90th birthday in 2045."