Bill Gates Pledges $1 Billion to Fight Malaria as Experts Fear Resurgence
This week, Microsoft founder Bill Gates announced the Bill and Melinda Gates Foundation would invest $1 billion in the fight against malaria. Speaking at the London Malaria Summit on Wednesday, he urged global leaders to unite in fighting the ancient and deadly disease.
After more than a decade of dramatic decline drug and insecticide resistance, political apathy and a collapse in donor funding have created a recipe for a resurgence. Government leaders, medical experts and even British Royals joined the chorus. The fight against malaria, they said, has hit a "crossroads."
Take, for example, the story of 28-year-old Omac Huvo who lives in Manica, Mozambique. Monday to Saturday, she wakes up, dons protective clothes and a tank of insecticide, knocks on doors and persuades families to let her spray the walls of their houses. She has worked as an indoor residual spray operator for seven years—first for the government and now with charity Goodbye Malaria.
Huvo used to face reluctance. Families have to strip their walls of possessions and stay outside for three hours as the spray settles. But now, she told Newsweek, people have started to see results and are happy to hear her knock. They know the inconvenience is worth it. After all, nets only protect your bed. "We can't take the bed net to the dining room when we're eating," she said. "We can't take the bed net to the sitting room when we're watching TV."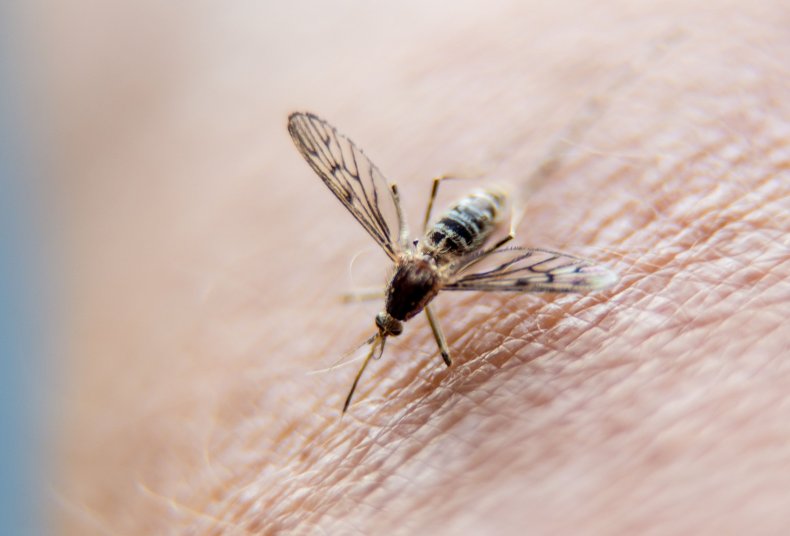 The ancient disease of malaria is endemic in countries around the world. Mosquitoes transmit malaria parasites, which can cause vomiting, tiredness and headaches in their human host. Without effective treatment, malaria can kill. In 2016, 91 countries reported 216 million cases. That year, the disease killed some 445,000 people—most of them children in Africa.
In 2015, Mozambique reported more than 8.5 million cases of malaria, according to the World Health Organization (WHO). Like most of the country's 27 million inhabitants, Huvo is intimately acquainted with the disease. At 12, she was hospitalized with malaria for six months. In January, she lost her aunt to the disease. "It is painful for me," she said. But, her experiences fuel the passion she has for her work. "When I [wake] up every morning I know I am going to save somebody's life," she said. This week, she traveled as a youth delegate to London's Malaria Summit.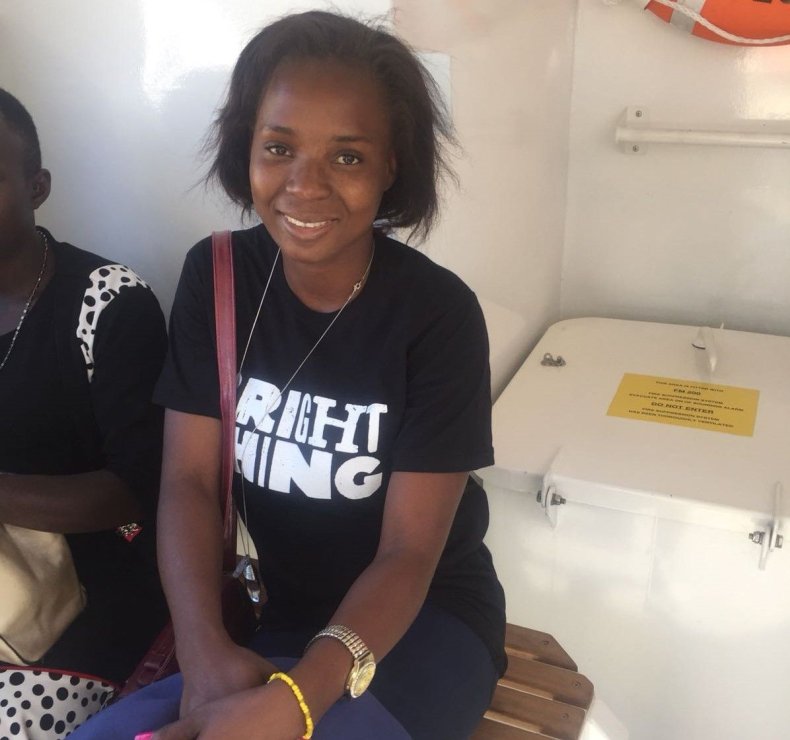 For millions of people living in high-risk zones around the world, malaria is a fact of life. Author Chimamanda Ngozi Adichie—the summit's nominated storyteller—described her relationship with the disease as a child in Nigeria. "We knew malaria," she told the audience. "We knew malaria intimately." It was rare to go to the hospital for anything else, she recalled.
Now, she said, her friends and family scoff when she applies insect repellent again and again throughout the day, saying "it's just malaria." But it is not inevitable, she told the audience. Malaria does not have to be a fact of life.
In 2015, a joint WHO-UNICEF report announced that deaths from malaria had plummeted 60 percent since 2000. Director-general of the WHO at the time, Margaret Chan, called the statistics "one of the great public health success stories of the past 15 years" in a statement.
But last year, signs emerged that progress had hit a roadblock. The number of overall cases had shot up by 5 million from 2015 to 2016, while mortality rates remained stable at around 445,000 deaths. Progress wasn't just stalling, but fading.
Almost all of that burden—80 percent—falls on just 14 sub-Saharan African countries. But the disease is also endemic in countries across Asia and Latin America. Successful elimination stories exist, but experts fear a resurgence of the ancient foe.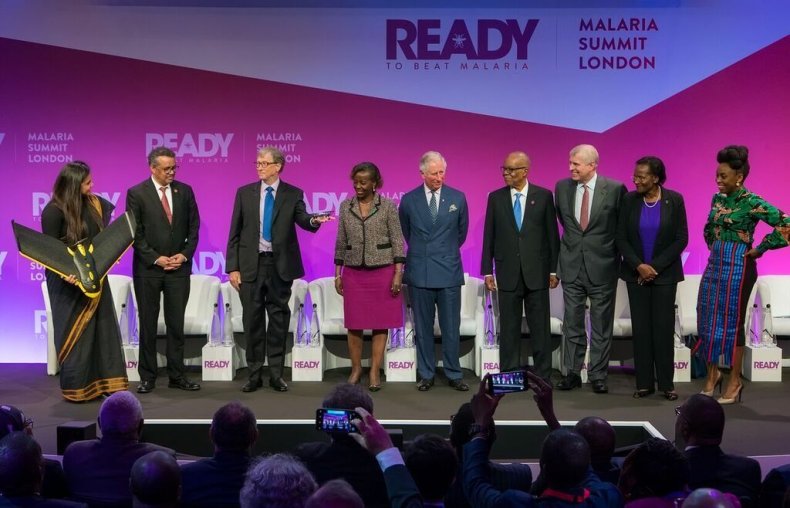 The current director-general of the WHO, Tedros Adhanom Ghebreyesus, was born in Asmara, now Eritrea. He has suffered from malaria twice, and he lost his younger brother to the disease. Calling it a "scourge" in last year's WHO report, he told Wednesday's summit that malaria needed a "fresh fight."
"In 2016, for the first time in years, the number of malaria cases in the world went up. This is not a blip. It is not noise. It is signal," Gates told the summit. "What it signals is this: We have reached the point of diminishing returns from our current strategy." Financing, technological innovation and top-level political commitments, he said, were needed to battle malaria.
Since its inception in 2000, the Bill and Melinda Gates Foundation has donated vast sums of money to fight malaria. At the summit, he announced an investment extension of $1 billion until 2023. Gates joined the U.K.'s Prince Charles as well as a host of Commonwealth heads of government and state in urging world leaders to commit to reducing the burden of malaria in half by 2023. If achieved, this goal would prevent some 350 million cases and save 650,000 lives across Commonwealth countries.
In total, governments, philanthropists, international organizations and private sector donors pledged $4.1 billion to fight the disease. The money will be used to finance an array of innovations in the pipeline, as well as to support local health care systems.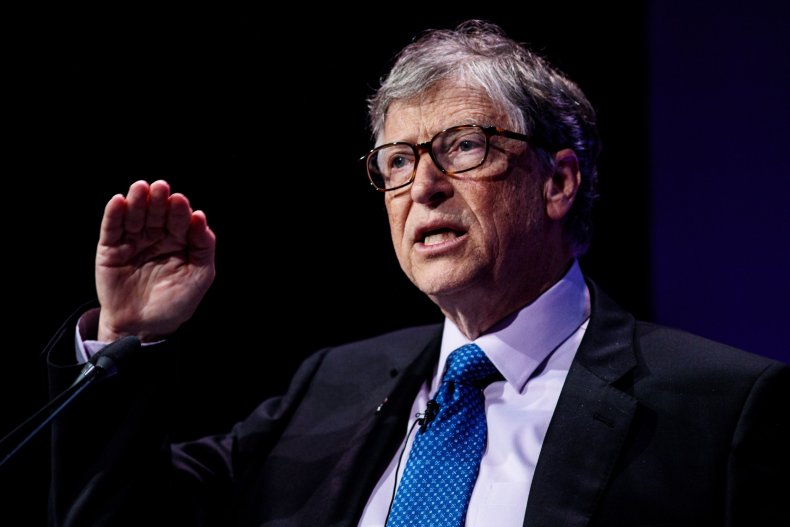 New insecticides, better bed nets, rapid diagnostic tests, improved drugs, drones to track mosquitoes and even tools to genetically modify the critters are all either available or on the horizon, Gates said. The world's first approved malaria vaccine, he added, will be used in the real world this year.
In 2005, former President George W. Bush launched the President's Malaria Initiative (PMI) with the aim of cutting malaria-related deaths by 50 percent across a number of high-burden countries. Insecticide-treated bed nets, indoor residual spraying and improvements in treatment and diagnosis were key targets of the cause. In 2016 U.S. contributed the largest international chunk of malaria financing—$1 billion—to the pot.
Irene Koek, acting U.S. global malaria coordinator, reaffirmed during the summit that the U.S. is committed to fighting the disease, whether that means building up health systems or helping to introduce new and innovative technologies in the fight against the disease.
Resistance has been a big challenge for both insecticides and drugs, Koek told Newsweek. In Southeast Asia's Greater Mekong subregion, for example, resistance to key antimalarial drugs is a particular concern. Efficient surveillance and effective new drugs are essential to battling resistance.
Complacency, Koek added, is another challenge to effective progress. "We need to make sure communities continue to pay attention so that [when] somebody has a fever…they are being diagnosed and treated appropriately." More broadly, she said, governments needed to keep their focus on malaria.
PMI, Koek said, has started programs in five new countries in the last year in West and Central Africa. "Getting those programs off the ground and seeing the same kind of impact we have seen in other countries will be a really important goal for us," Koek added. Improving health systems so clinicians can take an integrated approach to malaria amidst a raft of other health concerns is vital, she said.
This week's $4.1 billion still falls short of the WHO's targets. The organization estimates $6.5 million per year is needed from 2020 to meet its 2030 goals, which include reducing worldwide mortality from malaria by 90 percent in 2015. Last year, just $2.7 billion was invested to fight malaria.
"The latest data show that we are now at crossroads," Adhanom Ghebreyesus told the summit. "If we relax our efforts, we know that malaria will come roaring back—and with a vengeance."