Bill Goldberg Signs With All Elite Wrestling? Rumors Suggest He's Headed To New Promotion
There's still a lot about All Elite Wrestling, the new promotion started by Cody Rhodes and The Young Bucks, that fans don't know. Including who will sign on to the roster. However, new speculation claims a former WCW and WWE champion is being courted to join the upstart promotion: Bill Goldberg
Goldberg, known for his 173-match unbeaten streak from 1997-98, is reportedly on AEW's wishlist of wrestlers. According to Rajah, All Elite Wrestling is trying to land Goldberg through his agent, Barry Bloom. Bloom is also reportedly involved with recruiting Chris Jericho for AEW.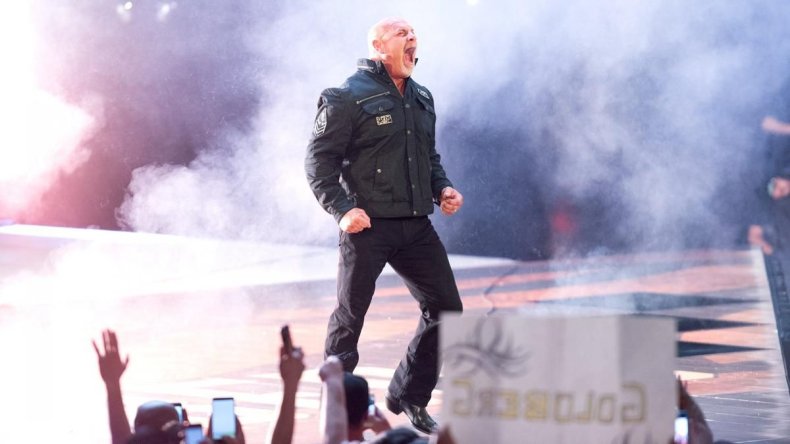 Some fuel to the AEW signing speculation fire came about when multiple outlets found that Goldberg began following both the official All Elite Wrestling and Double or Nothing (the first confirmed show under the AEW banner) Twitter accounts.
Many have pointed out that the only wrestling promotion Goldberg follows is the WWE. The official AEW account only follows wrestlers who are either signed to the promotion already or are part of the Being the Elite YouTube series (like Marty Scurll and Kenny Omega). It now follows Goldberg as well.
Goldberg was last seen during his election into the WWE Hall of Fame as part of the 2018 class. He made his return to the ring in 2016 and had a quick match with Brock Lesnar at Survivor Series before getting into a feud with then-Universal Champion Kevin Owens. Goldberg would capture the Universal title at the Fastlane pay-per-view before going toe-to-toe with Lesnar again at WrestleMania 33, where he would lose the title.
Although his WrestleMania match with Lesnar would be his last match in the WWE, the champion has never ruled out a return to the ring.
In an October interview with Sports Illustrated, Goldberg said he would field a call from Vince McMahon if they wanted him to return, but didn't see it happening.
"I don't really foresee that happening, but if Vince [McMahon] picked up the phone and asked me to do something of that magnitude, I'd have to listen. It's always a possibility," Goldberg said.
However, Goldberg explained that if he were to get back in the ring it would have to be motivated by storyline and not money.
"If it's just a money grab or it's just a thing to throw me out there, I'm not interested," Goldberg said. "The biggest issue there is storyline. I don't do things just to do them. If they can come up with a story or a reason for me to go back comparable to what they did last time, I'm in."
After the announcement of All Elite Wrestling on January 1, the promotion signed its first in-ring performers including Cody Rhodes, The Young Bucks (Matt and Nick Jackson), Adam Page, Britt Baker, and Brandi Rhodes.
A press conference is set to be held on January 8 to give fans more details on the promotion. If the Goldberg to AEW rumors are true, then you can expect an announcement next week.
What do you think of Goldberg joining AEW? Who do you want to see join the new promotion? Let us know in the comments section below.