Bill for Hospital Helicopter Ride Sparks Anger: 'I Would Have Jumped Out'
Commenters were infuriated after an anonymous Redditor shared their nearly $100,000 charge for a helicopter ride to the hospital.
The anonymous user, known as u/Big-COUNTRY12, posted a screenshot of the bill in Reddit's popular "Mildly Infuriating" forum where it received more than 62,000 upvotes and 8,000 comments. The post can be found here.
Hospital Transport Costs
According to data published by The American Journal of Managed Care, air ambulance costs increased from 2017 to 2020, with one couple owing nearly $500,000 for air transport from Colorado to North Carolina, a 1,468-mile flight.
Robin Gelburd, president of the nonprofit FAIR Health, reported the cost of air ambulances rose nearly 77 percent from 2017 to 2020.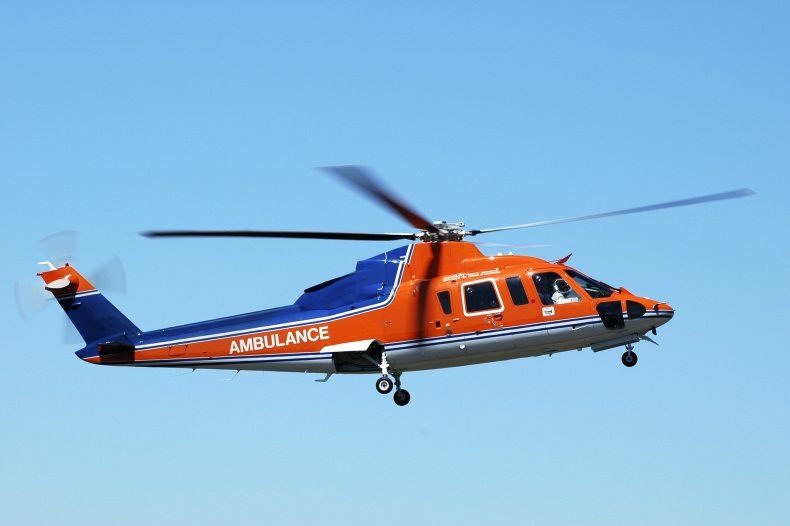 Helicopters specifically saw a 22 percent increase, and the average cost in 2020 was nearly $30,500.
'Amount Due: $96,909.37'
"My mom was flown to another hospital in a helicopter and this is how much it costs?!" the post read under a screenshot of the bill.
The screenshot showed a $54,740 charge for "rotary wing air transport" and $41,349.37 for "rotary wing air mileage." Another $821 was listed on the bill for "all other charges."
The bill also said insurance did not cover any of the ride, and the anonymous poster replied in the comments that their mother did not have insurance at the time.
According to the anonymous poster, their mom suffered a minor stroke while visiting family in a small town. The hospital she was transported to did not have the correct equipment and she was transferred to a hospital two hours away on a helicopter.
"My mom unfortunately did not have insurance at the time," the user wrote. "I'm going to be reaching out to the hospital to see if we can get any assistance on this bill and see if our state has any other help."
Redditor Reactions
More than 8,000 users commented on the post, many joking that they would have exited the helicopter if they knew what they would be charged.
"If they showed me the bill mid flight I would have jumped out," one user commented.
"Oh yes.. right way, let me get my visaaaaaaa," another user replied.
"American express the f**k out the chopper," one user commented.
Other users shared similar experiences.
"A family member was going to be transported about 450 miles via an ambulance and we were told it would cost approximately $16,000," one user commented. "Their condition was stable and there was no risk that they would need immediate care, yet the doctor would not agree to us transporting this person."
"My husband broke his femur hiking. It took search and rescue about 2 hours to get him out of the canyon. They used a stretcher that was on a bicycle wheel," another commented. "We did get billed $2700 for the ambulance transport."
"As someone who works in medical coding, the worst part of getting hurt is the bill for the ambulance or helicopter ride you get after you get your hospital bill," another commented. "It's double f**ked."
Newsweek reached out to u/Big-COUNTRY12 for comment.
Other Viral Medical Bills
In July, a man was charged nearly $250,000 after being treated for a rattlesnake bite.
Another woman went viral after sharing her "absurd" hospital bill for her infant son who lived for three minutes and did not receive medical care.
One woman also went viral after posting a TikTok video sharing her hospital bill after giving birth.