Bill 'Spaceman' Lee Wants to Turn Vermont Into a Sheep-Shearing, Baseball Bat-Making Paradise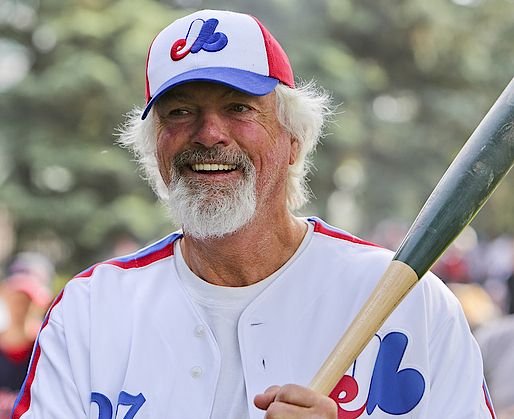 Bill "Spaceman" Lee may have been the most colorful character the game of baseball has ever seen. Known for taking the mound for the Boston Red Sox throughout the '70s, the left-hander never shied away from offering controversial political views, championing environmental issues and challenging management. A notorious drug user throughout his career, he claimed to sprinkle marijuana on his pancakes in the morning as a way to combat bus fumes on his way to Fenway Park, a routine dramatized in the upcoming biopic Spaceman, which stars Josh Duhamel and chronicles the end of Lee's career with the Montreal Expos.
Not much has changed since Lee played his last Major league game. Now 69 years old, he lives a blissful existence in Vermont. Kind of. "I'm living in the back of a 1997 Buick Ultra with Vermont plates, going between Montreal and Cuba, and I'm running kids back and forth across the Canadian border playing baseball and doing humanitarian efforts, trying to get baseball back in the mainstream in the United States and Canada."
Lee's house is in Vermont, though, which is important because in addition to his role as baseball's Johnny Appleseed, he is currently running for governor as the candidate of the Liberty Union Party. He doesn't seem too concerned about it. When I talk to him, the day of Vermont's gubernatorial primary, he's in New York City doing press for Spaceman, which premieres in theaters August 19. In a few hours he will head up to Boston to "throw out the first beer bottle" at the soon-to-be-retired Alex Rodriguez, and he's still fuming about losing a softball game to High Times magazine the day before. "I had them beat, and then they scored four unearned runs off me and beat me 5-4," he says.
Lee was hesitant when the Liberty Union Party, which Bernie Sanders was once the chairman of, reached out to him about running for governor earlier this year. "They came to me and they said, 'Bill, we need you to run for governor,'" he remembers. "I didn't want to accept, but I read Plato's Republic again and there is a young Plato sitting on Socrates's lap and he tells him basically that if you deny your constituents your voice, then you're doing them a disservice. So Socrates said I had to run, and when he speaks, I listen."
Lee's outside-the-box platform make Bernie Sanders look like an establishment conservative. He believes that the United States should dissolve all borders and, most importantly, that preserving the environment takes precedence over all other issues. "If it's good for the planet, I'll pursue it; if it's bad for the planet, throw it out immediately," he says. "We work on that premise. Earth first, people second."
For Lee, the key to preserving the environment is preserving water. As a "clean water guy" he believes every aquifer on the planet should be preserved, or else we'll "go the way of China." In the event of a water apocalypse there is one silver lining, though: "We'll have more breweries, because everybody is going to have to drink beer if the water is so bad," he says.
Lee also wants to do away with fossil fuels ("I'm a sustainable guy"), make PE mandatory in schools to curb heroin use ("You secrete your own endorphins when you run. Your own endorphins are stronger than anything you can buy on the street") and turn Vermont into a baseball bat-producing, sheep-shearing tourist haven, along with the help of presumptive Lieutenant Governor Boots Wardinski, an organic subsistence farmer running for office as a member of the Progressive Party.
"I'll go out in the woods with him, and we're going to log the interstate highway system and put everyone to work making Vermont baseball bats," Lee says of Wardinski. "We're going to have everyone else raise sheep. We're going to be the No. 1 sheep-raising and Australia will not be able to beat us again. We're going to have nothing but cheese, breweries, organic food, and we're basically going to be a tourist state. You come up, you visit, but you've got to go home."
Lee's views are about as radical as one could imagine, so it isn't surprising that he was a Bernie Sanders supporter throughout the Democratic primaries. Like many other Sanders fans, he harbors a strong dislike Hillary Clinton and often lumps her together with Donald Trump as the figures standing in the way of his environment-friendly ideal. He reserves a special kind of hatred for Trump, though. "He's an anal-retentive white homophobe with short arms, deep pockets, and he's made his living screwing the American public by stealing their money through bankruptcy," he says. "The guy's a crook. Should be in jail. I can't believe there's that many stupid people in America that would even consider voting for him."
Lee acknowledges that a "crescendo of revolution will happen faster" if Trump were to move into the White House, but also that a Trump presidency would "hurt a lot of people." So what is an environment-loving American to do come election day? For Lee, the outsider's outsider, it's the same thing he does every day: do some yoga, drink some black coffee and pop a few Aleve. When you're living from the land, the land is all you have to worry about.
"I'm not voting for Hillary," he says. "Of course, I've never voted a day in my life. I have a saying: Don't vote for the bastards, it just encourages them. I'll prosthelytize all you want, but when it comes down to it, I'm not there. I've got an ax, I've got a sharpener, I've got a hand saw, I know how to tune a carburetor, I've got a car that will run after computer viruses kill all the cellphones and circuitry on the planet Earth. I've got a car that will still function. My '73 BMW will still make it down the hill. Of course there will be nothing to go to, you know what I'm saying? But I'm up on the hill with my own water supply, off the grid and I will survive."