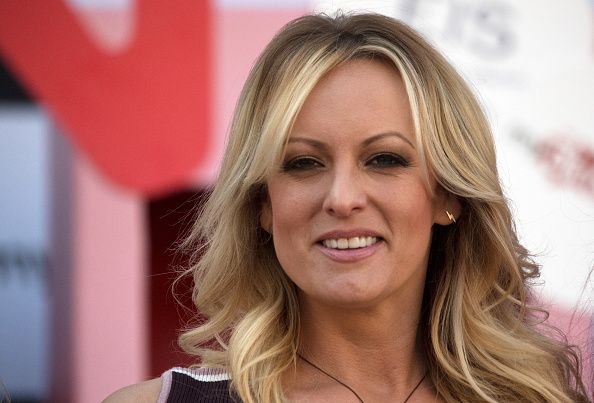 During an uncomfortable interview on his show Real Time on Friday night, Bill Maher repeatedly questioned Stormy Daniels about her relationship with Donald Trump, asking her how she could ever sleep with such a "sleazebag."
"I have no idea," Daniels said twice, prompting laughter from the audience.
"Well, he has a spell on a lot of people," Maher said, before asking the adult film star if she had been paid by Trump after their affair. Daniels replied that she had never been offered payment, then Maher asked if she would have accepted money if Trump had offered.
"No. I would have been, like, so offended," Daniels said.
"But you get paid to have sex on camera?" Maher replied, appearing confused. Daniels explained that making an adult movie is different: she is paid by the company producing the film, not the person she is having sex with.
Maher pressed on, asking Daniels how she could have unprotected sex with the president in light of his reputation as a serial adulterer. "Pornstars are supposed to guard, that's your money maker," he said.
The adult film star details her 2006 affair with Trump in her new book Full Disclosure, in which she described the president as "tiny." Daniels also wrote that whenever she saw Trump on television or in magazines after their affair, she would think to herself: "I had sex with that… Eech."
The interview began with Maher asking Daniels about being targeted by pro-Trump police officers and arrested for "motorboating" during a performance at the Sirens strip club in Columbus, Ohio earlier this year. Maher then read "giddy" email exchanges between the officers after Daniels was brought into the station.
The host related her incident to this week's alleged mail bomber, a Florida man who sent explosive devices to Democratic politicians and outspoken critics of the president. High profile targets included former Secretary of State Hillary Clinton, former President Barack Obama and ex-Vice President Joe Biden.
"This is not death squad stuff, but this is not what America is," Maher said. "You had to go to jail, we don't politically target the people we don't want. And that's what we're seeing happening in this country."
"I got the first package and sadly mine went off," Daniels later quipped about her affair with Trump.