To those who think political commentator Bill Maher has somehow drifted from his traditionally liberal beliefs, the comedian says it's actually those on the left who have become too extreme in theirs.
That was one of the sentiments made by the talk show host of Real Time with Bill Maher to conservative political commentator Ben Shapiro on a coming episode of Shapiro's The Ben Shapiro Show: Sunday Special.
"Look I haven't changed ... at all. My politics haven't changed. They've changed," said Maher, referring to those on the left of the political aisle.
Newsweek got an exclusive first look at portions of the show featuring the pair in a sit-down hourlong interview discussing topics from Russia's war on Ukraine and how woke politics are alienating Hispanic voters to the coronavirus pandemic, free speech, climate change and the potential plans of former President Donald Trump in 2024.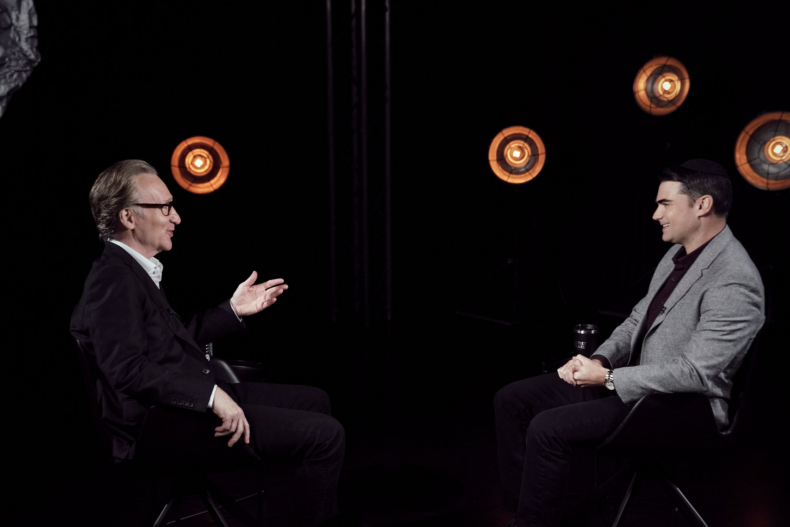 "... Five years ago, no one was talking about defunding the police. I never heard that phrase five years ago. That's not me changing, that's things changing. I'm reacting to it as I've always been," Maher told Shapiro. "... Letting 3-year-olds decide what gender they are. This wasn't something five years ago. Free speech, you know, used to be a left-wing thing that we were proud of and owned and now that seems to be under attack, so again, I think I've stayed the same."
In recent months, Maher has spoken out more and been critical of progressive policies, which have left some asking whether he has altered his political views.
"... Maher is not the jester speaking truth to power. He is a hypocrite pushing misinformation. If he wants Democrats to win as badly as he claims, he should either get his facts straight or cancel himself," wrote Bill Scher, writer and co-host of the online show The DMZ in a January article of Washington Monthly.
Less recently, some have criticized Maher's comments about learning to live with the COVID-19 pandemic. Also, in 2019, liberal comedian Trae Crowder blamed Maher for pushing the narrative that the more-liberal elites look down on those in rural red states.
In Shapiro's coming episode, a larger discussion between the two focused on identity politics. Shapiro queried Maher about whether Democrats are so tied into a mindset where everybody is described based on their race (as opposed to being part of a broad platform to which anybody can ascribe) that it's skewing their vision and ultimately hurting the party.
"Biden was supposed to be a moderate above all that and he really hasn't governed that way," Shapiro said.
The two also bantered about misconceptions around Hispanic voters.
"Immigration is an issue where the Democrats are really not getting it—I mean they're losing the Hispanic vote," said Maher. "... Their conception I think—and it's wrong—is that every Latino in America is thinking, 'Boy, more immigration—that would be the best thing' and a lot of them are thinking, 'No, I'm here and the last thing I want is someone else coming over whose going to do my job for a little less money.'"
"I wonder when this is going to sink into the Democratic Party leadership," he added.
Maher is also getting into the world of podcasting. On Wednesday, it was reported by Deadline that he would be hosting an hourlong weekly show featuring a range of guests talking about anything, except politics.
For his part, Shapiro said he's appreciative of Maher's political voice.
"Bill Maher is one of the most important voices on mainstream television right now because he's perhaps the only liberal commentator who is willing to stand up to the cultural extremism of the left," Shapiro told Newsweek. "It was a pleasure having him on the Sunday Special. Our conversation is going to surprise a lot of people."
The Ben Shapiro Show: Sunday Special will debut March 12 on The Daily Wire news website for its members. The episode will be available on YouTube or wherever podcasts are available afterward.