Bill Maher Says 'Lynch Mobs Don't Get Irony' as Trump Riles Crowd to Scream Insults and Threats in the Name of Civility
HBO host of Real Time, Bill Maher, addressed President Donald Trump's Republican "lynch mob" in his Friday opening monologue. Maher started by addressing Trump's claims that liberals are too "dangerous to govern." Maher noted Trump's rally fuel, which calls Democrats an "angry mob."
"We're the mob?" Maher questioned. "The only liberals I ever see with a pitchfork are composting."
The host noted Trump's campaign rallies, which often result in full-crown chants. The one he referenced, in particular, hosted a chant of "lock her up" when Trump mentioned Senator Dianne Feinstein. Feinstein, a Democrat, gave the FBI Christina Blasey Ford's letter alleging Justice Brett Kavanaugh had sexually assaulted her when the pair was in high school.
"That's the thing about a lynch mob, they don't get irony," Maher said. "Any woman they don't like? Lock her up! Hillary [Clinton]? Lock her up. Dianne Feinstein? Lock her up. Taylor Swift? What the hell, lock her up."
The 'angry mob' concept was also discussed by New York Times columnist David Brooks and Syndicated columnist Mark Shields on PBS Newshour Friday. "We're in an age of negative polarization," Brooks explained. "And that means you don't have to like your own party. You just have to hate the other one. And that means it's all about contempt. And has the other side made you appalled? Have they made you feel contemptuous?"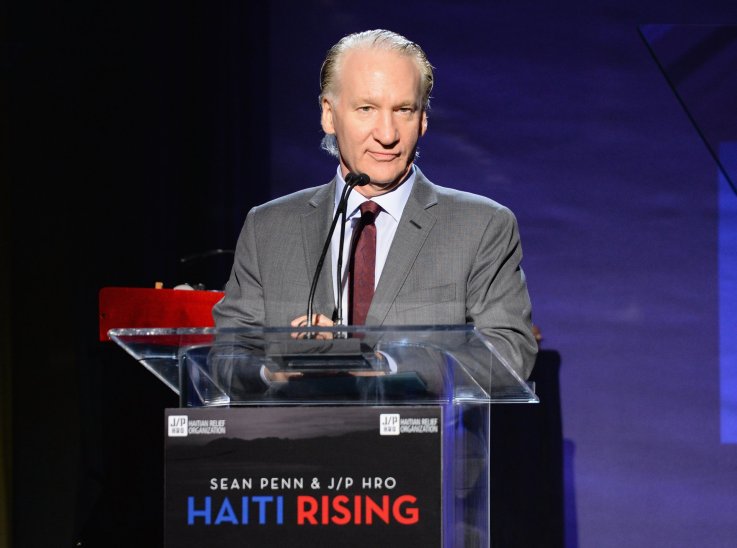 Maher's opener continued to expand on his pop culture references and spoke of Kanye West's Thursday visit to the White House. During his Oval Office meeting, West gave a 10-minute speech speaking about everything from Trump to West's alleged plan to build an aircraft with Apple.
"Donald Trump held a meeting at the White House to stress the importance of mental health," Maher joked, noting West, who has been diagnosed with bipolar disorder but claimed he was "misdiagnosed" and does not currently take his medication, People reported Thursday. "He didn't mean to. Kanye West called for abolishing the amendment that freed the slaves. He said that it was a 'trap door for black people,' whatever that means."
Maher riffed on West's confusing topic changes and statements. "Trump said, 'I have no idea what you said, and I can understand Melania,'" Maher said. "Trump and Kanye — One sang a song called 'Gold Digger' and the other married one."
West's comments at the White House captivated press and social media Thursday. In his speech, West noted his Make America Great Again hat makes him feel like 'Superman,' and revealed his life is lacking male energy.
Bill Maher Says 'Lynch Mobs Don't Get Irony' as Trump Riles Crowd to Scream Insults and Threats in the Name of Civility | U.S.