Bill and Melinda Gates' Children Will Inherit Less Than 1 Percent of $130B Fortune
The three children of Bill and Melinda Gates will each inherit less than 1 percent of their parents' $130.5 billion fortune following the divorce, as the couple have pledged to donate at least half of their wealth to charitable causes.
The Microsoft co-founder is estimated to be the fourth richest person in the world, according to Forbes.
In a Reddit "Ask Me Anything" discussion on the social network in 2017, Gates said that his children would inherit $10 million each – less than 1 percent of his fortune.
"I definitely think leaving kids massive amounts of money is not a favor to them. Warren Buffett was part of an article in Fortune talking about this in 1986 before I met him and it made me think about it and decide he was right," he said at the time.
The rest of the Gates' fortune will go towards charitable causes.
In August 2010, 40 of America's richest people made a commitment to donate the majority of their wealth to philanthropic causes. Both Bill and Melinda Gates were among the 40 who made the pledge, along with fellow billionaires Warren Buffett and Michael Bloomberg.
Bill and Melinda Gates announced on Monday that they had ended their 27-year marriage. In a joint statement, they said they could no longer "grow together as a couple", but said their foundation will continue to do its philanthropic work.
Jennifer Gates, 25, the eldest daughter, has described her parents' divorce as a "challenging stretch of time."
In an Instagram story, she requested privacy for her family as they "navigate the next phases of our lives."
"I'm still learning how to best support my own process and emotions as well as my family members at this time and am grateful for the space to do so," she added.
The couple have two other children, Rory, 21, and Phoebe, 18.
The Gates family has properties in five American states, a private jet, an art collection and a fleet of luxury cars.
Bill and Melinda Gates revealed in their statement on Monday they had been battling to save the relationship for some time.
"After a great deal of thought and a lot of work on our relationship, we have made the decision to end our marriage," they said.
"Over the last 27 years, we have raised three incredible children and built a foundation that works all over the world to enable all people to lead healthy, productive lives.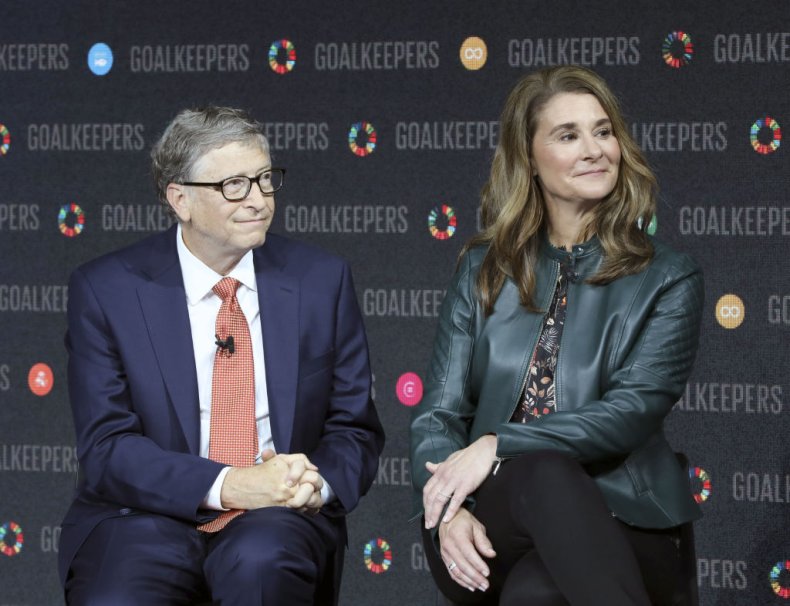 "We continue to share a belief in that mission and will continue our work together at the foundation, but we no longer believe we can grow together as a couple in this next phase of our lives.
"We ask for space and privacy for our family as we begin to navigate this new life."
Since the William H. Gates Foundation became the Bill and Melinda Gates Foundation in 2000, it has grown into a multi-billion dollar philanthropic giant and one of the most powerful forces in public health. Headed by Bill Gates and Melinda Gates, the foundation supports a wide range of educational, social, and health-related issues worldwide.
The Gates have backed widely praised programs in malaria and polio eradication, child nutrition and vaccines. In 2020, the foundation committed some $1.75 billion to fighting the COVID-19 pandemic. That same year, Bill Gates stepped down from Microsoft's Board to focus on his philanthropic work.
Correction 05/04/21, 09:25 a.m. ET: The headline of this article was updated to correctly state that the Bill and Melinda Gates fortune is valued at $130 billion.