Bill and Melinda Gates Divorce Sends QAnon Conspiracy Theorists Into a Frenzy
It didn't take long for QAnon followers to turn the news of Bill and Melinda Gates' divorce into conspiracy fodder.
The Gates announced their split after 27 years of marriage on Monday, setting off a torrent of posts on Telegram, Gab and other platforms popular with believers in QAnon, a conspiracy theory alleging Satan-worshipping elites run a global child sex-trafficking ring and plotted against Donald Trump when he was president.
Bill Gates became a primary target of QAnon last year, when devotees claimed he was a leader in the supposed ring. Most memorably, QAnon members spread disinformation that Gates engineered the COVID-19 vaccine to implant chips into people through the Bill and Melinda Gates Foundation's vaccine initiative, which provides crucial inoculations to millions in developing nations.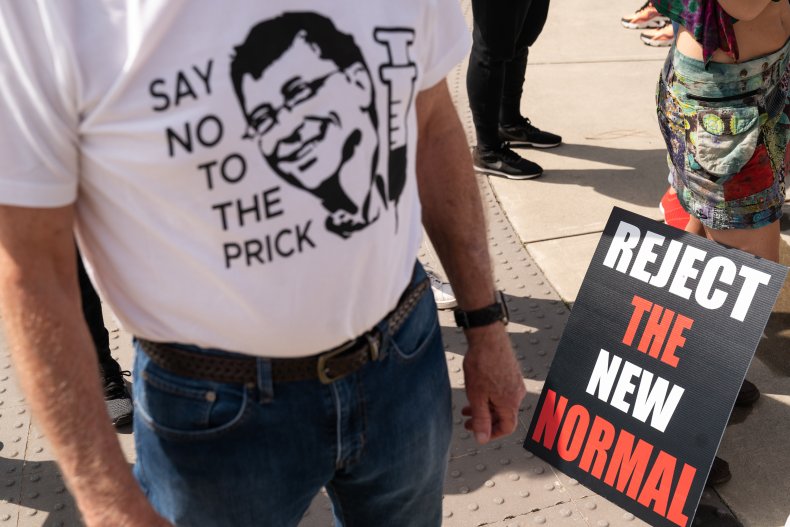 "So now that Bill (loser) Gates and his wife are being split apart, I just have that gut feeling that she is probably not going to be alive for much longer considering she knows TOO MUCH about his evil plans!" one user wrote on Gab. "If I have to guess, the globalists will probably try to pull off a Epstein 'suicide' or just make her 'disappear', but that's just my suspicion!"
QAnon accounts were banned from Facebook, Twitter and Instagram after the January 6 attack on the U.S. Capitol for propagating misinformation and for the potential of further instigating violence. But alternative platforms like Twitch, Gab and Telegram have allowed QAnoners to continue sharing conspiracies.
Alex Jones, a far-right radio host and conspiracy theorist, has also found a home on alternative social media, where he too has chimed in on the Gates' divorce. In a video seen on BanThis.tv, Jones amplified a Q claim that the Gates are laundering money through a "tax-free foundation." The video is being shared among QAnon users and groups.
"Bill Gates has bought off the U.S. and European media almost entirely. Remember back in the 1990s he was busted at Microsoft for antitrust practices and stealing other companies' software?" Jones says in the video. "He was a known villain, but then he rebranded himself as the world's doctor."
Other theories about the divorce include Melinda Gates actually being a man, as well as her leaving Bill Gates for Anthony Fauci, director of the National Institute of Allergy and Infectious Diseases, who is another favorite target of QAnon.
None of these claims have been substantiated by evidence, and Bill and Melinda Gates have not responded publicly to them.
On Monday, Bill Gates tweeted a message asking for privacy.
"After a great deal of thought and a lot of work on our relationship, we have made the decision to end our marriage. Over the last 27 years, we have raised three incredible children and built a foundation that works all over the world to enable all people to lead healthy, productive lives," the statement said.
"We continue to share a belief in that mission and will continue our work together at the foundation, but we no longer believe we can grow together as a couple in this next phase of our lives. We ask for space and privacy for our family as we begin to navigate this new life."