A Very Short History of Bill Murray's Entrances on Letterman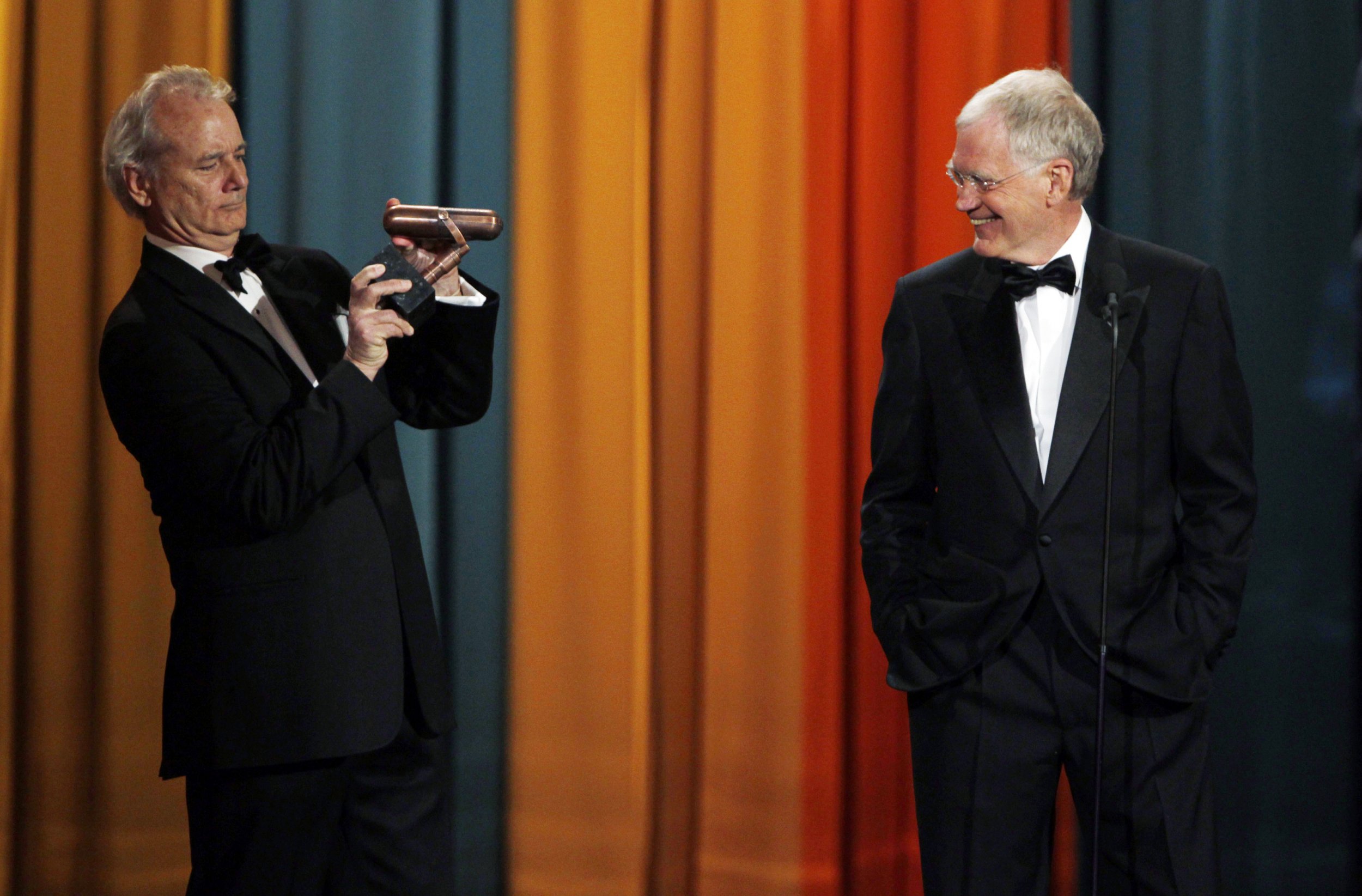 As Late Night With David Letterman draws to a labored end, one guest towers above the thousands of others. Bill Murray has appeared on the show more than 40 times in 33 years. His rise to prominence has lined up neatly with Letterman's, and the two have developed an inimitable rapport on the show.
Here's a look back at Murray's finest entrances, which have become increasingly absurd in recent years. It's not exhaustive—there are just too many—so share your own favorites in the comments.
2015: Bill Murray Jumps Out of a Cake
Last night, Bill Murray made a splashy entrance on Late Night: He jumped out of a farewell cake. Bill Murray was Letterman's first guest long ago, in 1982, so the cosmic forces demanded that he also be the final guest. And that he smear cake all over Letterman's expensive suit.
2014: Bill Murray Believes He Can Fly
In 2014, Bill Murray gave the grand entrance we always wanted but never got from the late Robin Williams circa Hook:He flew around the ceiling as Peter Pan. A particularly garbled, drunken-sounding Peter Pan, because it's Bill Murray. "That was delightful! Nobody does that!" a particularly dad-like Letterman raved as the actor took his seat. (The occasion, Murray explained, was Carrie Underwood's Sound of Music performance.)
2013: Bill Murray Does Liberace
In one of his strangest and most elaborate gags, Bill Murray rolled up in a Rolls Royce in full Liberace getup, complete with butlers by his side. (A dog too.) When Letterman tells his repeat-offender guest that he's the busiest man in show business, Murray throws the compliment back at him: "I did three movies, you've done 5 million, 600 and 20,000 shows."
2012: Bill Murray, Kidnap Victim
In one of his most alarming appearances, the Groundhog Day actor was dragged out of the back of a van and tasered on his way to Letterman's stage. Then he glanced at his watch, pulled himself together and sat for the interview. Top-notch Bill facial hair in this one.
2012: Bill Murray, NFL Star
Less observant viewers might have been momentarily confused by the guest who walked out in full NFL regalia to the tune of "Oh Happy Day." He also slapped Letterman's butt and tossed a football around the studio. But yes, that was, in fact, Bill Murray. The occasion: the New York Giants' Super Bowl win.
2011: Bill Murray Rants From a Dumpster
One of the best aspects of Murray's Late Night appearances is that random street passersby (occasionally) get to share in the action. In this 2011 moment, the camera panned outside the studio, where Bill Murray was spotted standing atop a dumpster-turned-pool ranting about the Late Night host's "king" status. Reminds us of Murray's What About Bob? character more than any recent role.
2010: Bill Murray, Injured Skier
In 2010, Bill Murray hobbled over to Letterman's desk on crutches wearing a giant green parka. He claimed to have injured himself during a skiing disaster and demonstrated the true meaning of friendship by having Letterman sign his leg. Touching—literally.
2009: 18th Century Bill
While chatting about Fantastic Mr. Fox, Bill Murray waltzed out in a grand, purply silk coat and pre-Revolutionary-style hat. He dialed back the Barry Lyndon act when he took the spotlight off of himself by whipping out Letterman's bandleader/sidekick Paul Shaffer's memoir and reading from it aloud.
2007: Black-Tie Bill
Bill Murray celebrated the 25th anniversary of Late Night in 2007 by donning a tuxedo and black hat. The actor also brought out champagne to celebrate, further cementing his role as a standby for each of the show's major milestones.
1987: Bill's Big, Sloppy Kiss
This one speaks for itself. Zoom in at the 0:18 mark.
For nostalgia's sake, here's Bill Murray's first appearance on Late Night, on Dave's very first episode in 1982. There's not much of a grand entrance, because he had no prior episodes to top.