Bill Murray Wins Internet's Unofficial Golden Globe for Best Virtual Background
Comedy legend Bill Murray appeared at the Golden Globes on Sunday night in the most Bill Murray Way possible—with a tropical background and a Hawaiian shirt to match. After he lost the award for Best Supporting Actor in a Motion Picture, the casually smirking star capped off his brief screen time by lifting a martini to the screen in a toast.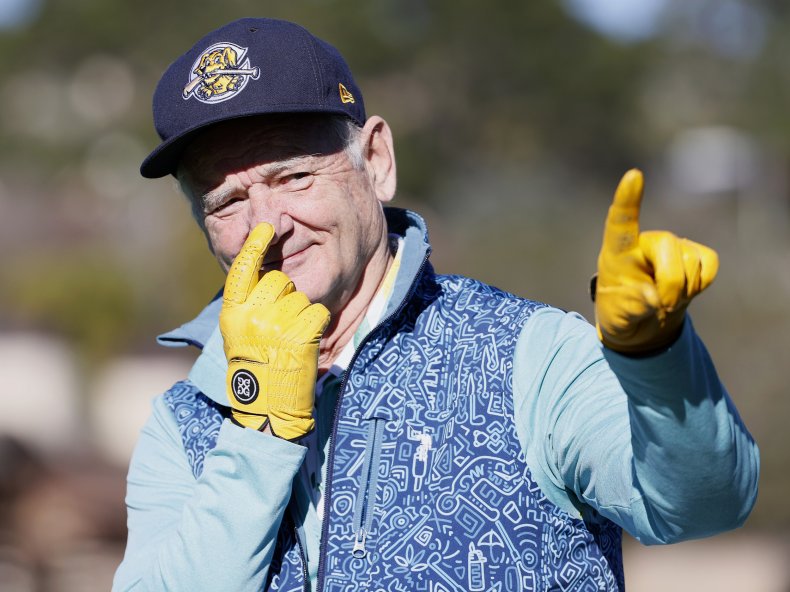 The moment quickly lit up social media, with users sharing their appreciation for Murray's cool, laid-back demeanor. Twitter was quickly full of posts admiring the On the Rocks star's general vibe.
Speaking of On the Rocks—Murray was nominated for his role in the Sofia Coppola film, in which he plays an aging lothario. He ended up losing the award to Judas and the Black Messiah's Daniel Kaluuya, who had his own meme-worthy moment when his screen was apparently muted at the beginning of his acceptance speech. Presenter Laura Dern at first cut away from Kaluuya, before the screen returned to him with volume on.
"You did me dirty!" Kaluuya said once he was able to be heard.
And even though he lost, Murray appeared as unflappable as always. His grinning toast with a full martini in hand also had others recall his iconic role in Coppola's classic Lost in Translation, in which his character filmed a commercial for a Japanese whiskey.
Lost in Translation, incidentally, brought Murray his sole Golden Globe win. He took home the prize for Best Actor in a Motion Picture – Musical or Comedy in 2004 after earning six previous nominations without wins. His first nomination came in 1985, for Ghostbusters.
Among the humorous responses to Murray's gleeful screen time is one tweet that reads, "Bill Murray is all of us after working from home for the past year." Another makes reference to his golf passion: "They probably did Best Supporting Actor first so Bill Murray can finish the back nine."
Others went ahead and picked Murray as the winner of the night's "best dressed" award, even though his moment came during the very first award presentation.
Murray could have a couple more chances for another Globe appearance next year. Two films that he's reportedly already completed are Ghostbusters: Afterlife, in which he'll reprise his iconic role as Dr. Peter Venkman, and The French Dispatch. The latter will reunite him with frequent collaborator Wes Anderson, who directed Murray in such acclaimed work as Rushmore, The Royal Tenenbaums, and The Life Aquatic with Steve Zissou, among others.