Florida Election Results: Nelson Campaign Says He'll Be Victorious, Prepared to Take Legal Action
Florida's Senate race was believed to be all but over Tuesday night after local and national media outlets called the race for GOP Governor Rick Scott. The governor, running against Democratic Senator Bill Nelson, told his supporters in a victory speech that he was going to Washington to "get something done."
But the Sunshine State's Senate race could be far from finished.
As of Thursday afternoon, the vote share between Scott and Nelson differed by only 0.22 percent, or 17,344 votes of more than 8.1 million cast. Since election night, the razor-thin margin has continued to slim as more provisional ballots, vote-by-mail ballots and overseas military ballots are tabulated. A mandatory statewide recount is issued if there's a difference of less than 0.5 percent in Florida elections.
On a call with reporters Thursday morning, prominent elections lawyer Marc Elias, who's been retained by the Nelson campaign, said he was confident a recount would prove victorious. In addition, the campaign said it's prepared to take legal action should a recount not be issued or if counties don't comply with their open records requests about additional voting information.
"We will bring legal action. We won't hesitate to do so," said Elias, a Washington, D.C.–based attorney who was general legal counsel for both the 2004 John Kerry and 2016 Hillary Clinton campaigns. "I am not a stranger to suing the state of Florida."
Elias highlighted that he prevailed when he was involved in suing the state over its redistricting lines, its restrictions of early voting and its ban on early voting locations on college campuses.
"Where necessary, we will sue to make sure that the rights of voters are protected," Elias said.
Although required by law, the Scott campaign has indicated it was not open to a recount.
"This race is over," Scott campaign spokesman Chris Hartline said in a statement on Wednesday. "It's a sad way for Bill Nelson to end his career. He is desperately trying to hold on to something that no longer exists."
The Republican Party of Florida had already begun using the impending recount as a fundraising tool, sending an email to supporters asking for donations so the GOP can "fight back" and "make sure no shenanigans happen!" The Scott campaign later sent a similar fundraising email, labeling the recount effort as a "scheme" and a "last ditch attempt by Washington Democrats" to obstruct the president by "stealing the Senate seat won by Governor Scott."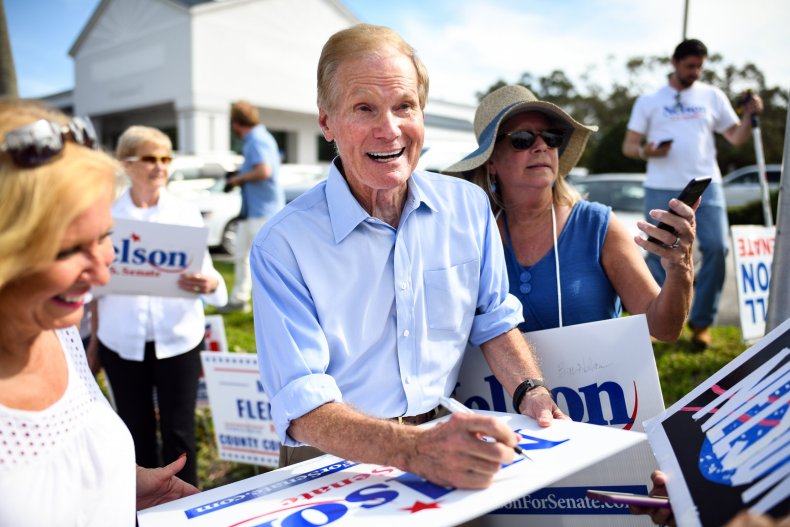 Elias believed that as more than 10,000 ballots continue to be reviewed and counted in the large, deep blue county of Palm Beach in southeast Florida before sending the results to the state, Nelson will further close the gap on Scott. Elias also mentioned a higher-than-usual number of under-voting occurring in Broward County, a Democratic stronghold neighboring Palm Beach County.
Under-voting is when a voter chooses fewer candidates than the ones included on the ballot. Elias said it would be strange for more voters to choose a statewide candidate, such as governor and state attorney general, and not a national candidate. He was confident a recount would show some Nelson votes were not properly counted. In a 24-hour period from Wednesday morning to Thursday morning, Nelson gained on his challenger by nearly 15,000 votes, another indicator that Elias believed the vote share would continue to shrink.
Florida's GOP senator, Marco Rubio, alleged in a series of tweets on Thursday that Broward County elections officials were violating state law by not reporting election results in a timely manner.
"Now Democrat lawyers are descending on Florida," Rubio said. "They have been very clear they aren't here to make sure every vote is counted. They are here to change the results of [the] election, and Broward is where they plan to do it."
Elias and the Nelson campaign said they were also focusing on a third Democratic stronghold in South Florida: Miami-Dade County. While elections officials are supposed to match a provisional ballot signature with a DMV signature on file, Elias urged voters to go in person to their supervisors of elections office by 5 p.m. on Thursday to make certain their ballot was counted.
"We have an epidemic in this country, not just in Florida, of people having their ballots thrown out because elections officials don't think their signatures match," Elias said.
Their mission, Elias said, was to "make sure everyone who cast a ballot and was eligible should have it counted and counted accurately."
An official statewide recount would be issued once all 67 counties provide their unofficial results to the state by noon on Saturday. The recount directive would then come from the Secretary of State and the Division of Elections, offices that are part of the Scott administration.
The recount results, which would be conducted by machine, would be due November 15. If that recount shows the first election numbers were accurate, then the results stand. However, if the recount shows the two candidates within 0.25 percent of each other, another recount would occur. The second recount would be conducted by hand, individually counting the ballots.
Official results would be due to the state by November 18. The results would then be certified by the state on November 20, making the election official.
"We believe that at the end of this process, Senator Nelson is going to be declared the winner and is going to return to the United States Senate," Elias said.
Update: This story has been updated with new numbers from the state's Division of Elections and a fundraising email from the Scott campaign.