Bill Nye Says Masks Are 'Not That Hard to Understand' in TikTok Video
Television science educator Bill Nye has taken to social media to urge people to use masks to tackle the coronavirus pandemic.
In a video on TikTok that was also widely shared on Twitter, the popular presenter who hosted Bill Nye the Science Guy gave a light-hearted explainer with a serious message.
Sporting his trademark bow tie, he starts the clip by showing a map of the U.S. colored in to show how the areas of the country where people work masks the least had the highest incidence of the disease.
"I hope you can see the fewer the masks the more the sick," he says to the camera before debunking fears that the virus can travel through the fibers of a mask.
"Viruses don't travel by themselves," he said, before explaining they travel in droplets that are excreted, meaning that the mask acted as an important line of defense.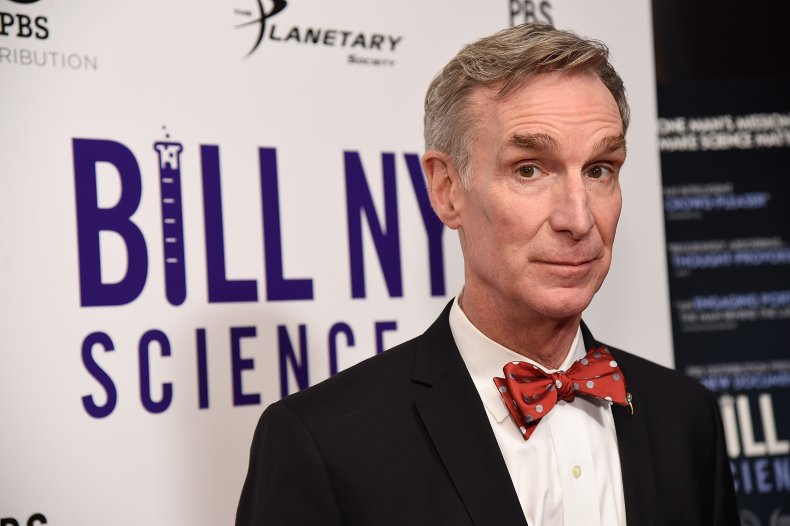 "So when the droplet gets into the fibers of a mask, it gets trapped. This is not that hard to understand everybody," he said.
"So everyone, please wear a mask," he added. In a follow up video, he demonstrates how a mask, whether surgical or home-made, blocks the movement of air so effectively that the candle he tries to blow out while wearing one remains alight.
"The main reason we want you to wear a mask is to protect me from you and the particles from your respiratory system from getting into my respiratory system.
"Everybody, this is a matter literally of life and death," he said, "so when you are out in public, please wear a mask."
On Friday, the U.S. Centers for Disease Control and Prevention (CDC) urged "the universal use of face masks" following high levels of community transmission. The recommendation includes wearing a facial covering when indoors and not at home.
It said in a statement that given around half of new infections are transmitted by those with no symptoms, "compelling evidence now supports the benefits of cloth face masks for both source control (to protect others) and, to a lesser extent, protection of the wearer."
President-elect Joe Biden has said he would encourage Americans to commit to wearing masks for the first three months starting from his first day in office. He told CNN "Just 100 days to mask, not forever."
The graphic below by Statista shows the COVID deaths of the elderly in the U.S.