Bill Nye Rips COVID Anti-Vaxxers, Says Becoming an Incubator for Variants Is Not Fair
TV science educator Bill Nye called out Americans who do not want to receive a vaccine against the coronavirus, saying that they are endangering those around them.
His remarks were made during an interview with MSNBC on Sunday morning. Nye, who hosted the popular show Bill Nye the Science Guy, spoke about being "furious" with people who spread anti-vaccine messages.
"You know the expression 'It's not helping,'" Nye said. "This idea that everybody has the freedom to do anything, we all know that's not exactly right. You can't yell fire in a crowded theater if there's no fire inside. You can't drive on both sides of the road—even so, you pay taxes on both sides of the road."
He continued, "The argument that I've made for many years—I'm not the first guy to make this argument—is that if a person doesn't get vaccinated and he or she gets infected, it's going to mutate in that person."
Nye then noted that some people don't like the term mutate because it's associated with evolution, so he switched to using variant.
"It will vary in that person and then that could infect me, and that's not fair, right?" he said. "Everybody on the other side says, 'It's not fair to make me wear a mask. It's not fair to make me get vaccinated.' Well, it's not fair to everybody else if you become an incubator for a variant, doggone it."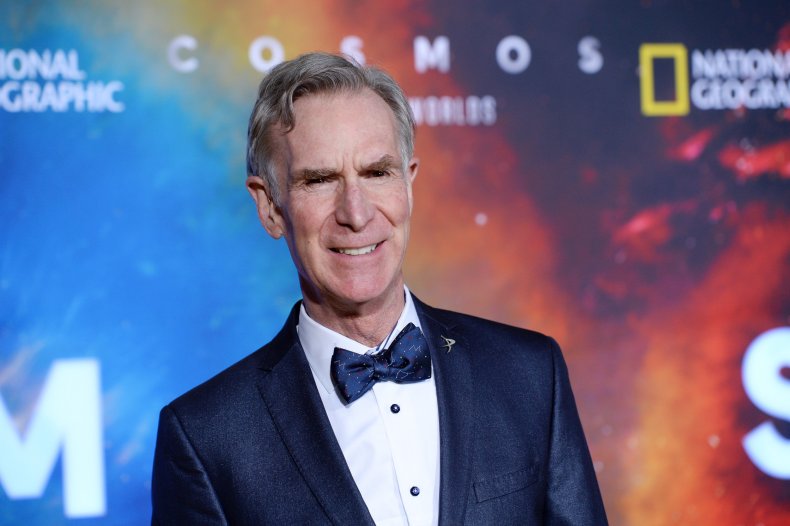 The United States had administered 245,591,469 doses of COVID-19 vaccines as of Sunday morning, according to the U.S. Centers for Disease Control and Prevention. The agency said more than 147 million people had received at least one dose, and more than 104 million are fully inoculated against the virus.
While that means that nearly 40 percent of adults have been vaccinated, the country still has a long way to go to reach herd immunity. Dr. Anthony Fauci, President Joe Biden's chief medical adviser and director of the National Institute of Allergy and Infectious Diseases, has estimated it will take at least 70 to 85 percent of the population being vaccinated to reach herd immunity.
During a congressional hearing on April 15, Fauci told lawmakers that the current vaccines would be effective at preventing the spread of the United Kingdom variant of the virus.
"In fact, even with others that are more problematic if the vaccine doesn't protect against initial infection it protects against severe disease," Fauci said.
He continued, "I want to close with a comment that I believe really characterizes where we are. We are in a race between vaccinating as many people as quickly and expeditiously as we possibly can and the threat of the resurgence of viruses in our country."
Newsweek reached out to Nye for additional comment but did not receive a response before publication.
Newsweek, in partnership with NewsGuard, is dedicated to providing accurate and verifiable vaccine and health information. With NewsGuard's HealthGuard browser extension, users can verify if a website is a trustworthy source of health information. Visit the Newsweek VaxFacts website to learn more and to download the HealthGuard browser extension.