Former Fox News host Bill O'Reilly was caught on video threatening a JetBlue airlines employee after his flight was delayed.
The exclusive video obtained and published by the Daily Mail this week shows 72-year-old O'Reilly was visibly upset that his flight to the Turks and Caicos Islands earlier this month was delayed for more than three hours. It appears that O'Reilly took out his frustrations on the employee, calling him a "f***ing scumbag."
"We need to know what you're going to do," O'Reilly can be heard saying. "It's three hours late now."
The worker began to reply, but the news host interrupted. "No, no, no," he said, pointing a finger at the worker's chest. "You're gonna find out."
The interaction became more intense when O'Reilly leaned in to check the employee's work badge and said, "you're lucky I don't put my fist through it."
The employee held up the badge for O'Reilly to get a better look and replied something inaudible that O'Reilly evidently didn't like.
In response, O'Reilly began cursing at the worker.
"You f****ing scumbag, don't talk to me like that."
"You're threatening me with violence, man," the worker responds.
O'Reilly then denies threatening the man. The host takes another look at the employee's badge and tells him, "You're gonna lose your job," before storming away.
The passenger who took the video told the Daily Mail, "I couldn't believe how arrogant he was. That poor JetBlue guy just works there, it's not his fault the flight was delayed, he was just trying to do his job."
The No Spin News host took to Twitter, claiming critics are lying about the recorded altercation.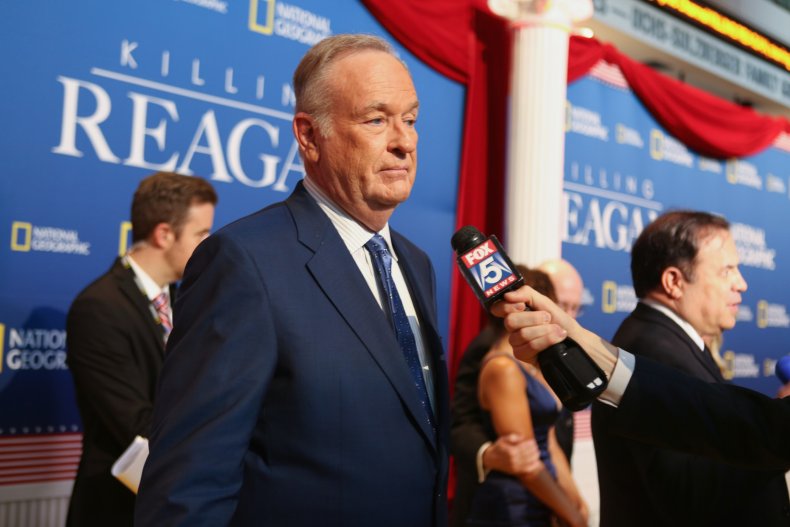 "The character assassins on social media completely lying about my interaction with a JetBlue guy who misled passengers during a five-hour delay," O'Reilly tweeted.
In an interview with Mediaite, O'Reilly admitted that he handled the situation poorly, but said he's not sorry for confronting the worker.
"The story is JetBlue can't get their flights off the ground. It was crazy in the terminal," O'Reilly said.
Twitter users added fuel by resurfacing an infamous video of O'Reilly from the early 1990s when he loses his temper over the teleprompter malfunctioning.
"I can't read it there's no words on it," he shouts. "There's no words there to play us out!"
The video went viral in 2008 when a user uploaded a video of O'Reilly's tantrum, titled "Bill O'Reilly Goes Nuts."
The catchphrase, "We'll do it live! F*** it, we'll do it live," stormed the internet afterward.
Newsweek reached out to O'Reilly and JetBlue for comment.