Fox News Has Devoted All of Five Minutes to the Latest Bill O'Reilly Allegations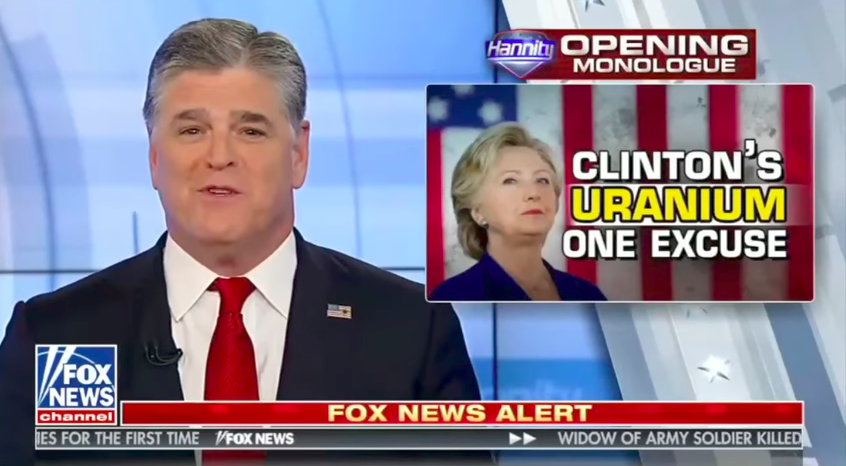 They talked about Russia—a lot. They talked about the Clintons, as always, and their inveterate corruption. They talked about tax cuts and protesting professional football players, and how those protests were causing patriotic Americans to stay away from the NFL. They talked about what President Donald J. Trump did or did not say to the grieving widow of Sgt. La David T. Johnson, slain on a battlefield in West Africa earlier this month.
But on Fox News, they did not talk about Bill O'Reilly.
It has been three days since The New York Times published a devastating investigation in which the paper found that O'Reilly, fired from the network earlier this year, had paid a female Fox News contributor $32 million after she made allegations of sexual misconduct against him. Despite knowledge of that settlement, and the highly damaging allegations against O'Reilly, Fox News executives offered him a four-year contract extension worth a total of $100 million.
O'Reilly was nevertheless fired from the network in April, after his history of alleged sexual misconduct was published in the Times.
O'Reilly has maintained his innocence. He now runs his own website and hosts a podcast, but he no longer enjoys the influence he did when he anchored Fox News's weekday prime time lineup and was the network's highest-rated on-air personality.
It does not appear that O'Reilly was mentioned a single time during any Fox News program on Monday, which was the first weekday of programing since the Times article was published.
The sole segment about O'Reilly that I was able to find came from Howard Kurtz, the media critic and host of MediaBuzz, a Sunday program. In the five-minute clip, Kurtz discusses the newest O'Reilly findings in an even-handed fashion.
"This is a significant setback for Fox," Kurtz concludes. "It's embarrassing, it's disappointing."
21st Century Fox issued a statement in which it asserted that it did not know the details of O'Reilly's settlement and pointed out that O'Reilly's contract extension "added protections for the company specifically aimed at harassment."
Other than the corporate statement and Kurtz's clear-eyed assessment of the situation, the network appears to have shielded its viewers from the story. For example, FoxNews.com has not published a single article about the newly published details of O'Reilly's behavior. Conversely, a search for Harvey Weinstein—the disgraced Miramax founder who has been exposed as a chronic sexual assailant—brings up 342 results on FoxNews.com for the month of October.
Weinstein has been a prominent Democratic donor for many years. Right-wing media outlets have used photographs of him with the Clintons and other prominent Democrats to suggest that the entire liberal establishment is hopelessly immoral and corrupt.
O'Reilly has not engendered the same scrutiny from the right.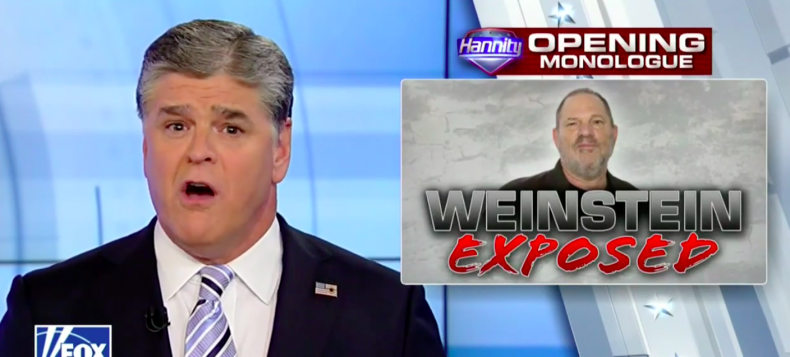 On Monday, the O'Reilly scandal went unmentioned on Fox and Friends, the morning show of which President Trump is a devoted viewer. The hosts did, however, eat Fatburgers and feature a panel of female pundits discussing the political fortunes of House Minority leader Nancy Pelosi, a California Democrat. Special Report with Bret Baier, an afternoon program that resists heavy editorializing, avoided O'Reilly. Nor were the weekend's O'Reilly-related developments covered by Happening Now, a relatively straightforward news program. New developments related to O'Reilly were, in fact, happening throughout Monday. Only you wouldn't know that if you were watching Fox News.
Perhaps most surprising was that the O'Reilly scandal was not mentioned on Outnumbered, where four of the five hosts on Monday were women. Neil Cavuto did not mention O'Reilly, though that's because most of his program was devoted to a live press conference. Lou Dobbs, on the Fox Business Network, did not talk about O'Reilly. He did talk about Clinton.
A similar avoidance was observed by The Five, which leads into the Fox News evening programing schedule. Its lead host, Jesse B. Watters, is an O'Reilly protégé. Earlier this month, Watters called Weinstein's behavior "despicable," lamenting that it was long tolerated by the liberal libertines of the film industry.
"It seems insiders knew what was going on," a somber Watters said at the time.
Some have suspected that Republicans and right-wing media were covering the Weinstein scandal not out of a genuine concern for victims of sexual assault but because of a desire to attack Democrats. "Now that Weinstein has been exposed, conservatives are jeering that Hollywood has lost the right to lecture anyone about sexism," wrote columnist Michelle Goldberg of The New York Times. She added that the "movie business is corrupt, depraved and iniquitous—and still morally superior to the Republican Party under Trump."
The network's two most prominent prime time hosts—Sean Hannity and Tucker Carlson—also declined to acknowledge the Times report about O'Reilly. They did so despite having devoted many segments to Hollywood's supposed coddling of the powerful but depraved Weinstein. A seemingly identical coddling of the powerful but depraved O'Reilly by the executives at Fox News did not merit any outrage at all.
In fact, Hannity invited O'Reilly on his program in late September. It was O'Reilly's first time back on air at the network since his firing in April. In the segment, O'Reilly struck a defiant tone and showed no signs of easing into retirement. The new Times report, however, will surely cause hesitation among potential employers.
On Monday, Hannity and Carlson stuck to a tight set of storylines, as did most Fox News programs. They touted new revelations about the Uranium One deal of 2010, in which Secretary of State Clinton supposedly facilitated the sale of uranium to Russia in exchange for donations to the Clinton Foundation. They also discussed the supposed investigation of Democratic lobbyist Tony Podesta—and brother of Clinton campaign chairman John D. Podesta—by special counsel Robert S. Mueller III, appointed earlier this year by the Department of Justice to investigate potential collusion between the Trump presidential campaign and Russia.
In his opening monologue, Hannity offered a fiery denunciation of a liberal media establishment unwilling to discuss the Podesta-related development.
"Crickets," he said with disgust. "Nothing."
Nothing indeed.