Bill O'Reilly, in Fox News Return, Tells Hannity: "They Don't Want White People, Generally, Calling the Shots."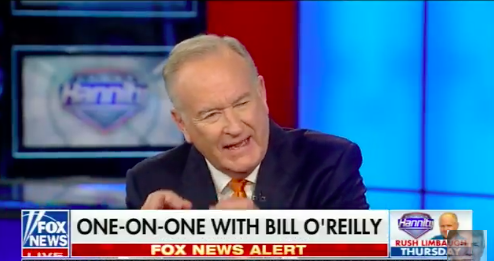 On April 1, The New York Times published a story detailing a long history of alleged sexual misconduct by prime-time Fox News anchor Bill O'Reilly, a litany of misdeeds (denied by O'Reilly) that the newspaper said resulted in a total of $13 million paid to five of his purported victims.
On April 19, Fox News ended its 20-year relationship with the host of its most-watched program. There was no fanfare, only a short statement by Fox News parent company 21st Century Fox, as well as another denial from O'Reilly.
And on September 26, 160 days after his ignominious departure from the network, O'Reilly brought his famed "No Spin Zone" back to Manhattan. Only this was a one-night reunion, to celebrate Sean Hannity's return to the 9 p.m. slot. It also afforded O'Reilly the opportunity to promote his latest book of popular history, Killing England: The Brutal Struggle for American Independence.
The interview lasted an unusually long 24 minutes, the discussion covering topics such as the America-hating media establishment and the America-hating players of the National Football League. And if some of O'Reilly and Hannity's assertions would not have fared well against even a moderately capable fact checker, O'Reilly did open the interview with a statement that was indubitably true: "I'm here," he said. "I'm alive."
O'Reilly spent the summer podcasting, but the Hannity interview was a reminder that television is his natural format. It was also a reminder of what made The O'Reilly Factor, which premiered in 1996, such a longstanding success. Factual accuracy and intellectual nuance were never O'Reilly's métier. Instead, he capably conveyed deeply felt emotional truths, in particular those of the white working class to which he claims somewhat disingenuously to have come from.
Trump was a frequent guest on his program and, in retrospect, a diligent student of the politics of grievance that O'Reilly wielded for years as a brutally effective weapon against Democrats and liberals, especially during the presidency of Barack Obama. During last year's presidential campaign, as many establishment Republicans bemoaned Trump's frequently uncivil campaign, O'Reilly defended the insurgent candidate."I think Trump is doing what he always does: appealing to regular people," O'Reilly said in the spring of 2016, adding, "It's a different time. He's running for president as a populist, not a Republican or a Democrat."
Several months thereafter, Trump returned the favor by defending O'Reilly against his female accusers. "I think he shouldn't have settled; personally I think he shouldn't have settled," Trump said. "Because you should have taken it all the way. I don't think Bill did anything wrong." The show of support, unique for a sitting president, did not save O'Reilly's job.
An absence of several months from cable news has not dulled O'Reilly's rhetorical sabre. Hannity's diatribes can have a slightly theatrical, studied quality: right-wing punditry as performance art. O'Reilly leaves one with no such doubts. He opened the interview by praising Hannity for having "slaughtered" his MSNBC competitor Rachel Maddow in viewership the previous night. Another man accused of the same misdeeds as O'Reilly (regardless of the veracity of those allegations) may not have used such strident language against a woman; O'Reilly said the words with obvious, visceral relish.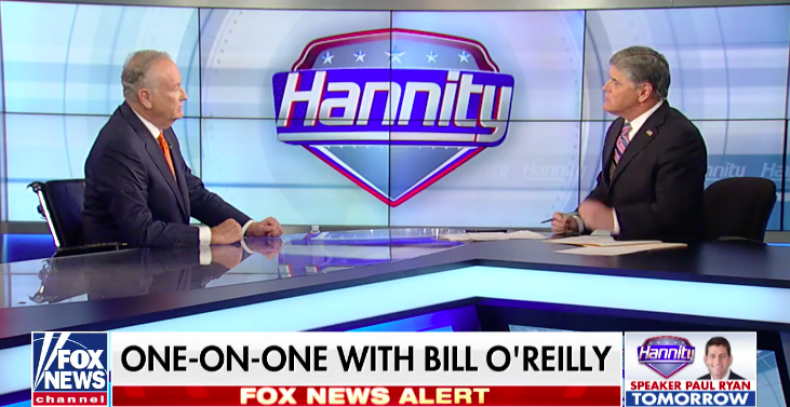 Hannity seemed aware that he was in the presence of a greater talent, if also one whose glory days are in the past. He tossed underhanded pitches to O'Reilly, who belted them out of the ballpark. As intense as ever, and as sunny as December in Seattle, O'Reilly lashed out at the "pack dissent" of football players protesting by kneeling during the National Anthem. They were being used by "the far left," whose O'Reilly was happy to explain: "They don't want white people, generally, calling the shots."
Attacks on the media were predicable, given how closely Hannity hews to the White House line about liberal bias and fake news. O'Reilly lamented that "a lot of people believe propaganda," an acutely ironic statement given that many consider Fox News—and in particular Hannity, along with Fox & Friends—to be the unofficial communications arm of the White House. The two men took particular aim at Media Matters for America, the liberal group that has organized advertising boycotts against both anchors.
"I call them liberal fascists," Hannity said.
"Yeah, that's a good description," O'Reilly replied.
This was, in other words, a serving of red meat for carnivores. If you wanted steamed veggies, you'd have to head somewhere else: CNN, perhaps.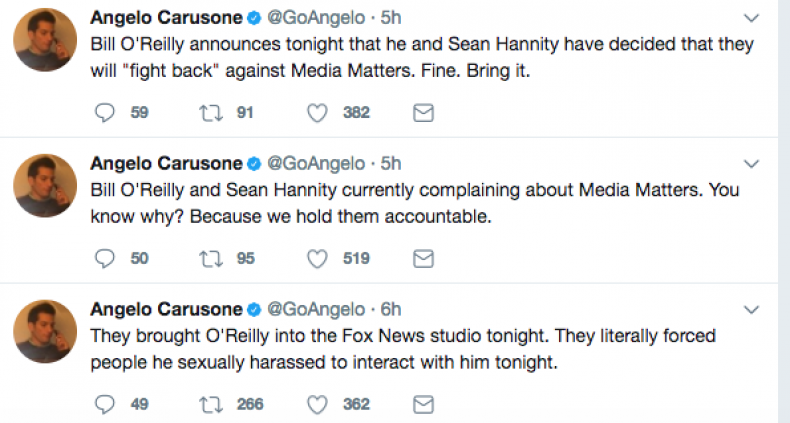 O'Reilly may never again have the prominence he did on The O'Reilly Factor, but he showed flashes of the righteous (or self-righteous, if you don't happen to be a fan) anger that animated millions. He darkly summoned an image of America overrun by liberals, while also positing Fox News viewers as the saviors of the Republic.
"Who's gonna stop this madness? You. You, the American people," he said at one point.
There were, however, a few lighter moments. The men joked about their respective Long Island upbringings, so central to their originary myths and strong identification with the white working class.
O'Reilly did not say what his future plans were, but he did tease an intriguing partnership: "Hannity and I are going fishing," he said.