Bill O'Reilly Warns 'Barbaric' Democrats Are Promoting 'Bodily Functions' in Public Places
Former Fox News host Bill O'Reilly warned his fans that "extremist" liberals and Democrats are fighting a "social civil war" against American conservatives that includes hating police officers and a promotion of "barbaric behavior."
O'Reilly teased his Wednesday night show on his personal website where he is set to lament the "depressing" 2020 platform for the Democratic Party as they wage war on what he sees as traditional American values. O'Reilly listed several behaviors and ideas that were "completely unacceptable" just years ago but are now becoming mainstream thanks in part to liberals.
Among the savage activities being promoted by leftists is "the acceptance of barbaric behavior in public," including "bodily functions."
The seemingly bizarre reference in O'Reilly's Wednesday "Unacceptable Left Tenets" post strays only slightly outside of his years-long rants against what he sees as the breakdown of social values at the behest of overwhelming liberal forces. It's unclear exactly what "bodily functions" O'Reilly is pushing back against, although he has ranted at length against homeless residents and substance abusers of San Francisco who "use the city as their personal toilet."
Newsweek subscription offers >
In full, O'Reilly's pearl-clutching post includes fears that the following behaviors, ideas or political pushes will soon become acceptable under the left's lead:
"Open borders, hatred towards local police and federal immigration authorities, approval of 'recreational' drug use, acceptance of public schools allowing children to secure abortions without telling their parents, asset confiscation through taxation, the outlawing of private health insurance companies, the acceptance of barbaric behavior in public ie: allowing bodily functions in public, using taxpayer dollars to pay people for historical injustice (slavery reparations) and basically allowing anti-social behavior on every level without consequences," he wrote.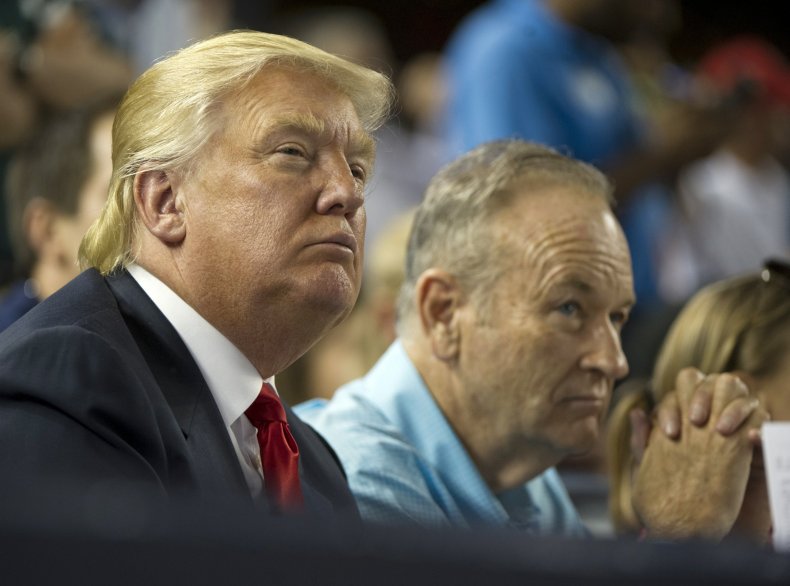 O'Reilly's proudly announced that his Wednesday show alongside former Fox News analyst Bernie Goldberg will be "FREE" to any viewers, sarcastically tweeting that it's in honor of the U.S. women's national soccer team winning the World Cup. In a later post, O'Reilly claimed Megan Rapinoe "has almost single handedly destroyed [the victory] by injecting her politics into the World Cup."
Newsweek subscription offers >
O'Reilly warned that "not all Democrats are subversive far-left loons," which is why conservatives should follow the 2020 Democratic debates closely to see if an "extremist" candidate secures the nomination.
On Monday, O'Reilly posted a column to his personal website saying the socialist transfer of money from the "haves" to the "have nots" has been adopted by the Democratic Party under the leadership of Vermont Senator Bernie Sanders and Massachusetts Senator Elizabeth Warren.
Bill O'Reilly Warns 'Barbaric' Democrats Are Promoting 'Bodily Functions' in Public Places | U.S.