A former fitness and nutrition coach for the Denver Broncos has urged people to get a COVID-19 vaccine, revealing that he lost 70 pounds during a six week stay in hospital after contracting the virus.
Bill Phillips, a nutrition and supplementation expert for the Colorado-based team in the 1990s who has since become a bestselling author, revealed to The Denver Post on Tuesday that he has been hospitalized for 47 days after contracting COVID.
The 56-year-old told the newspaper that at one point he was put into a medically induced coma and treated with a ventilator because he was struggling to breathe.
The fitness coach was healthy and active before he contracted COVID in June, but is now having to relearn how to walk, among other skills, due to the effects of the virus.
He also told how he originally chose not to be vaccinated because he thought that his initial contraction of COVID in January would give him the antibodies to protect him from reinfection, but has now urged others to not make the same choice.
"I did not get vaccinated because I made a mistake," Phillips told the Post from his hospital bed. "I thought since I had COVID in January 2020, I was immune to it. That mistake came...close to costing my life."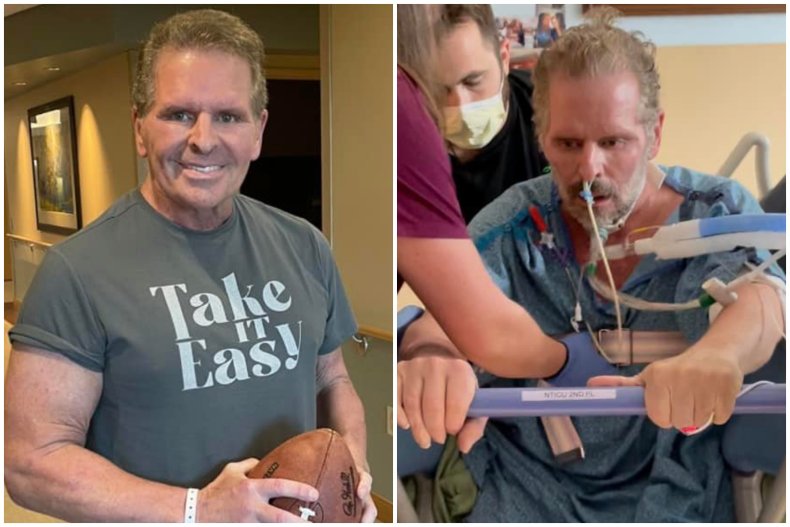 Phillips said that he has lost 70 pounds while hospitalized and added that "if it could happen to me, it could happen to anybody," before urging everyone to get vaccinated because "it's not a political issue. It's a public health issue."
Sharing a August 3 video of his first attempt to stand since he fell ill, Phillips wrote on Facebook: "I share this not for sympathy, but for people to see what covid can do in some cases.
"When you come this close to death, your entire being deteriorates on every level... you don't just wake up and go on living your life. I have to rebuild my body, mind, and entire life from the ground up.
"This act of standing for a couple seconds, with a lot of support, was definitely harder than a 600 lbs squat and more painful than I can ever describe."
He is scheduled to be discharged from St. Anthony Hospital in Lakewood, Colorado, on Wednesday.
Studies have shown that being vaccinated offers the greatest protection against COVID compared to having been infected by the virus previously.
Phillips told the Post that he has seen three of his family members contract COVID after getting vaccinated, but said that they all suffered from mild symptoms and did not have to be hospitalized.
Colorado, alongside several states in the U.S., is currently experiencing a new wave of infections brought on by the spread of the highly contagious Delta variant, which is now responsible for the vast majority of new cases in the country.
The state saw its third-highest figure for hospitalizations since the pandemic began on Monday, with 734 people receiving treatment at medical centers in Colorado—up from 324 a month ago.
Colorado also recorded a 7-day average of 1,489 cases, as around 41 percent of the state's ventilators are in use by COVID patients, according to figures from the state's health department.
So far, about 66 percent of those eligible in Colorado for a COVID vaccine have got the shot, while at least 73 percent have been immunized with one dose of the vaccine.
On Monday, the Food and Drug Administration (FDA) announced that the Pfizer COVID vaccine had been given a full approval from the agency, while the other available shots are expected to be formally approved by the end of the year.
Following the FDA's announcement, President Joe Biden urged businesses to require their employees to get vaccinated, saying: "If you're a business leader, a nonprofit leader, a state or local leader who has been waiting for full FDA approval to require vaccinations, I call on you now to do that requiring."
Several large companies across the U.S. have since announced that they will be requiring their employees to get vaccines, including CVS and United Airlines, while the New York City School System has done the same.