Bill Preventing Student Personal Belief Exemptions for COVID Shots Shelved
A California bill that would have disallowed students from using a personal belief exemption to reject getting a required COVID-19 vaccine has been dropped by the senator who was pushing for its passage.
State Senator Richard Pan, a Democrat from Sacramento, announced Thursday that he's shelving Senate Bill 871 for now due to COVID-19 vaccine rates being "insufficient" especially among children. In a press release, he also stressed that the state needs to focus its effort on increasing access to COVID vaccinations for children through physicians and other health providers, and on education efforts to give families accurate information about the vaccine.
Introduced by Pan in January, the "Keep Schools Open and Safe Act" would have not only prohibited families from claiming a personal belief exemption concerning the state's COVID-19 student vaccine requirement, but it would also add the vaccine to the state's list of required inoculations for those attending K-12 schools. Only in the case of a rare medical exemption, could a student opt out of getting the vaccine.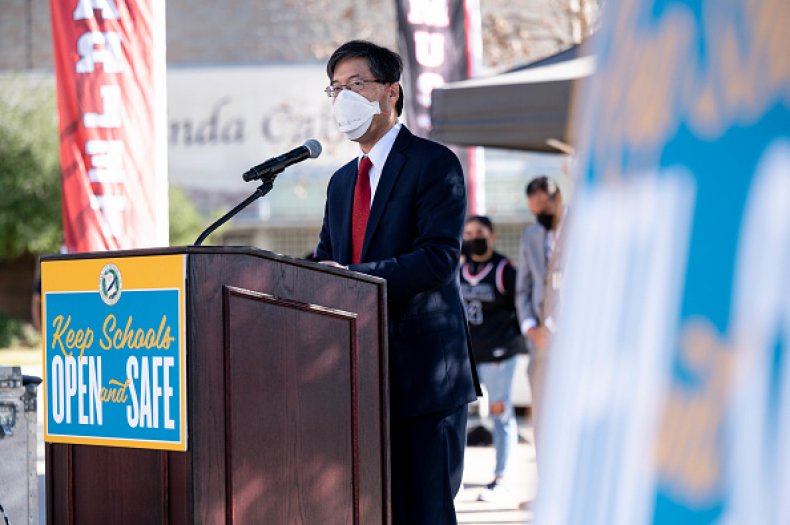 Newsweek reached out to Senator Pan's office for comment.
"Until children's access to COVID vaccination is greatly improved, I believe that a state-wide policy to require COVID vaccination in schools is not the immediate priority, although it is an appropriate safety policy for many school districts in communities with good vaccine access," said Pan in a statement on Thursday. "The legislature still needs to enact policies to protect California's children from COVID, and I will work to make those policies a reality. School testing plans empower parents and school administrators with information about exposure to COVID in schools, and an improved immunization registry reduces the cost and burden of COVID control for school districts."
Christina Hildebrand, president and founder of A Voice for Choice Advocacy, said the timing for the bill was never right. Hildebrand's grassroots organization works to advocate for people's right to make fully informed choices and to know the short and long-term side effects of food and pharmaceutical products.
"This was never the right time. The primary concern is insuring kids stay in school but requiring the vaccine mandate would be harmful from the perspective of 25 percent of teens and 80 percent of 5 to 11 year-olds are not fully vaccinated—so many of parents were hesitant," Hildebrand told Newsweek. "Many parents are not ready for their child to get vaccinated, because clinical vaccine trials haven't finished especially for that age group less affected by COVID."
"It's not that we're against anything," she added. "It's really about 'let's see what happens with this'—we don't have the data, the science on any front."
Hildebrand also told Newsweek that the real reason the bill was pulled was because Pan didn't have the votes for it and noted that California continues to emphasize the disease as opposed to looking at the entire well-being of the child.
"The majority of Democrats don't want to be dealing with this and don't think it's the right thing to deal with right now. If it was last year it may have gone further," she said. "When we look at the rest of the U.S. we've got high vaccination rates compared to other states. It's not just about COVID—to me we have to look at these children as an entirety, not just a disease."