Bill Simmons and HBO: a Match Made on 'Mad Men'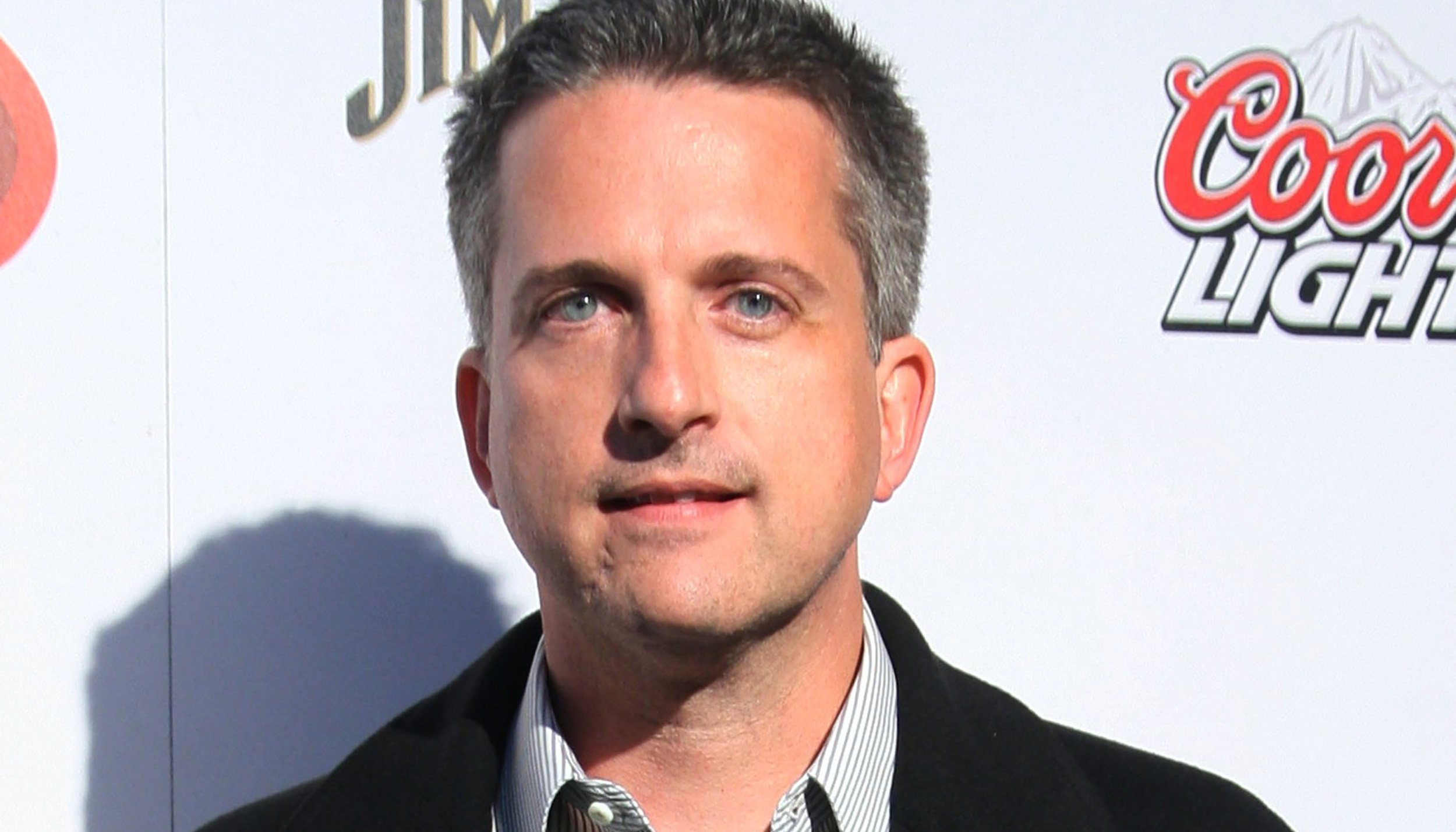 When I look at Bill Simmons, I see a glimpse of Don Draper. And when I look at HBO, I espy (pun intended) a hint of Megan Calvet. And I suspect that neither of the two quite realizes that they happen to be in the starry-eyed "Zou Bisou Bisou" stage of their relationship.
Hold on. Are you about to drop a 4,000-word comparative think piece on us, attempting to draw often humorous but sometimes contrived parallels between an iconic pop culture entity and the actual subject of your story? Wherever would you have conceived of such a literary device (and will there be footnotes)?
My pledge: It will run far less than 4,000 words, and I will not include footnotes. Also, it will hardly read as breezily or be as entertaining as a typical Simmons Sports Guy column. Yep, these are my caveats.
To begin: In 2004 the Boston Red Sox, after an 86-year drought, won the World Series by sweeping the St. Louis Cardinals four games to none. Better, the Sox had vanquished their mortal enemies, the Death Star of sports franchises, the New York Yankees, in the American League Championship Series after trailing three games to zip. The New England winter would at last have some warmth.
Brookline native Bill Simmons, then a refreshingly passionate and relatively under-the-radar columnist at ESPN.com, celebrated by writing a book, Now I Can Die in Peace. It was a fitting title: Simmons, America's funniest and most unapologetically biased sportswriter, had finally, along with the rest of the Fenway faithful, found "salvation" after a lifetime of unrequited fandom. The book, Simmons's first, made it onto the New York Times best-seller list.
It almost felt as if the Red Sox's stirring triumph was more than simply a reward for a deeply scarred fan base. It was also a career move for the Sports Guy, Simmons's alias, in that it made him more relevant. This, at last, was happiness.
"But what is happiness?" Don Draper once asked. "It's a moment before you need more happiness."
More happiness followed. In the subsequent decade the New England Patriots, Boston Bruins and even Simmons's beloved Celtics each won another championship. The Red Sox won two more. Each of these titles, and even a few of the near-misses (hello, New York Giants), provided a bounty of "Can-you-believe-it?" moments and characters for Simmons's facile mind to harvest into memorable columns. His popularity and influence upon sports' culture crested without cease to unfathomable heights, not unlike that final wave in The Perfect Storm.
Simmons, who in his early days as a columnist at ESPN.com would dream aloud about running his own ESPN network one day, was erecting his own empire within the walls of "The Worldwide Leader in Sports and Entertainment": a spin-off sports-and-pop culture site, Grantland.com; a critically and popularly acclaimed documentary series, 30 for 30; and a podcast, "The B.S. Report," that was the most downloaded of all ESPN podcasts.
Even more happiness ensued. Simmons, who is industrious and talented and prolific, even engineered a studio analyst's role for himself on ABC/ESPN's coverage of the NBA, which is his favorite sport. ESPN, which had once created a show called Dream Job, had seemingly given all of them to Simmons.
The erstwhile bartender and blogger had become the most indomitable force of nature not just at ESPN, but in all of sports media. He was that final wave in The Perfect Storm (I retain the right to draw upon other pop-culture references as long as they are in one way or another related to The Hub. Select quotes from Good Will Hunting and/or The Departed may be unavoidable). Whereas ESPN may have seemed out of Simmons's league when he began blogging at AOL, the WWL had taken a shine to him and a marriage had been consummated. How do you like them apples?
When Donald Draper met Elizabeth Hofstardt, she too seemed somewhat unattainable. A fashion model raised along Philadelphia's tony Main Line, Betty was seemingly too polished for an orphaned bastard who was raised in a whorehouse. Not that she was aware of his backstory, or even his real name (Dick Whitman). Her father, however, was suspicious. "He has no people," Betty's dad, Gene, would say. "You can't trust someone like that."
Men of all ages adored and coveted Betty, everyone from prepubescent Glen Bishop to silver-haired Henry Francis. But the flaxen-haired beauty was all Don's. Just like ESPN was all the Sports Guy's.
Except that both Don and Bill had a similar trait, one that was perhaps a byproduct of their inexhaustible ambition—the very quality that had helped take each man so far. Don and Bill were restless souls, inherently so.
Don Draper liked being married to Betty enough, as long as there was a Midge Daniels or a Rachel Menken...or a Bobbie Barrett...or an idealistic school teacher on the side. Happiness was never enough. If London Fog can have 82 percent of the raincoat market ("Name another raincoat," dared Roger Sterling, Don's longtime partner), why can't it have it all?
Simmons's work in print was always outstanding. His instincts and insights were always spot-on. But he, too, was restless. The column. The podcast. The website. The documentary series. Not enough.
How about a TV gig talking hoops in prime time on ABC and ESPN, which had the rights to the NBA Finals? Outstanding. But after only two seasons, the chill between Simmons and host Sage Steele was akin to that between Carla and Diane at Cheers. This moment from the 2014 NBA Finals, in which Simmons came off as petulant, cemented their fate apart from each other.
Someone had to go. The Sports Guy made his exodus, but in so doing landed an NBA-centric vanity project of his own for TV, The Grantland Basketball Hour. Who sees his role on an ensemble show get devoured only to resurface as the star of his own show? I mean, besides Frasier Crane?
Don Draper and Bill Simmons had each arrived at points in their lives in which they had it all: a wife, healthy children, wealth beyond their dreams and homes in Southern California (although only Simmons resided in his). They were each esteemed above everyone in their chosen fields for their talent, if not their teamwork. Co-workers grumbled about how they were indulged—overly so—but admitted that their talent overcame their foibles. Betty chose to ignore her instincts about her husband's after-hours pursuits.
Both marriages, Don's and Betty's and Simmons's and ESPN's, experienced a trial separation and only later a full divorce. For the Drapers, that occurred when Betty kicked Don out of their house in Ossining, New York, following an incident involving Bobbie Barrett's cuckolded spouse, Jimmy Barrett. For Simmons and ESPN, it occurred last September after Simmons called NFL commissioner Roger Goodell a "liar" on his podcast and then dared anyone at ESPN to censure him for it.
Each marriage could still be saved, but by then the principals seemed eager to get on with their lives. Betty Draper latched on to Henry Francis, while John Skipper, the president of ESPN, served Simmons his divorce papers through Twitter and The New York Times.
We never worried. Don Draper was too handsome, rich, smart and charming to remain solo for long. Simmons was simply too talented and prolific and charismatic to also not have his full run of suitors.
And I don't know if there is a Mrs. Blankenship in this analogy, someone who might have acted as a buffer as our protagonists' passions cooled but, as you know, Mrs. Blankenship died ("as she lived, answering the phones of the people she worked for"—Roger Sterling). Don immediately fell into the arms of his leggy new secretary, Megan, and after a very brief courtship, proposed to her (Simmons will note the irony of it all taking place at Disneyland).
The Sports Guy also took the hand of the most striking suitor who turned his eye, HBO. "It's no secret that HBO is the single best place for creative people in the entire media landscape," Simmons said after signing with HBO, and he is correct.
HBO, however, is also a cable television product. And while Simmons has a unique and strong voice, that voice is best realized in print or on podcasts. He has yet to demonstrate that he is a charismatic television presence on his own. Yes, he will be a terrific advisor in terms of issues of sports and pop culture shows and documentaries, but HBO did not sign a multimillion-dollar deal with Simmons over that. They signed him as Talent with a capital T, in the fashion of John Oliver or Bill Maher. The difference being that those two men are proven performers.
Beginning in 2016 Simmons will host his own weekly show on HBO, and between now and then he must develop an entirely new skill: stage presence. Because while he is not poor on television, he is nowhere near as charismatic as anyone else currently on late-night TV, HBO or not. And he is certainly nowhere near the presence that Don Draper was when making a pitch to Lucky Strike or Kodak.
Like Draper, Simmons started out on the East Coast and was for a time unable to penetrate the hallowed halls of the profession to which he aspired. Draper sold fur coats (and before that, cars) in Manhattan while dreaming up ads for the store that employed him. Simmons tended bar and wrote $300-per-week columns on AOL. Both advertising and digital journalism were on the cusps of exponential growth and greater sophistication when Draper and Simmons entered those fields, respectively.
Like Simmons, Draper ended up on the California coast—at least that is where we last saw him. After all the trysts and the arguments over parenting and after all the cigarettes, it was clear that Don was never quite cut out for domestic life. That he was, as one girlfriend so aptly put it, "Someone who only likes the beginnings of things."
To this point, Simmons has displayed those same professional traits. And as gifted as he is in so many ways, he is not a natural as a television host. Once the honeymoon period is over, HBO is going to realize that. At some point in the next year, HBO and Simmons are going to find themselves at that Howard Johnson's in upstate New York wondering whether they each have made a terrible mistake.