Bill Simmons has claimed there are some "conspiracy" theories about Michele Tafoya and her recent absence from NBC's Sunday Night Football, a weekly television broadcast of National Football League (NFL) games.
Tafoya, a sideline reporter for Sunday Night Football who began her 11th season on the show this September, has been on a three-week absence.
Asked for the reason behind Tafoya's third consecutive game off, a spokesperson for NBC told the New York Post's sports columnist Andrew Marchand on Monday: "As we've done repeatedly, we're again giving our SNF [Sunday Night Football] announcers bye weeks in 2021, and we plan to do it well into the future."
What Bill Simmons Said About Michele Tafoya's Absence
In a December 13 episode of The Bill Simmons Podcast, the host of the podcast said: "There's some good conspiracy stuff going on" about Tafoya's absence.
Simmons reportedly said: "Because she [Tafoya] hosted 'The View' in the beginning of November. She was in the conservative seat, then a couple weeks later, all of a sudden, just on a bye. Taking a break.
"It would be one thing if the show was on 52 weeks a year, but it's only on 17 weeks a year. Do you need three weeks off during a 17-week season?," the podcast host added.
The Post's March and tweeted Monday: "I will agree Tafoya's three games off out of around 20 is a bit odd in a 5 month season.
"Al Michaels [a broadcaster for Sunday Night Football] had two off so far and Cris Collinsworth [a game analyst for the show] had one," Marchand noted.
Asked about Simmons' latest comments about Tafoya's absence, a spokesperson for NBC Sports told Newsweek on Tuesday: "Logic, evidence and a simple phone call to check on this would have told him [Simmons] that his theory is blatantly false. She was NOT suspended, and returns this week."
The Post reported there are some, along with Simmons, who think Tafoya could potentially be under a shadow ban of sorts following her recent remarks on ABC's The View about Colin Kaepernick, the former quarterback for the San Francisco 49ers football team, and his exit from the NFL.
The reporter appeared on The View on November 2 and 3 and worked the rest of the games through Thanksgiving on November 25, according to the Post's Marchand.
During Tafoya's appearances, she spoke about not having much sympathy for Kaepernick being out of the NFL.
According to a clip of one of her appearances, shared by Justin Baragona (a reporter for The Daily Beast), speaking about Kaepernick's exit Tafoya said: "He didn't lose everything. In fact, I would say he's gained a whole lot. He is now a leader of a whole movement, he's got a Netflix series, he's got Nike endorsements..."
Addressing The View audience, she said at the time: "Oh, you're all gonna groan at me, bring it on, bring it on."
Host and reporter Kathryn Tappen has been filling in for Tafoya in her absence. Simmons also noted if he were Tafoya, he'd be concerned about his replacement possibly doing a "better" job than himself.
He explained: "If I'm Michele Tafoya, aren't you protecting your seat?
"I don't want anybody guest-sideline reporting for me. What if they're better than me?," he said.
Newsweek has contacted Tafoya for comment.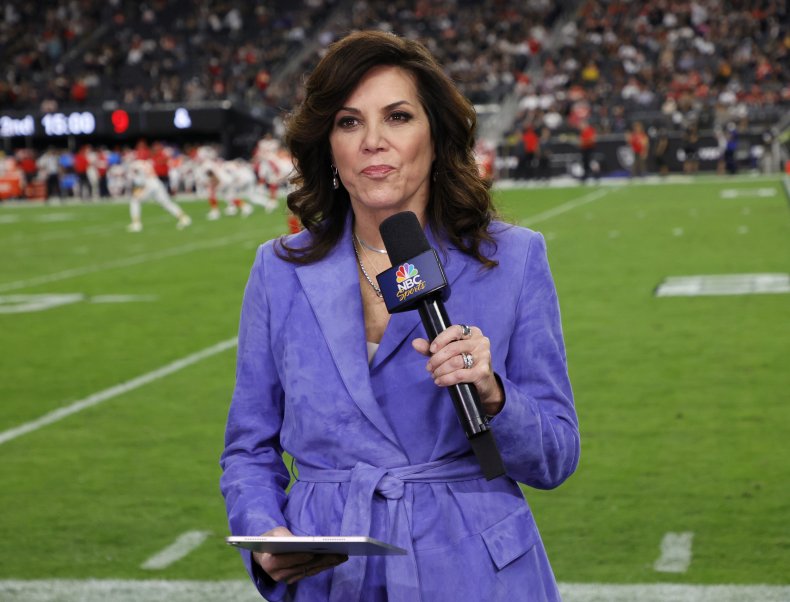 Uncommon Knowledge
Newsweek is committed to challenging conventional wisdom and finding connections in the search for common ground.
Newsweek is committed to challenging conventional wisdom and finding connections in the search for common ground.
About the writer
Soo Kim is a Newsweek SEO Reporter is based in London, UK. She reports on various trends and lifestyle stories, from health, fitness and travel to psychology, relationships and family issues. She is also a South Korea expert who regularly covers Korean culture/entertainment for Newsweek, including the latest K-dramas, films and K-pop news, and is the author of the book How to Live Korean, which is available in eight languages. Soo also covered the COVID-19 pandemic extensively from 2020 through 2021 after joining the general news desk of Newsweek in 2019 from the Daily Telegraph (a U.K. national newspaper) where she was a travel reporter/editor from 2010. She is a graduate of Binghamton University in New York and the journalism school of City University in London, where she earned a Masters in international journalism. Languages spoken: English and Korean.
Follow her on Twitter at @MissSooKim or Instagram at @miss.soo.kim
You can get in touch with Soo by emailing s.kim@newsweek.com