#BillTaylorIsAPatriot Trends After Former Ambassador Says Ukraine Aid Was Tied to Biden Investigation
The hashtag #BillTaylorIsAPatriot was trending on Twitter on Wednesday morning after the senior U.S. diplomat in Ukraine testified to investigators on President Donald Trump's impeachment that aid to Ukraine was contingent on the country probing 2020 Democratic front-runner Joe Biden.
In his opening statement on Monday, Taylor undermined Trump's denial of withholding the funds for his political gain by saying that Trump ordered the Ukrainian president to "go to a microphone and say he is opening investigations of Biden and 2016 election interference."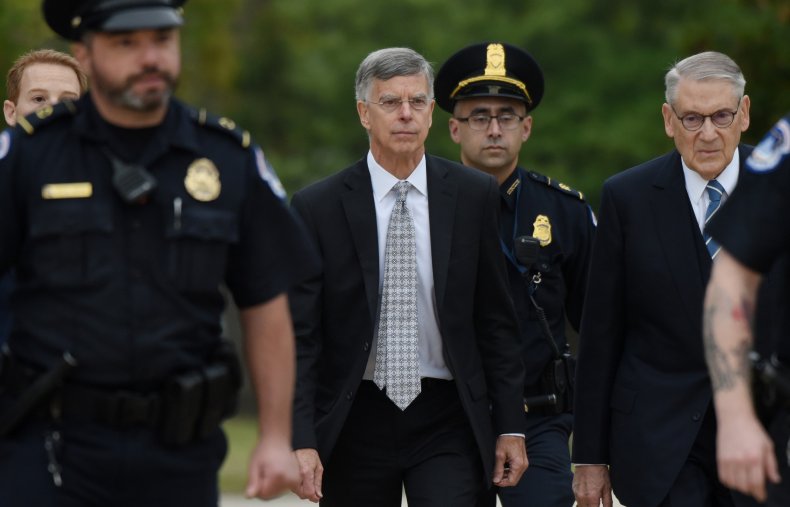 Taylor said that U.S. Ambassador to the European Union Gordon Sondland told him that "'everything' was dependent on such an announcement, including security assistance."
"Every American should read his astounding testimony," a Twitter user wrote with #BillTaylorIsAPatriot, and shared a link to text of Taylor's 15-page statement.
Songwriter Holly Figueroa O'Reilly, who founded Blue Wave Crowdsource, which backs Democratic candidates, shared an image of Trump's tweet from earlier in the day quoting Congressman John Ratcliffe on Fox & Friends saying, "Neither he [Taylor] or any other witness has provided testimony that the Ukrainians were aware that military aid was being withheld. You can't have a quid pro quo with no quo."
The screenshot that O'Reilly shared had added in red lettering, "I did, but the Ukrainians didn't know I was doing it."
O'Reilly commented used #BillTaylorIsAPatriot and wrote: "Well, thanks for the admission of guilt and enjoy your impeachment! The Ukrainians aren't idiots. They knew they weren't getting the military assistance they desperately needed to fight the Russians. I've translated your tweet for you. You're welcome."
Comedian Rosie O'Donnell, who is pushing for Trump's impeachment, tweeted #BillTaylorIsAPatriot and suggested that this was the beginning of the end for Trump.
"How are u all feeling? dare we hope ?" O'Donnell tweeted. "Looks like this is it - is trump done ?
Author and teacher Matthew Dicks tweeted simply that #BillTaylorIsAPatriot "is trending, Donald," and that "America is not on your side."
Another Twitter user shared a viral image of Trump and his quote "Oh my god. This is terrible. This is the end of my presidency. I'm f***ed," which he uttered in regard to special counsel Robert Mueller's Russia investigation report, which did not ultimately take him down.
Media consultant Suzanne Trimel compared what she believes will be Trump's legacy to Taylor's.
"Long after Donald Trump is gone from office and his terrible administration is relegated to the trash can of history," she tweeted, "People will celebrate individuals who stood with courage against the descent into corruption and lawlessness.