Billboard Erected Next to Iowa Trump Rally Site Directs Supporters to 'COVID Superspreader Event'
An anti-Donald Trump campaign group headed by a former Republican official has erected a billboard directing supporters of the president to a planned rally Wednesday with a large arrow and the words: "Trump Covid Superspreader Event."
The stunt was organized by Rural America 2020, a non-profit organization that advocates for policies benefiting agriculture and rural America, and which is opposed to Trump.
In a tweet, the group said: "We're doing our part to warn Iowans that @realdonaldtrump is in town tomorrow.
"This billboard is directly outside the Des Moines Airport where he will hold his hangar rally."
A photo of the billboard was also captioned "Covidiots."
Rural America 2020 is run by Christopher Gibbs, a former Shelby County Republican Party chair, who has been highly critical of the president's trade policies.
Gibbs, who owns 560 acres of farmland, voted for Trump in 2016 but subsequently left the Republican party, claiming the GOP was no longer the voice of "compassionate conservatism."
"I got off the Trump train a long time ago, particularly through the tariff fight. I've spoken out against this for over a year," he said in a 2019 interview with MSNBC. "We were selling a third of our soybean crop to China. Now that's lost. Is it going to come back? I don't know."
Trump is scheduled to hold a rally in Des Moines on Wednesday at 6 p.m. local time.
Kim Reynolds, governor of Iowa, encouraged the president's supporters to register for free tickets for Wednesday's rally. "Protect Iowa's future, and show your support for President Trump!" she tweeted.
A Des Moines airport spokesperson, quoted by the Des Moines Register, said local officials were told to expect up to 10,000 people.
Des Moines' mayor, Frank Cownie, has himself expressed concern the event could lead to a spike in infections in the city.
"Absolutely I'm worried about the spread," Cownie told the paper. "We don't want a super-spread event here in Des Moines. We urge everyone who would attend this event to wear a mask and social distance as best they can, and to stay safe and healthy."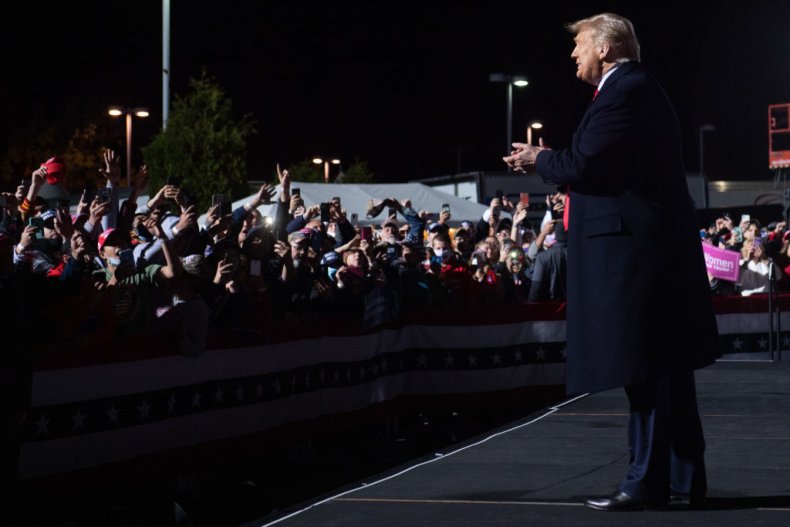 However, officials with the Trump 2020 campaign have insisted supporters will be given masks and undergo temperature checks.
The latest White House guidance on COVID-19 infections in the state puts Iowa as sixth-worst in the country for coronavirus cases.
At the beginning of the month, Iowa had 200 new cases per 100,000 population in the last week, compared to a national average of 90 per 100,000.
Dr. Anthony Fauci, a member of the White House coronavirus task force, has criticized the Trump administration for hosting what he called a "superspreader event" with the unveiling of the president's nominee to the Supreme Court.
"The data speak for themselves—we had a superspreader event in the White House, and it was in a situation where people were crowded together and were not wearing masks," he told CBS News.
Newsweek has contacted RuralAmerica2020 and the Trump 2020 campaign for comment.